Green Buildings
Nearly half of all greenhouse gasses emitted in the U.S. are generated by commercial buildings and industrial facilities. At Amgen, we seek to be part of the solution and lessen our contribution to greenhouse gas emissions in the U.S. and worldwide by constructing and managing our commercial office space and manufacturing plants in an environmentally sustainable manner. These sustainable practices contribute to our 2020 environmental sustainability targets.
ABR Visitor Center
The newest addition to Amgen's Green Buildings, is the new visitor center in Breda, Netherlands. The visitor center is certified with an A++++ label and has a minus energy index.1 The building is the first building in Breda to earn the combination minus energy index and A++++ label.
Features that contribute to this building's zero-emission status include a 26-kilowatt solar photovoltaic system, adaptive lighting which modulates the light intensity based on solar position and occupancy, heat-resistant glazing to keep the interior cool in warm months and an innovative ventilation system to optimize heating and air quality in cooler months.
Optimizing Existing Facilities
Amgen has realized energy savings and carbon emissions reductions by retrofitting existing facilities with energy-efficient technologies and equipment including the use of LED lighting; energy-efficient boilers and chillers; isolator technology, which provides energy savings as much as 60 percent over conventional approaches; and optimized heating, ventilation and air conditioning (HVAC) systems in clean rooms, among numerous other practices.


Data Driven to Conserve Energy
To improve the efficiency of our buildings, reduce carbon and save money for our business, Amgen uses a combination of technologies and data management systems. Amgen's Smart and Integrated Facilities (SaIF) program gives us a more detailed look at building performance, which allows us to more readily identify opportunities for improvement in energy, water and overall operational efficiency at key facilities. The Association of Energy Engineers recognized SaIF as an Energy Project of the Year. Our peers also selected SaIF to be presented at the 2017 ENERGY STAR® Industrial Partner Meetings.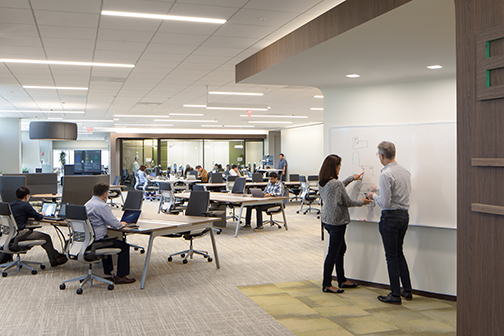 Building to a Green Standard
When we construct new facilities or remodel existing facilities, we aim for a standard comparable to LEED (Leadership in Energy and Environmental Design) Gold. We install energy and water efficient equipment and fixtures and maximize the use of natural daylighting. In the demolition process, we strive to keep as much material from the landfill as possible, donating some surplus equipment and materials through our Sustainable Asset Management program and sending for recycling material that can't be donated. We are proud to have six buildings certified by the U.S. Green Building Council in our portfolio: one at LEED Platinum, one at LEED Gold, two at LEED Silver and two at LEED Certified.


Transforming Our Work Environments
We are several years into a project to transform a significant percentage of our worldwide office and lab facilities into an activity-based model that makes more efficient use of space while maximizing wellness benefits for staff. The new labs and offices incorporate abundant natural light and encourage movement throughout the day with a variety of fit-for-purpose workspaces including adjustable, ergonomic workstations. The spaces are constructed in harmony with Amgen's green building standards and encompass a smaller environmental footprint.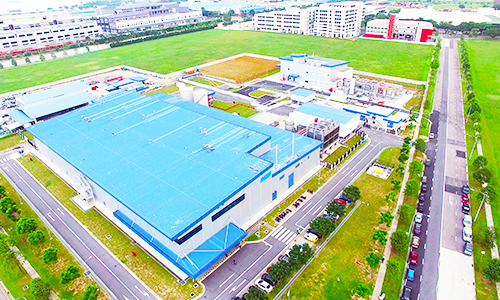 Next-Generation Biomanufacturing Plants
In 2017, major international regulatory agencies, including the U.S. Food and Drug Administration, licensed Amgen's pioneering next-generation biomanufacturing plant in Singapore for commercial production of biologic drug substance. Compared with the manufacture of the same amount of product in a traditional facility, the plant has demonstrated a 73 percent reduction in energy consumption, 54 percent reduction in water use, and 69 percent reduction in carbon emissions. In 2018, Amgen began building a new next-generation biomanufacturing plant in Rhode Island.
See Product Sustainability for more information on technology and approaches incorporated into the lifecycle of our products that reduce Amgen's impact on the environment.
1 Energy label and energy index ratings are in accordance with The Netherland's BRL 9500 Assessment Guideline