Amgen Wins the 2017 Green Chemistry Challenge Award
Amgen has steadily built a culture of Green Chemistry that improves the efficiency of our research and development and manufacturing practices, improving safety, saving money and lessening our impact on the environment.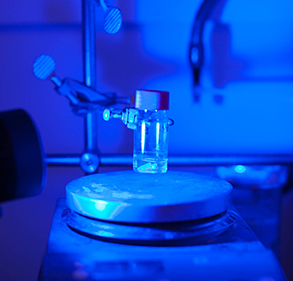 In 2017, the United States Environmental Protection Agency honored Amgen with a 2017 Green Chemistry Challenge Award for the green chemistry practices, developed in partnership with Bachem, associated with the development and manufacture of Parsabiv™ (etelcalcetide). Through green chemistry practices we successfully eliminated one of five manufacturing steps and significantly optimized the remaining four. These improvements achieved a 71 percent reduction in solvent use during the development lifecycle, a five-fold increase in throughput, and an estimated 40 percent reduction in operating time.

"The green chemistry approach developed and implemented by Amgen and Bachem for the manufacture of Parsabiv™ is an excellent example of scientific innovation resulting in both the evolution of our manufacturing technology and benefits to the environment," said Margaret Faul, executive director, Process Development.