Amgen's approach to corporate responsibility starts with our mission to serve patients and is executed through our environment, social and governance (ESG) framework. From our endeavors to strengthen science education and inspire the next generation of scientists, to expanding access to healthcare worldwide and pursuing a more environmentally sustainable business model, our mission guides how we do what we do.
Amgen's ESG Framework is built on four strategic pillars: Healthy People, Healthy Society, Healthy Planet, and A Healthy Amgen. This framework facilitates our ability to address the interconnectivity of issues across our business and helps us integrate these activities more closely with our long-term strategy.
ESG Governance
The Amgen Board of Directors and its applicable committees provide oversight of Amgen's ESG strategy. The Corporate Responsibility and Compliance Committee (CRCC) assists the Board in overseeing Amgen's activities in the areas that include environmental sustainability, access to healthcare and corporate philanthropy. Beginning in 2022, oversight of DI&B shifted to the Compensation and Management Development Committee, the committee that also provides oversight of our approach to human capital management. The Governance and Nominating Committee oversees the Company's corporate governance activities and Board membership. Amgen's executive management provides regular presentations and updates to the Board and its committees regarding the status and progress of the Company's ESG activities.
Our cross-functional executive-level ESG Council sets and reviews the Company's ESG strategy and programs. The Council is chaired by the Senior Vice President of Corporate Affairs and includes other executive-level representatives from across the organization.
Supporting the Council are four Initiative Steering Committees (ISCs), each aligned with one of our four strategic pillars. Each ISC is responsible for coordinating the implementation of the strategy for their respective pillar and leading the integration of our ESG strategy into the Company with the support of subject-matter expert working teams. ISC members are also responsible for identifying emerging ESG issues that could impact Amgen's business, employees, communities or stakeholders and, when appropriate,raise  them with the ESG Council for discussion and analysis. Since 2021, to further integrate ESG across the organization, we formally introduced ESG targets into our company-wide performance goals under our annual incentive plan.
Amgen Inc. Board of Directors
Oversees Amgen's ESG Strategy
Corporate Responsibility & Compliance Committee
Compensation & Management Development Committee
Governance & Nominating Committee
Executive Management

Provides the Board and its committees with updates on the Company's ESG strategy, performance and priority areas
ESG Council

Sets and reviews the Company's ESG strategy and programs
Initiative Steering Committee
Initiative Steering Committee
Initiative Steering Committee
Initiative Steering Committee
More information about Corporate Governance.
Our Stakeholders Inform our ESG Priorities
Amgen uses a variety of analytical tools to help us identify and evolve the ESG topics that are the subject of our focus:
Periodic Stakeholder Perspective Assessments, which analyze the perspectives of both internal and external stakeholders.
Direct and indirect interactions with stakeholders, including investors, patients, healthcare professionals and patient advocacy organizations.
Monitoring the alignment and integration of ESG with Amgen's strategy, mission and values. We also review and are working to report in alignment with relevant ESG reporting standards and frameworks, such as CDP, Sustainability Standards Accounting Board (SASB) and Task Force on Carbon-Related Financial Disclosures (TCFD).
In the chart to the below, our key ESG priorities are shown in relationship to the four strategic pillars of our ESG framework.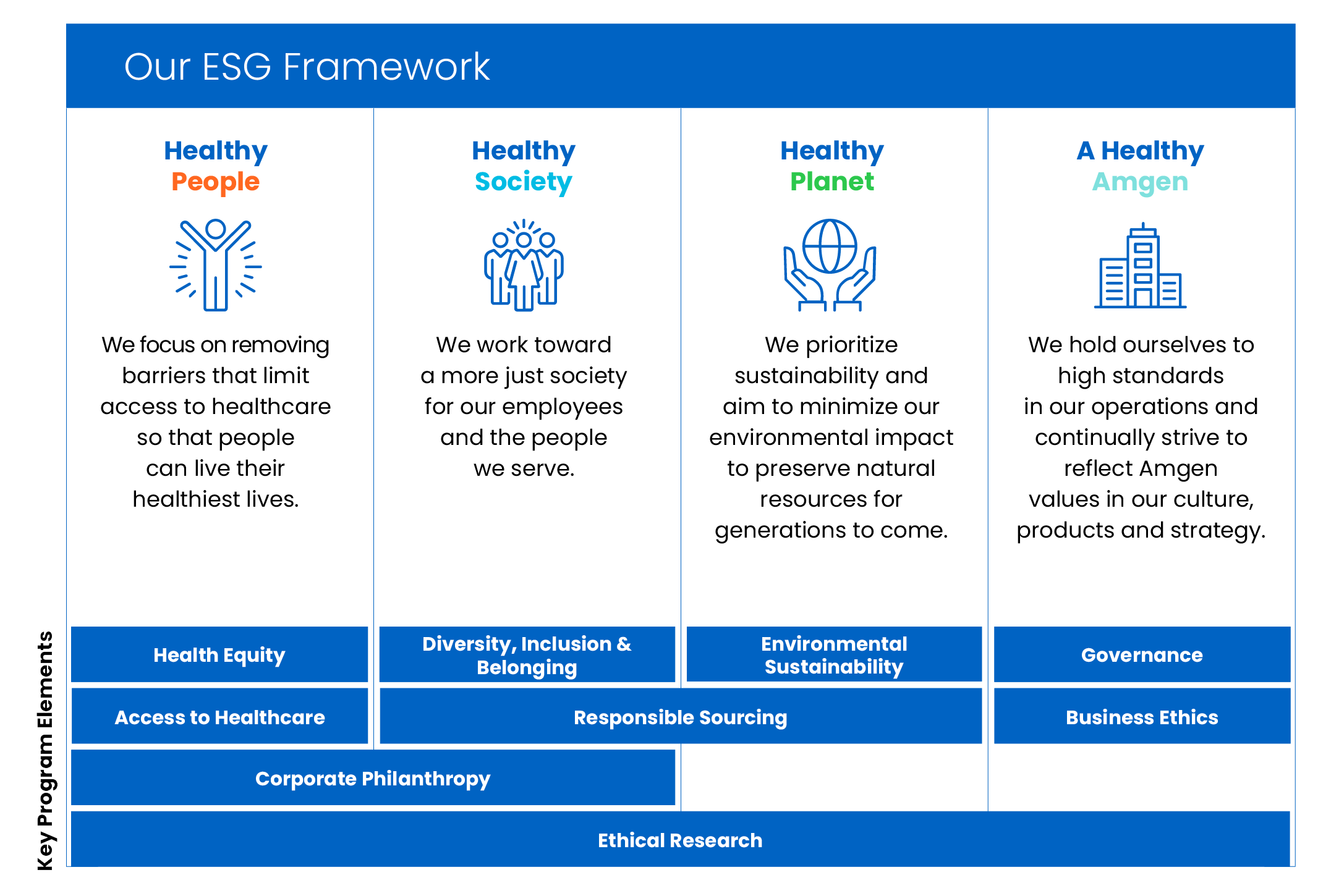 United Nations (U.N.) Global Compact, U.N. Sustainable Development Goals, and SASB
Amgen is a signatory to the U.N. Global Compact and remains committed to advancing the principles of the Compact. We publish a table showing Amgen's approach to supporting several U.N. Sustainable Development Goals (SDGs) and a table showing  alignment between our ESG reporting and the SASB standards for our industry in our latest Environmental, Social & Governance Report.