We are pleased to once again share two newly published reports that highlight Amgen's commitment to our communities, and to advancing science education in particular.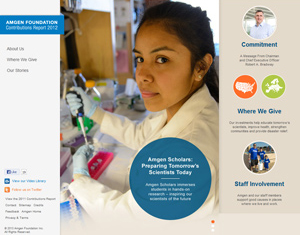 The Amgen Foundation Contributions Report includes a video message from Chairman and CEO Bob Bradway, stories of the programs supported by the Amgen Foundation, as well an interactive map that highlights the Foundation's grantees across the United States, Puerto Rico, and Europe.
Highlights of the 2012 report include:
The story of Margaret Hourigan, a science teacher at St. Mary's Secondary School in Edenderry, Ireland. Hourigan and more than 300 other science teachers across Europe benefit from the Amgen Science Teacher Training Initiative, which supports best-in-class teacher training centers. "I have long been an advocate of inquiry-based learning—and students love it, too. Students are transformed into scientists, and they come to 'own' their discoveries," says Hourigan.
The work of Health Leads, a nonprofit organization that realizes when basic needs are not met, medical interventions have a low chance of success. "Every day, doctors prescribe medications to patients who have no food at home or are living in a car," says Rebecca Onie, Health Leads co-founder and CEO. "Medicine alone won't solve these problems, and many of these patients will return with more serious and expensive illnesses."
To learn more about the work of the Amgen Foundation, visit www.amgen.com/citizenship/foundation.html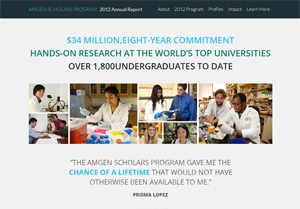 Amgen Scholars Program Annual Report, produced in partnership with the Massachusetts Institute of Technology and the University of Cambridge, provides an in-depth look at our most successful program to inspire the next generation of scientists from across the United States and Europe.
Highlights of the 2012 report include:
A profile of Amgen Scholar alumnus Trinidad Cisneros, who grew up in a Los Angeles housing project where he witnessed many struggles brought on by poverty. Cisneros credits his work as a 2009 Amgen Scholar at the University of Washington with giving him the type of rich, hands-on research experience he needed to deepen his lab skill set and interest in a scientific career. He's now a second-year PhD student at Stanford with a focus on transplant immunology.
Prisma Lopez participated as a 2012 Amgen Scholar at Columbia University-Barnard. "The Amgen Scholars Program gave me the chance of a lifetime as an undergraduate that would not have otherwise been available to me," says Lopez. During her summer, she aimed to understand the features of an embryonic stem cell that give it innate immunity from viruses. She's currently at the University of Connecticut majoring in molecular and cellular biology.
To learn more about the Amgen Scholars Program visit www.amgenscholars.com