Amgen's deep commitment to Science, Technology, Engineering and Math education (STEM) was highlighted at a recent STEM Saves Lives forum sponsored by US News & World Report and the Pharmaceutical Researchers and Manufacturers of America (PhRMA). The forum made it clear that STEM will play a critical role in building a 21st century workforce and especially developing new medicines and new hope for patients. STEM programs supported by the biopharmaceutical industry, like those pioneered by Amgen, play an important role in closing the STEM skills gap.
I've seen the lives of patients transformed as a result of new medicines we've discovered, developed and manufactured—and I've seen the unrelenting passion of scientists who work on those kinds of therapies. It's shown me how rewarding it can be to pursue science as a career—and the broad-based benefits that science, technology, engineering, and math (STEM) disciplines can provide.
—Bob Bradway, STEM: Building a 21st Century Workforce to Develop Tomorrow's New Medicines
Bad news about STEM talent; good news about STEM programs at Amgen
A new report commissioned by PhRMA drove much of the discussion at the Forum event. The report outlines the drivers for the biopharmaceutical industry's efforts to improve STEM education in the United States (see Bob Broadway's quote in sidebar) and describes successful programs at the 24 of the 31 companies that responded to the report survey on industry STEM education efforts.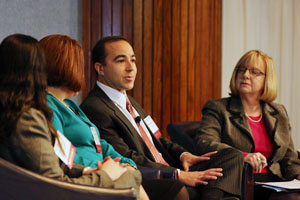 Of the 24 companies surveyed in the STEM report, Amgen is by far the leader in the development and support of STEM programs that seek to inspire and develop students, teachers and the next generation of scientists. Amgen dollars represented approximately 40 percent of the $100 million the report indicated was spent on STEM over the past five years by the 24 member PhRMA companies on U.S.-based initiatives. To date, Amgen and the Amgen Foundation have committed more than $80 million in science education funding to nonprofit organizations throughout the United States, Puerto Rico, and Europe.
Both the report and the Forum relayed a sense of urgency regarding the consequences of a decline in STEM skills and a concern for industries that rely on a STEM workforce. While the demand for STEM workers in growing across all industries, the 31 companies comprising the biopharmaceutical industry account for 20 percent of all R&D conducted in the U.S. and are especially vulnerable to the current decline in the STEM workforce. Data in the PhRMA report shows that in the U.S., nearly 70 percent of U.S. high school graduates are not ready for college-level science. And, fewer than 40 percent of students who enter college intending to major in STEM fields complete college with a STEM degree.
Amgen's industry-leading STEM programs
While there is no single solution for STEM, Amgen is making a deep and significant impact through two of its signature STEM programs. Like our peers, we partner with other organizations supporting STEM, such as Teach For America, but, in typical innovative Amgen fashion we also developed our own unique and impactful programs.
The Amgen Biotech Experience (ABE). allows teachers to bring hands-on biotechnology labs right into their classrooms, and addresses the lack of training, resources, and state-of-the-art materials available to most science teachers. The challenging biotech lab activities are based on the same procedures Amgen scientists use in their labs, and were developed through a special collaboration between educators and our scientists. Teachers are trained in contemporary techniques and provided with the latest equipment and materials needed to carry out biotech research and development. More than 300,000 students to date have been exposed to ABE in Amgen U.S. and U.K. communities.
The Amgen Scholars Program provides students with real-world science experience. The Scholars Program identifies promising science undergrads and partners them with research scientists and laboratories at top universities across the U.S. and Europe for a summer internship designed to fuel their passion for science. Over 2,100 students from nearly 500 colleges and universities have participated to date. More than 85 percent of Scholars alumni who have graduated from college are now pursuing an advanced degree or career in a scientific field.
Through programs like Amgen Scholars, talented students from many corners of the globe have discovered that a future in science is a challenge worth taking. It has been inspirational to see students' joy of learning – and the generosity of those who teach and mentor the new generation of scientists,
—Jean Lim Terra, President, Amgen Foundation.
These Amgen programs are deepening the understanding of biotechnology and the excitement of science for a wide swath of students, providing quality science education in classrooms, and inspiring the next generation of scientists.
Beyond STEM education to STEM competency
While building a workforce and fueling innovation are benefits of STEM programs, a third benefit of STEM cannot be ignored – raising the level of STEM competency or science literacy. Forum participants like Scott pointed out that a knowledge-based society includes STEM competency and that companies like Amgen are dependent on an ecosystem of other organizations that are STEM savvy. Everyone, Scott points out, should have a basic understanding of clinical trials, for instance.
"In today's knowledge-based economy, what's important is not only inspiring the next generation of scientists, but science literacy," said Scott. "At Amgen, we are in a unique position to model the importance of scientific literacy as our science impacts people's lives dramatically through the medicines and hope we provide."