Science without Borders (Ciência sem Fronteiras) was launched in 2011 by the Brazilian government. The program will provide scholarships to 100,000 students from Brazil to study at colleges and universities in the United States, Canada, Europe and Asia. Scholarships are focused on students in science, technology, engineering, and mathematics (STEM) fields. The program provides participants with the opportunity to spend the summer completing an internship at a company.
For more insight into the program, view the fun, informative video about the Amgen internship produced by 2013 intern Ana Cruz.
Since 2012, a number of Science without Borders (SwB) students have participated in Amgen's Undergraduate Summer Internship Program which has provided them with unique opportunities for professional growth and academic development. The program offers a challenging and inspiring environment that engages the scientist of tomorrow in comprehensive, meaningful projects.
Thus far, Amgen has hosted 20 SwBs interns and this year will welcome seven more to its Thousand Oaks campus – four in R&D, two in Latin America Commercial Operations and one in Global Strategic Sourcing.
Recently, Amgen also hired its first SwB intern Rafael Freitas Dos Santos who now works as a Health Economics & Pricing analyst in Amgen's São Paulo office in Brazil. In 2013, Rafael participated as a SwB intern in the Early Development group at Amgen Thousand Oaks. Following his return to Brazil, Rafael applied for and was hired for his current, full-time Amgen position in Brazil.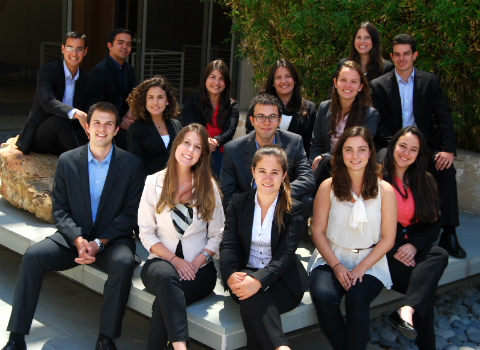 "I wanted to expand my educational experience through international travel and when I learned about SwB I thought 'that's my opportunity, I have to go'," said Rafael. "I researched the possible SwB intern opportunities and selected Amgen as my top choice when I read about Amgen's mission and values and realized that they matched my own values. Once I got to Amgen, I was impressed with the commitment people had to the values on a day-to-day basis."
Rafael says that the internship helped him develop management and organizational skills that he would not have gotten in a classroom. During his internship, he also had the opportunity to talk with Amgen staff and find out about areas of the pharmaceutical industry he would not have known about otherwise.
Eduardo Cetlin, director, Corporate Affairs, and leader of Amgen's SwB partnership, remarked on the value of the program, "Our experience has been excellent. The students have worked very hard and had a true immersion experience in the world of biotechnology." Eduardo added, "SwB is in strong alignment with Amgen's focus on investing in the next generation of innovators."