Building strong ties to a strategically important innovation hub for biotech
Amgen Chairman and CEO Robert Bradway was a keynote speaker at the World Medical Innovation Forum held in Boston, Massachusetts. During his interview with CNBC reporter Meg Tirrell, Bradway highlighted Amgen's strategic focus on discovering, developing, manufacturing, and commercializing medicines for patients suffering from serious illnesses.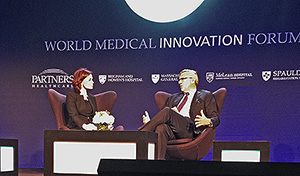 Bradway spoke about the importance of collaboration with government, research institutions and industry peers to advance innovative medicines that benefit patients and society. He also addressed how Amgen is employing advances in genetic sequencing in its discovery research efforts. "Our focus is increasingly around human genetics, and using the tools of human genetics, to point us in the direction of new therapies for diseases," said Bradway.
This engagement followed a panel discussion with Amgen's Executive Vice President of R&D, Sean Harper, about the role human genetics is playing in drug discovery. On the final night of the conference, Amgen hosted a networking reception at its Amgen Massachusetts facility in Kendall Square in Cambridge where Amgen's Senior Vice President Dave Piacquad spoke with local biotechnology startups, venture capital groups, and industry peers. Each activity supported Amgen's strategic commitment to build its presence in the greater region of Cambridge, Massachusetts, an innovation hub for biotechnology.