May is Melanoma Awareness Month, designed to raise awareness of the most dangerous form of skin cancer. In 2016, an estimated 76,380 new cases of melanoma will be diagnosed in the U.S.1
Amgen is proud to support patients with metastatic melanoma, an advanced form of skin cancer. Last year, treatment approvals in both the U.S. and EU helped us bring a much needed treatment option to certain patients with advanced melanoma.
This May, join Amgen in their support of Melanoma Awareness Month by spreading the word to help educate and raise awareness of this serious and difficult-to-treat disease.
All month long, we will be using Twitter to share melanoma facts and resources. To follow along, please visit www.twitter.com/Amgen. Share messages and join the conversation by tweeting with #MelanomaAwarenessMonth.
Learn more about skin cancer and melanoma in the U.S. by exploring the following infographic:
Infographic: MELANOMA- the facts
Click Image to Expand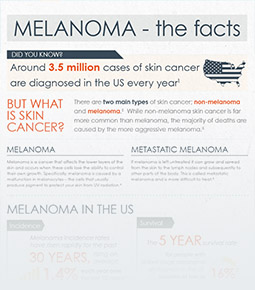 REFERENCES
American Cancer Society. Cancer Facts & Figures 2016. http://www.cancer.org/acs/groups/content/@research/documents/document/acspc-047079.pdf. Accessed March 8, 2016.