This summer marks the tenth anniversary of the Amgen Scholars Program, which aims to provide young scientists access to cutting-edge research experiences and biotech industry exposure. The program is hosted by 17 premier institutions in the U.S., Europe and Japan, with more than 3,100 students participating to date. Just this year alone, over 350 talented undergraduates spent their summer conducting hands-on research under leading academic scientists through the program.
As the summer comes to an end, we reflect back on another successful year and share some highlights from Amgen Scholars events across the globe.
Amgen Offices Welcome Visiting Scholars
This summer, scholars from a few of the Amgen Scholars host institution cohorts had the opportunity to visit Amgen's offices and meet Amgen scientists to learn more about the work they do day-to-day. A group of 17 Amgen Scholars who spent the summer conducting research at the National Institutes of Health visited Amgen's Washington, D.C. office to learn more about the policy environment that our industry operates within. In addition, about 60 Scholars from the University of California, San Francisco; Stanford; and the University of California, Berkeley visited Amgen's South San Francisco facility with 20 Amgen scientists to network and learn more about different career paths in the biopharmaceutical industry. Last, a similar visit occurred in Europe for the LMU Munich and ETH Zurich Scholars at Amgen Research Munich.
A 2016 UCSF Amgen Scholar shared about their visit, "I really enjoyed meeting with other scientists from all different fields, and learning about what excites them the most about their research."
Scholars Alumni Reunite in England
This September, we hosted our first global Amgen Scholars alumni event. Nearly 100 alumni from across nine countries gathered at the University of Cambridge to celebrate their accomplishments and the growth of the Amgen Scholars Program. Alumni presented posters of their recent research, and Philip Tagari, vice president of Therapeutic Discovery at Amgen, spoke about new approaches to target biology evaluation and therapeutics generation, with a focus on emerging convergence of cell biology and digital technologies.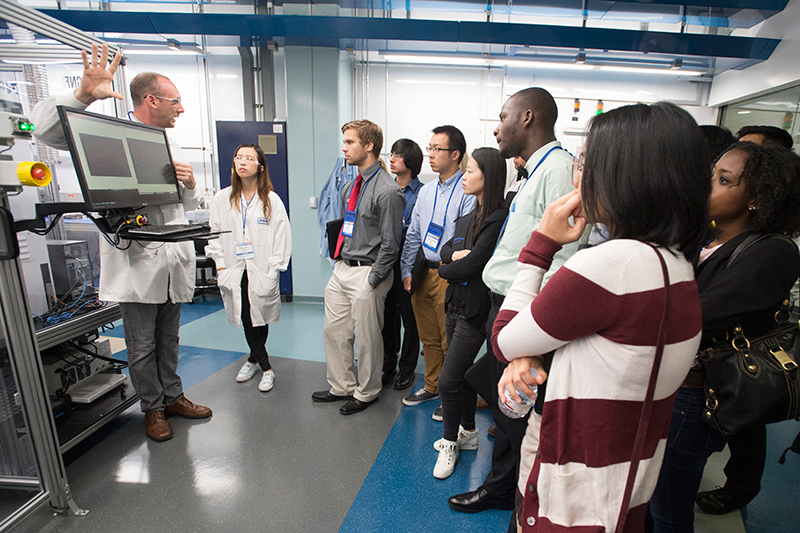 2016 Concludes With Summer Regional Symposia
The culmination of each year's Amgen Scholars Program is the Amgen Scholars Symposium. Held in Kyoto, Japan; Cambridge, England; and Los Angeles / Thousand Oaks, the symposia enables scholars to hear firsthand from leading scientists working in both industry and academia. At these events, scholars came together to share their summer research projects and learn more about drug discovery and development.
"The lectures, poster presentations, and industry visits all demonstrated the wide range of work involved in biotechnology research; from the more obvious biology research in genetics to physics research in biological imaging, all fields of science have relevancy in advancing biotechnology," said Alex Sample, 2016 Kyoto Amgen Scholar. "In a broader sense, scientists can all do something to help better the world and add to our knowledge."
Scholars at each symposium had the chance to learn from Amgen leaders about the cutting edge of life sciences research and potential career paths they can pursue after their education. They shared their research, networked with other scholars and interacted with top industry and academic scientists.
"This program has been life changing and I feel prepared with a vast array of knowledge, connections, and awareness of options I did not even know were available to me in my career," a 2016 MIT Amgen Scholar shared. "Particularly, I enjoyed being in an environment with access to limitless valuable information. I learned a lot on a personal level from many faculty as well."
"The Amgen Scholars Program provided an excellent opportunity for building laboratory skills, networking, and making lifelong connections," shared a 2016 Washington University, St. Louis Amgen Scholar. "The symposium was a highlight of the program and allowed us not only to network with potential future colleagues but also bond with those in our host programs even more. The passion for science exuding from every scholar was evident in some way. Amgen Scholars has helped motivate and prepare me for future graduate studies."
Celebrating 10 Years of Amgen Scholars: More news on the tenth anniversary of the Amgen Scholars Program will be published soon!