On a January morning, a team of Amgen scientists traveled to the University of Southern California to spend time with 10,000 young women from Los Angeles (LA) County schools through the LA Promise Fund's Girls Build LA Initiative. Amgen's "Selfie with a Scientist" booth provided a forum for a few of our female scientists to interact with an eager, bright and inspiring group of young women. With a line around the corner, the students tried on lab coats, donned safety glasses, and handled models of virus, bacteria, proteins and other biological structures. Their teachers held their camera phones as they quickly took the opportunity to take photos with their role models: scientists!
"Having grown up in a situation very much like the one these girls are growing up in, participating in the event emphasized the importance of having role models that one can relate to. It further cemented why it is important for Amgen to continue supporting these types of initiatives, and expose these underserved communities to what is possible," said Lorena B. Barrón, principal product quality leader, Corporate Product Quality.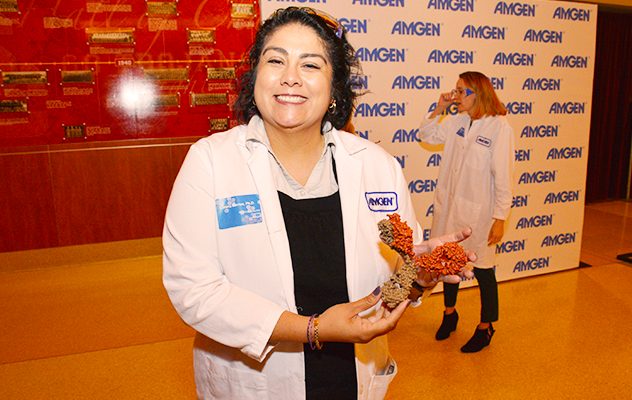 The event also featured a screening of the recently released film Hidden Figures, which shares the untold story of three brilliant African-American female mathematicians working for NASA and their pivotal role in one of the greatest achievements in history: the launch of astronaut John Glenn into orbit. The film's stars (Octavia Spencer, Janelle Monáe, and Aldis Hodge) and producer (Pharrell Williams) spoke with the middle schoolers and delivered inspiring words to encourage and challenge the young women to use Science, Technology, Engineering and Math (STEM) to engage the social issues they care about and galvanize their peers to address those challenges.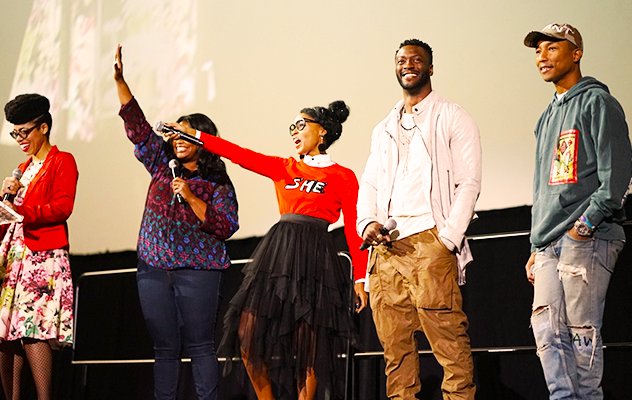 "LA Promise Fund's Girls Build LA initiative organized a spectacular event to engage an impressive number of middle school and high school girls and inspire them to pursue STEM fields. The booths, speakers, and movie screening all contributed to a truly inspirational experience," said Tracy Blois, licensing senior manager, Business Development.
Amgen sponsored the event and the Amgen Foundation has been a longtime supporter of LA Promise Fund for Public Schools, which builds innovative partnerships to improve educational, health, and wellness outcomes for students. In addition to financial support, Amgen staff and leadership regularly engage with the organization's initiatives. For example, Amgen's Cynthia Patton (senior vice president, chief compliance officer, and chair, Amgen Foundation Board of Directors) recently spoke to a group of 500 young women to encourage and motivate them to pursue careers in STEM.
Veronica Melvin, CEO and president, LA Promise Fund, notes, "Amgen has played a pivotal role in supporting LA-area youth to pursue careers in STEM. As a corporate partner, Amgen and the Amgen Foundation's financial and in-kind support has enabled us to expand our programs and produce inspiring events for the Girls Build LA initiative. With the involvement of Amgen scientists, our young women had the invaluable opportunity to interact with their heroes and role models, and we couldn't be more pleased to present that opportunity to them."