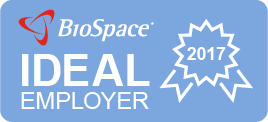 With a mission to serve patients, Amgen staff are committed to defeating some of the world's most harmful diseases, and that's just one of the reasons that Amgen is an ideal place to work.
BioSpace coalesced more than 7,000 votes from life science professionals globally, and the results are in: Amgen is the #4 Global Life Science employer on the Biospace 2017 Ideal Employers Report .
Amgen scored top marks on the survey with the three most important attributes being: 1) interesting and meaningful work, 2) competitive salaries, and 3) a good reputation. All of this should come as no surprise to Amgen's nearly 20,000 global staff members.
At the core of Amgen is the company's mission to serve patients, which seeps into everything the organization does from finance to IT to the science itself. It's this deep commitment which fuels the company's innovation, speed-to-market and robust workforce.
Amgen places immense value on fostering and enhancing the talents of its colleagues across a spectrum of disciplines and promotes open dialogue and diverse views throughout the organization. The company utilizes the industry's largest toolkit of modalities and state-of-the-art technology and processes to ensure that staff members are equipped to maximize their potential.
Visit careers.amgen.com to learn more about careers at Amgen. You can also follow Amgen Careers on Facebook, Twitter, LinkedIn, YouTube, and Glassdoor.