To My Fellow Shareholders,
Amgen had another successful year in 2017, serving patients around the world with innovative medicines and enabling them to live longer, healthier lives.
With revenues of $22.8 billion, we achieved record non-GAAP earnings per share of $12.581, up 8% from the prior year, a record non-GAAP operating margin of 53.5%1, and record free cash flow of $10.5 billion1. Consistent with our belief in the long-term value of innovation, we invested $3.5 billion1 in research and development in support of a very promising pipeline of new medicines. Amgen delivered a one-year total shareholder return of 22% and a five-year return of 125%, outperforming the one- and five-year average total shareholder return of our peer group of 10% and 101%, respectively.
2017 RESULTS
$22.8 billion
REVENUE
$12.58
NON-GAAP EARNINGS PER SHARE1
53.5%
NON-GAAP OPERATING MARGIN1
$10.5 billion
FREE CASH FLOW1
A Dynamic Environment
Amgen was founded in 1980. For most of our history, we competed in a handful of specialty therapeutic categories in which there was relatively little competition. The healthcare ecosystem was fundamentally stable, with clearly defined roles for those operating within it. Innovators like Amgen discovered and developed new treatments. Physicians and hospitals provided those treatments to patients. Governments and insurers paid for those treatments.
That world no longer exists.
Today, we are seeing intensifying competition across our business from large, well-established players and smaller, nimble newcomers. We see a policy and access environment around the world that is increasingly challenging to innovation. And we are seeing traditional roles in the healthcare ecosystem blur as companies enter into unconventional partnerships in an attempt to find new ways to succeed.
At a time when so much is changing, it is critical to have a clearly articulated mission, a meaningful aspiration, a well-defined set of values, and a carefully considered strategy. Amgen has all of these things, and I'm convinced these will enable us not just to survive but to thrive in the years ahead.
OUR MISSION
Amgen's mission is to serve patients—in particular, patients suffering from serious illnesses like cardiovascular disease and cancer. We have never wavered from this mission, and it has never been more necessary or urgent. Why?
First and foremost, the world is rapidly aging. For example, in Amgen's largest market, the United States, people over the age of 65 represent the fastest growing segment of the population. It is estimated that an average of 10,000 people will reach the age of 65 every day for the next 20 years. Globally, the percentage of people over the age of 65 will roughly double between now and 2050. For many diseases associated with the aging process—like cancer, cardiovascular disease, and Alzheimer's disease—better, more effective therapies are needed.
Even as the world is growing older, approximately 160 million additional people join the global middle class every year. With this trend, we can unfortunately expect to see growth in diseases such as diabetes, obesity, and kidney disease, which are more prevalent among first-world countries, and respiratory diseases, which arise with increased urbanization.
This growing global burden of disease takes an enormous human toll, of course, but also creates a huge financial burden on society. To give just one example, cardiovascular disease now claims a staggering 17.7 million lives a year globally and costs nearly $600 billion a year in the U.S. alone.
No one company can solve these massive health challenges single-handedly, but Amgen is committed to being an important part of the solution. We have been at the forefront in implementing innovative value- based contracts with insurers to share accountability for health results and link the price of our medicines to their performance. For example, our partnership with Harvard Pilgrim Health Care provides them a rebate of the cost of Repatha®, our medicine to reduce heart attacks and strokes, for eligible patients who have such events.
In addition, Amgen remains deeply committed to long-standing patient support programs in the U.S., such as the Amgen Safety Net Foundation, that help patients with no or limited drug coverage access our medicines. For eligible patients unable to afford their prescribed Amgen medicines, we provide our medicines at no cost. We also support compassionate use and expanded access to our medicines for qualified patients globally.
Finally, we are also applying our biomanufacturing expertise to the development of high-quality, branded biosimilars, which offer the promise of improved supply and affordability for certain biologic medicines whose patents have expired.
Our current portfolio of medicines addresses some of the world's leading causes of death. We are passionate about bringing transformational, not incremental, innovation to patients in these areas. Innovative new medicines that can prevent disease offer the prospect of a better future for patients and society.
OUR ASPIRATION
Our aspiration is to be the world's best human therapeutics company. To be the best, we need to aim high and take on the tough challenges. As an example, we have seen a number of our peers abandon their efforts to develop new treatments for neurological disorders such as Alzheimer's, a disease that afflicts 1 in 10 people age 65 and older. Without a doubt, Alzheimer's has proven to be an incredibly difficult target. Nonetheless, we remain in the fight. We are working on a variety of mechanisms in Alzheimer's disease, including a molecule being tested in patients with a very high genetic risk for Alzheimer's who have yet to develop cognitive symptoms of the disease—a promising new approach.
OUR VALUES
The Amgen Values were formalized more than 20 years ago to preserve the entrepreneurial spirit, energy, and high ethical standards that characterized the early startup years at our company. These values continue to guide the way we do business today, and they keep us grounded and unified, especially during turbulent times.
THE AMGEN VALUES
Be Science-Based
Compete Intensely and Win
Create Value for Patients, Staff, and Stockholders
Be Ethical
Trust and Respect Each Other
Ensure Quality
Work in Teams
Collaborate, Communicate, and Be Accountable
For example, one of our values is to "trust and respect each other." It sounds obvious, perhaps, but far too many companies recently have failed to create an environment in which people from diverse backgrounds can work together comfortably and collaboratively to achieve great things.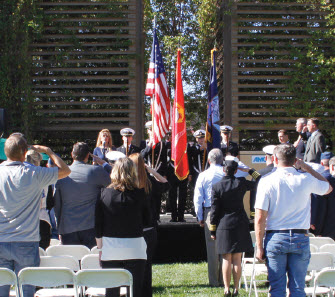 Amgen's first product, EPOGEN®, was discovered in 1983 by a team led by a young Taiwanese immigrant to the U.S. named Fu-Kuen Lin, so we have long understood the importance of harnessing diversity to make a difference for patients. Today, more than 50% of our employees globally are women, and 35% of our employees in the U.S. are minorities. We have approximately 4,000 staff members globally participating in nine employee resource groups— including the Amgen Veterans Employee Network, shown here observing Veterans Day—that are dedicated to supporting their members, our business, and the community.
In 2017, Amgen received a perfect score on the Corporate Equality Index, which rates corporate policies and practices related to LGBTQ workplace equality. In early 2018, Amgen ranked among the top 100 on Forbes magazine's inaugural list of "America's Best Employers for Diversity." We see our commitment to diversity as a strength to build upon as we serve an increasingly diverse patient population.
OUR STRATEGY
At Amgen, our strategy is the integrated set of actions we are taking to grow our company and strengthen our long-term competitive position. Six therapeutic areas form the core of our business: cardiovascular, oncology/hematology, neuroscience, inflammation, nephrology, and bone health. We regularly challenge our strategic plans and assumptions, engaging management, our board, and shareholders in that process. I will briefly discuss important pillars of our strategy and the advances we made in 2017.
Bringing Innovative Medicines to Patients
Innovative medicines are the heart and soul of our business. If we don't advance innovative medicines, manufacture them to a high quality standard, and get them into the hands of patients who need them, nothing else we do matters. In 2017, we secured 80 approvals for new medicines and new indications in over 30 countries around the world, continuing a significant shift in our portfolio on two important dimensions.
Six therapeutic areas form the core of our business: cardiovascular, oncology/hematology, neuroscience, inflammation, nephrology, and bone health
First, the balance of our portfolio is shifting to newer products with very favorable long-term growth potential. For example, three of our currently marketed products— Repatha®, Prolia®, and KYPROLIS®—can benefit significantly more patients than they do today. Together, these three products generated more than $3 billion in sales in 2017 and collectively grew by over 25% year-over-year.
Repatha is our LDL cholesterol treatment to reduce heart attacks and strokes in patients with established cardiovascular disease. Sales of Repatha increased 126% in 2017. In the U.S., someone has a heart attack or stroke every 40 seconds, and nearly one in three of these patients will have another event. In December, the U.S. Food and Drug Administration (FDA) approved the inclusion of our cardiovascular outcomes data in the label for Repatha. With this approval, Repatha became the first PCSK9 inhibitor proven to reduce the risk of heart attack (by 27%), stroke (by 21%), and coronary revascularization (by 22%) in adults with established cardiovascular disease. Since receiving the expanded label, we've redoubled our efforts to work with large insurers and pharmacy benefit managers to help patients who are prescribed Repatha by their doctors get it.
Prolia is our medicine to reduce the risk of fracture in postmenopausal women with osteoporosis. Prolia sales grew 20% in 2017. We've already reached some 3.5 million patients with Prolia. However, an estimated 57 million women worldwide have postmenopausal osteoporosis, meaning there is much more work for us to do to reach women at high risk of fracture who could benefit from the protection offered by a product like Prolia. Remarkably, in the U.S., osteoporosis-related fractures result in more hospitalizations than heart attacks, stroke, and breast cancer combined. In October, the FDA accepted our supplemental Biologics License Application for Prolia to treat patients with glucocorticoid-induced osteoporosis, the most common drug-induced form of the disease.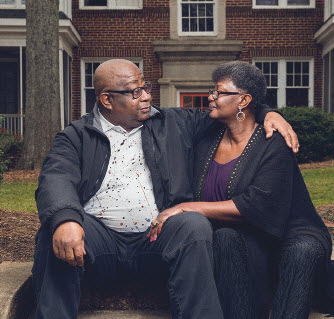 KYPROLIS is our medicine for relapsed and refractory multiple myeloma, a fatal form of blood cancer. Sales of KYPROLIS rose 21% in 2017. The "gold standard" for a medicine in this highly competitive category is improvement in overall survival. KYPROLIS-based regimens are the first and only to demonstrate superior overall survival versus today's standard of care in two Phase 3 studies, resetting survival expectations for patients such as Robert, shown here with his wife Sharon. In January of this year, the FDA approved the addition of overall survival data from the first of these studies to the KYPROLIS label.
Our portfolio will shift over time in another important respect—from medicines that predominantly serve small, "specialty" patient populations to medicines that serve large patient populations. This gives us the opportunity to make an even greater impact on health. Repatha and Prolia exemplify this shift, as do other medicines in our pipeline.
Last year, for example, we filed for approval in the U.S. for Aimovig™, an investigational treatment for migraine prevention. The World Health Organization ranks migraine as one of the world's most debilitating illnesses given its prevalence and severity. In clinical studies, Aimovig versus placebo demonstrated a reduction in the number of migraine days and acute medication use for patients with episodic and chronic migraine. We hope to launch Aimovig in the first half of 2018 in partnership with Novartis.
Reflecting our commitment to neuroscience and migraine patients, we are also developing a potential first-in-class therapy for migraine, AMG 301, using a mechanism of action distinct from Aimovig. We hope to demonstrate that AMG 301, currently in Phase 2 clinical trials, will either be synergistic with Aimovig or address patients who don't respond to Aimovig.
In September 2017, we reported very encouraging Phase 2b clinical trial results for tezepelumab, an investigational treatment for severe asthma, which affects more than 30 million people worldwide. Tezepelumab showed a significant reduction in the annual asthma exacerbation rate compared with placebo in patients with severe, uncontrolled asthma. Tezepelumab has now entered Phase 3 clinical trials.
Also in the area of inflammatory disease, we are advancing AMG 592 in Phase 1 for a range of autoimmune disorders. It is designed to boost production of immune regulatory cells (known as Tregs) to rebalance an overly aggressive immune response that occurs in patients with these disorders.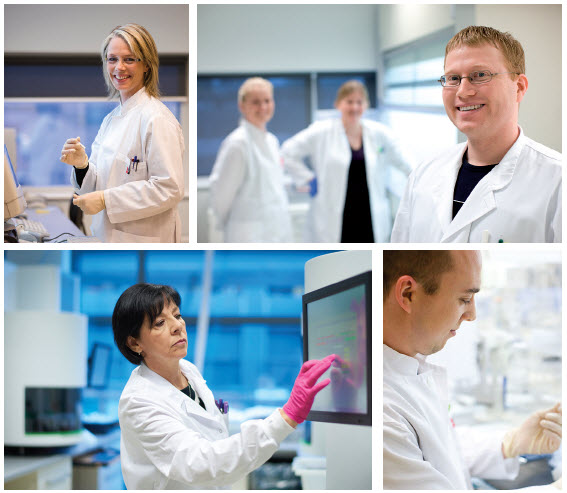 TURNING GENES INTO MEDICINES
Over the past decade, massive improvements in DNA-sequencing technology have made it practical to collect and analyze whole-genome sequence data from large numbers of people. No company has done more to leverage this technological breakthrough than Iceland-based deCODE Genetics, an Amgen subsidiary.
The support of the Icelandic nation and deCODE's own unique capabilities have enabled it to assemble two massive data sets. One set contains genetic data provided by more than half the adults in Iceland, augmented by deCODE's prowess in using genealogical records to predict genotypes. The other set, derived from Iceland's universal healthcare system, contains phenotypic data on disease and other physical traits.
By searching for nonrandom associations in these huge data sets, deCODE has found a wealth of rare and common genetic variants linked to disease risk. Rare variants, in particular, can reveal proteins that either cause or prevent disease, giving scientists highly relevant drug targets to pursue. In addition to discovering variants in genes that affect the risk of disease and thus provide Amgen with potential targets that have validation in man, deCODE has pioneered an approach to validating targets discovered or selected through nongenetic means. Furthermore, deCODE has developed an approach to using genetics to assess the likelihood that drug candidates will have deleterious side effects.
deCODE's mission of fundamental genetic research didn't change with the acquisition by Amgen, and that focus has been enhanced by Amgen's investments. deCODE continues to publish its findings in top-tier science journals, including 28 papers that appeared in 2017. Last year, the American Society of Human Genetics recognized deCODE's groundbreaking work by honoring the company's founder, Kári Stefánsson, with the society's top prize, the William Allan Award.
Our early-stage pipeline is as strong as it has ever been, increasingly informed by insights arising from our study of human genetics. Our genetics expertise is largely derived from Amgen's subsidiary, deCODE Genetics, a world leader in analyzing and understanding the human genome. In our industry, it takes an average of more than 10 years and $2.6 billion to discover and develop a new medicine, and just 12% of drug candidates tested in clinical trials ever reach the market. The approval rate is roughly twice as high for drug development programs validated by human genetics. Our work with deCODE enables us to allocate resources toward those candidates with the best potential for success—and, just as importantly, to stop working on less-promising candidates. Additionally, we have expanded our toolkit of novel drug modalities, designing new types of molecules that attack disease in new ways.
Several of our early-stage candidates are designed to harness the power of the immune system to treat cancer, which claims almost 9 million lives a year worldwide. We are especially encouraged by our bispecific T-cell engager antibody constructs, or BiTE® molecules. One arm of each of these molecules is engineered to bind to a protein found on the surface of cytotoxic T cells; the other arm is designed to bind to a specific protein found primarily on tumor cells. This enables the T cell to recognize tumor cells and attack them through an infusion of toxic molecules.
We already have one BiTE molecule approved and on the market: BLINCYTO®, which treats acute refractory or relapsed B-cell lymphoblastic leukemia and is the first and only medicine of its kind to demonstrate an overall survival benefit versus standard of care chemotherapy in this difficult-to-treat patient population. Our pipeline now includes six BiTE molecules to treat both liquid and solid tumors, with several more programs scheduled to enter the clinic in 2018.
Our early-stage pipeline also includes potential new treatments for cardiovascular disease driven by our growing understanding of genetic risk factors. We have long understood, for example, that high levels of LDL cholesterol increase the risk of heart attacks and strokes. This is the problem that Repatha so effectively addresses. More recently, we have learned that an LDL-like particle called Lp(a) is a risk factor that is independent from LDL levels. One in seven people carry a genetic mutation that increases levels of Lp(a), leading to a 50% higher risk of early heart disease. Diet, exercise, and existing medicines have little impact on this increased risk. Amgen is exploring a technology called RNA interference that may be able to silence the gene needed to produce Lp(a). We hope to begin testing this approach in humans later this year.
Transforming Amgen for the Future
Five years ago, Amgen began a company-wide transformation to improve our effectiveness and competitiveness. We did so recognizing we were entering a dynamic period, with many of our largest products going off patent or facing new competition, while we simultaneously launched an unprecedented number of new medicines in markets around the world. We scrutinized every aspect of our business—from how we discover and develop new medicines, to how we manufacture them, to how we bring them to patients.
Over the past five years, Amgen has expanded its geographic presence from roughly 50 countries to approximately 100.
Through the end of 2017, we have delivered approximately $1.5 billion in transformation and process improvement savings that we've reinvested in launching new products, advancing our pipeline, and pursuing external business development opportunities. We have significantly reduced our facilities footprint globally, while also introducing next-generation office and lab workspaces that support collaboration and provide a healthy, vibrant environment for staff. And we've improved the speed with which we move promising new product candidates through our pipeline—sometimes by months and, in select cases, by years.
Just as importantly, we have embedded a set of capabilities throughout our organization that is enabling us to drive further improvements and respond quickly to a fast-changing, often unpredictable, external environment.
Expanding Our Geographic Reach
Over the past five years, Amgen has expanded its geographic presence from roughly 50 countries to approximately 100, positioning us to take advantage of the growing demand for quality healthcare around the world and enabling us to achieve a stronger return on our considerable investments in research, development, and manufacturing.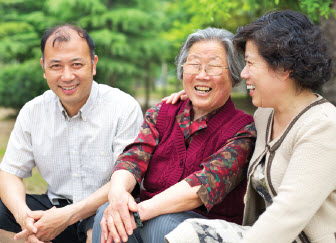 One market of particular interest to us is China, home to one-fifth of the world's population. Our current and emerging portfolio of medicines matches up well with China's top health challenges, one of which is cardiovascular disease. In 2018, we expect to launch our first medicine in China, Repatha. An estimated 450 million people in China have high cholesterol, so Repatha has the potential to have a profound impact on public health there.
Advancing Our Biomanufacturing Capabilities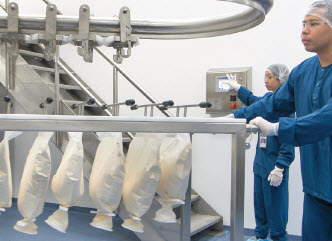 Biologics manufacturing is a complex science and has long been a competitive advantage for Amgen. We are working to extend that advantage even further. In 2017, we received approval for certain commercial-scale production from multiple regulatory agencies for our next-generation biomanufacturing plant in Singapore. We built this facility from the ground up in roughly half the time required for conventional biomanufacturing plants and at a quarter of the cost.
Our Singapore plant produces the same quantity of products as a conventional facility but is 75% smaller, meaning that it has a significantly reduced environmental footprint. Specifically, the plant uses 80% less energy and water, reduces carbon dioxide emissions by 75%, and lowers solid waste and the usage of chemicals. We plan to construct a new plant in the U.S. that will build upon our learnings from Singapore and add scores of high-skill jobs to the local economy.

Improving Drug Delivery Systems
Unlike small-molecule medicines that can be taken by patients in pill form, biologic medicines are administered subcutaneously or intravenously. We continue to look for ways to make our medicines easier to use to improve the patient experience, increase adherence, and enable care to take place at home.
Neulasta® reduces the chance of infection due to a low white blood cell count in patients receiving strong chemotherapy. In 2017, we saw continued share growth of the Neulasta® Onpro® kit, which includes a patent-protected, wearable device that allows patients to stay home the day after chemotherapy rather than having to return to the clinic to receive a Neulasta injection. Neulasta Onpro now accounts for more than 60% of Neulasta units sold in the U.S., attesting to the value of this new delivery system for patients and their healthcare providers. We expect to launch Neulasta Onpro in Europe later this year.

Enbrel® treats a variety of autoimmune disorders, such as moderate-to-severe rheumatoid arthritis. In 2017, we launched the Enbrel Mini™ with AutoTouch™ in the U.S. The product, shown here, includes numerous innovative features such as an ergonomic handle, a switch with three injection speeds, and sounds that confirm when the injection is finished. Additionally, the device is reusable for up to two years, making it environmentally friendly.
Developing Branded Biosimilars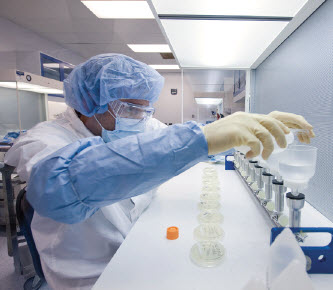 As an increasing number of branded biologic medicines come off patent, we continue to see a compelling opportunity to leverage our many years of biotechnology experience to create high-quality biosimilars and reliably supply them to patients worldwide. As of year-end 2017, Amgen had a total of 10 biosimilars in our portfolio, including three that have been approved or filed for approval in the U.S. and Europe and two that are in Phase 3 studies. In September 2017, we reached a global settlement with AbbVie to resolve all pending litigation regarding AMGEVITA™/AMJEVITA™, our biosimilar to AbbVie's Humira® (adalimumab), the world's best-selling medicine. We expect to launch AMGEVITA in Europe later this year and AMJEVITA in the U.S. in early 2023.
Allocating Capital and Investing for Long-Term Growth
We are committed to returning capital to our shareholders, while continuing to invest in our business to drive long-term growth. In 2017, we returned $6.5 billion to our shareholders through dividends and stock repurchases—representing 70% of our non-GAAP net income1. We increased our dividend per share by 15% over the prior year and repurchased approximately $3.1 billion of Amgen shares. At the same time, we continued to invest in long-term growth, including $3.5 billion1 in research and development and approximately $700 million in capital expenditures. Our return on invested capital2 in 2017 was 33%, up 2 percentage points from last year and 10 points since 2011.
Our Contribution to Society
Amgen was founded 38 years ago by a small team working out of an office park in Thousand Oaks, California. Since then, we've seen thousands of biotech companies come and go as Amgen developed into—and remains—an industry leader. While Thousand Oaks still serves as our global headquarters, we rank today among the largest companies on the Fortune 500, with more than 20,000 employees worldwide, making a positive difference in the lives of millions of patients.
We envision a future in which we will serve many millions more patients than we do today—treating serious diseases and, increasingly, predicting and preventing those diseases from occurring in the first place.
The single best way we can contribute to society is by continuing to do what we do best: bringing innovative medicines to patients suffering from serious illnesses. We envision a future in which we will serve many millions more patients than we do today—treating serious diseases and, increasingly, predicting and preventing those diseases from occurring in the first place. We believe this will have a profound effect on individual lives and on society as a whole.
Our commitment to making this future a reality drives our contributions in the community, where we are focused on inspiring the scientists of tomorrow. We are in a long-cycle business, and much of the work taking place at Amgen today will be carried forward in the future by those who have yet to even enter the workforce. I encourage you to learn more about our work with young people in the feature below.
Our commitment to creating a healthier future extends to the environment. As mentioned earlier, our next- generation biomanufacturing technology offers many environmental advantages over traditional facilities. More broadly, Amgen has taken steps over the past 10 years to significantly reduce our total carbon emissions, waste generation, and water consumption. In recognition of our commitment to sustainability, Amgen was included in 2017 on the highly selective Dow Jones Sustainability World Index for the fourth year in a row and on the North America Index for the fifth year in a row. For more information on our progress, please visit the "Responsibility" section of amgen.com.
We are now at an inflection point in terms of our understanding of biology and, with it, our ability to tackle serious illnesses and help people live longer, healthier lives.
This is an exciting time for Amgen and our industry. We are now at an inflection point in terms of our understanding of biology and, with it, our ability to tackle serious illnesses and help people live longer, healthier lives.
On behalf of Amgen's board of directors and our global staff, I thank you for your continued support of our company, our strategy, and the important work we do every day. I can assure you that all of us at Amgen remain committed to our mission and to delivering sustained performance on behalf of all those we serve.
Robert A. Bradway
Chairman and Chief Executive Officer
INSPIRING THE SCIENTISTS OF TOMORROW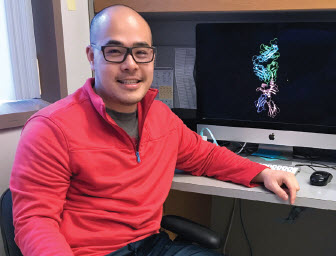 When Marvin Gee, shown here, was named to the 2018 Forbes magazine "30 Under 30" list of young innovators in healthcare for his pioneering work in cancer research, he cited a number of inspirations, including an uncle who passed away from the disease and a Nobel laureate who served as Marvin's mentor at the California Institute of Technology. Marvin also cited his participation in the Amgen Scholars Program, which provides undergraduate scientists around the world with cutting-edge research experiences and exposure to biotechnology and drug discovery.
Learn more about the Amgen Foundation's investment in the next generation of innovators by visiting
amgeninspires.com
.
"I had been in labs since high school and never considered working in industry or biotech," he says. "Meeting people from Amgen and other scientists through the program—seeing their career interests and how they thought about things—really opened my eyes to the different possibilities out there."
Marvin is one of more than 3,500 students who have completed the Amgen Scholars Program since 2006. The program's alumni are now pursuing advanced scientific degrees and careers across the globe, including over 200 who have earned their Ph.D.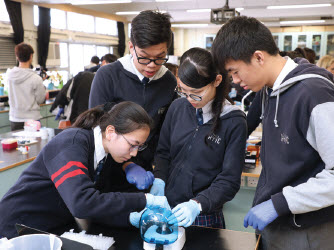 A love for science can be instilled at an even younger age. The Amgen Biotech Experience is aimed at high school students, providing them with hands-on biotechnology experience to build a better understanding of science and how it influences their daily lives. The program, now approaching its 30th year, expanded to nine new locations in 2017, including Australia, Canada, Germany, and Hong Kong, as part of our commitment to reaching 900,000 students by 2020.
"Although the experiments are challenging, it has helped me understand biotechnology concepts and has made science more interesting for me," said one student in Hong Kong, reflecting research showing that 82% of participants developed new ideas about science through the Amgen Biotech Experience. More than half reported an increased interest in having a career in science.
Recently, the Amgen Foundation also expanded its partnership with Khan Academy, the world leader in providing free, world-class educational content for anyone, anywhere. Through a three-year, $3 million grant, the Amgen Foundation is now the exclusive sponsor of Khan Academy's biology content, currently accessed by more than 1 million students every month.
"The Amgen Foundation has demonstrated a deep commitment to science education for many years," said
Khan Academy founder and CEO Sal Khan. "The Amgen Foundation's funding allows Khan Academy to create new biology lessons that will enrich the classroom experience for students and teachers everywhere."
You can access Khan Academy's biology lessons by visiting khanacademy.org/science/biology .
And you can learn more about the Amgen Foundation's investment in the next generation of innovators by visiting
amgeninspires.com
.
This is a non-GAAP financial measure. See reconciliation to U.S. generally accepted accounting principles (GAAP) accompanying this letter.
Return on invested capital is calculated as [non-GAAP operating income * (1—non-GAAP tax rate)]/(average total assets—average cash and cash equivalents and marketable securities—average current liabilities). This calculation includes non-GAAP financial measures. See reconciliations accompanying this letter.
Reconciliations of GAAP to Non-GAAP Measures (Unaudited)
($ in millions, except per share data)
Years ended December 31,
2017
2016
2011
GAAP research and development expenses
$3,562
Adjustments to research and development expenses:
Acquisition-related expenses(a)
(77)
Certain net charges pursuant to our restructuring and other cost savings initiatives(b)
(3)
Total adjustments to research and development expenses
(80)
Non-GAAP research and development expenses
$3,482
GAAP operating income
$9,973
$9,794
$4,312
Adjustments to operating expenses:
Acquisition-related expenses(c)
1,594
1,510
342
Certain net charges pursuant to our restructuring and other cost savings initiatives(b)
88
37
162
Expense related to various legal proceedings
—
105
786
Stock option expense
—
—
85
Other
3
—
—
Total adjustments to operating expenses
1,685
1,652
1,375
Non-GAAP operating income
$11,685
$11,446
$5,687
Product sales
$21,795
GAAP operating margin
45.8%
Impact of total adjustments to operating expenses
7.7%
Non-GAAP operating margin
53.5%
GAAP income before income taxes
$9,597
$9,163
$4,150
Adjustments to operating expenses
1,685
1,652
1,375
Adjustments to interest expense, net(d)
—
—
143
Non-GAAP income before income taxes
$11,282
$10,815
$5,668
GAAP provision for income taxes
$7,618
$1,441
$467
Adjustments to provision for income taxes:
Income tax effect of the above adjustments(e)
538
525
331
Other income tax adjustments(f)
(6,120)
64
12
Total adjustments to provision for income taxes
(5,582)
589
343
Non-GAAP provision for income taxes
$2,036
$2,030
$810
GAAP tax as a percentage of income before taxes
79.4%
15.7%
11.3%
Adjustments to provision for income taxes:
Income tax effect of the above adjustments(e)
–7.1
2.5
2.8
Other income tax adjustments(f)
–54.3
0.6
0.2
Total adjustments to provision for income taxes
–61.4
3.1
3.0
Non-GAAP tax as a percentage of income before taxes
18.0%
18.8%
14.3%
GAAP net income
$1,979
$7,722
Adjustments to net income:
Adjustments to operating expenses
1,685
1,652
Income tax effect of the above adjustments(e)
(538)
(525)
Other income tax adjustments(f)
6,120
(64)
Non-GAAP net income
$9,246
$8,785
Weighted-average shares for GAAP diluted EPS
735
754
Weighted-average shares for Non-GAAP diluted EPS
735
754
GAAP diluted EPS
$2.69
$10.24
Non-GAAP diluted EPS
$12.58
$11.65
The adjustment related primarily to non-cash amortization of intangible assets.
The adjustments related to headcount charges, such as severance, and to asset charges, such as asset impairments, accelerated depreciation and other charges related to the closure of our facilities.
The adjustments related primarily to non-cash amortization of intangible assets and changes in the estimated fair values of contingent consideration related to business combinations. For the year ended December 31, 2017, the adjustment included net charges associated with the discontinuance of the internal development of AMG 899.
The adjustment related to non-cash interest expense associated with our convertible notes.
The tax effect of the adjustments between our GAAP and non-GAAP results takes into account the tax treatment and related tax rate(s) that apply to each adjustment in the applicable tax jurisdiction(s). Generally, this results in a tax impact at the U.S. marginal tax rate for certain adjustments, including the majority of amortization of intangible assets, whereas the tax impact of other adjustments, including restructuring expense, depends on whether the amounts are deductible in the respective tax jurisdictions and the applicable tax rate(s) in those jurisdictions.
For the year ended December 31, 2017, the adjustment related primarily to the impact of U.S. Corporate tax reform, including the repatriation tax on accumulated foreign earnings and the remeasurement of certain net deferred and other tax liabilities. For the years ended December 31, 2016 and 2011, the adjustments related to certain acquisition items and prior period items excluded from GAAP earnings.
Reconciliations of Cash Flows (Unaudited)
($ in millions)
Year ended December 31,
2017
Net cash provided by operating activities
$11,177
Net cash used in investing activities
(4,024)
Net cash used in financing activities
(6,594)
Increase in cash and cash equivalents
559
Cash and cash equivalents at beginning of year
3,241
Cash and cash equivalents at end of year
$3,800
Net cash provided by operating activities
$11,177
Capital expenditures
(664)
Free cash flow
$10,513
Reconciliation of Future GAAP to Non-GAAP Financial Measures
Management has presented herein certain forward-looking statements about the Company's future financial performance that include non-GAAP net income for the year ended December 31, 2018. These non-GAAP financial measures are derived by excluding certain amounts, expenses or income, from the corresponding financial measures determined in accordance with GAAP. The determination of the amounts that are excluded from these non-GAAP financial measures is a matter of management judgment and depend upon, among other factors, the nature of the underlying expense or income amounts recognized in a given period. We are unable to present a quantitative reconciliation of the aforementioned forward-looking non-GAAP financial measures to their most directly comparable forward-looking GAAP financial measures because management cannot reliably predict all of the necessary components of such GAAP measures. Historically, management has excluded the following items from these non-GAAP financial measures, and such items may also be excluded in future periods and could be significant:
Expenses related to the acquisition of businesses, including amortization and/or impairment of acquired intangible assets, including in-process research and development, adjustments to contingent consideration, integration costs, severance and retention costs and transaction costs;
Charges associated with restructuring or cost saving initiatives, including but not limited to asset impairments, accelerated depreciation, severance costs and lease abandonment charges;
Legal settlements or awards;
The tax effect of the above items;
Non-routine settlements with tax authorities; and
The impact of U.S. Corporate tax reform.
Forward-Looking Statements: This communication contains forward-looking statements that are based on the current expectations and beliefs of Amgen. All statements, other than statements of historical fact, are statements that could be deemed forward-looking statements, including estimates of revenues, operating margins, capital expenditures, cash, other financial metrics, expected legal, arbitration, political, regulatory or clinical results or practices, customer and prescriber patterns or practices, reimbursement activities and outcomes and other such estimates and results. Forward-looking statements involve significant risks and uncertainties, including those discussed below and more fully described in the Securities and Exchange Commission reports filed by Amgen, including our most recent annual report on Form 10-K and any subsequent periodic reports on Form 10-Q and Form 8-K. Unless otherwise noted, Amgen is providing this information as of the date of this communication and does not undertake any obligation to update any forward-looking statements contained in this document as a result of new information, future events or otherwise.
No forward-looking statement can be guaranteed and actual results may differ materially from those we project. Our results may be affected by our ability to successfully market both new and existing products domestically and internationally, clinical and regulatory developments involving current and future products, sales growth of recently launched products, competition from other products including biosimilars, difficulties or delays in manufacturing our products and global economic conditions. In addition, sales of our products are affected by pricing pressure, political and public scrutiny and reimbursement policies imposed by third-party payers, including governments, private insurance plans and managed care providers and may be affected by regulatory, clinical and guideline developments and domestic and international trends toward managed care and healthcare cost containment. Furthermore, our research, testing, pricing, marketing and other operations are subject to extensive regulation by domestic and foreign government regulatory authorities. We or others could identify safety, side effects or manufacturing problems with our products, including our devices, after they are on the market. Our business may be impacted by government investigations, litigation and product liability claims. In addition, our business may be impacted by the adoption of new tax legislation or exposure to additional tax liabilities. If we fail to meet the compliance obligations in the corporate integrity agreement between us and the U.S. government, we could become subject to significant sanctions. Further, while we routinely obtain patents for our products and technology, the protection offered by our patents and patent applications may be challenged, invalidated or circumvented by our competitors, or we may fail to prevail in present and future intellectual property litigation. We perform a substantial amount of our commercial manufacturing activities at a few key facilities, including in Puerto Rico, and also depend on third parties for a portion of our manufacturing activities, and limits on supply may constrain sales of certain of our current products and product candidate development. In addition, we compete with other companies with respect to many of our marketed products as well as for the discovery and development of new products. Discovery or identification of new product candidates cannot be guaranteed and movement from concept to product is uncertain; consequently, there can be no guarantee that any particular product candidate will be successful and become a commercial product. Further, some raw materials, medical devices and component parts for our products are supplied by sole third-party suppliers. Certain of our distributors, customers and payers have substantial purchasing leverage in their dealings with us. The discovery of significant problems with a product similar to one of our products that implicate an entire class of products could have a material adverse effect on sales of the affected products and on our business and results of operations. Our efforts to acquire other companies or products and to integrate the operations of companies we have acquired may not be successful. A breakdown, cyberattack or information security breach could compromise the confidentiality, integrity and availability of our systems and our data. Our stock price is volatile and may be affected by a number of events. Our business performance could affect or limit the ability of our Board of Directors to declare a dividend or our ability to pay a dividend or repurchase our common stock. We may not be able to access the capital and credit markets on terms that are favorable to us, or at all.