In September, as staff at Amgen's Puerto Rico facility were preparing to participate in the International Coastal Cleanup (ICC) volunteer event, Hurricane Isaac was brewing south of the Island.
"We struggled about whether we should have our cleanup or not, but when the storm was downgraded to a tropical depression we decided to go ahead because Hurricane Maria prevented our event last year," said Coraly Juarbe, a senior associate in Environment, Health, Safety and Sustainability.
On September 15, nearly a year to the day that Hurricane Maria devastated Puerto Rico, 155 Amgen volunteers gathered at Seven Seas Beach on the eastern shore of the Island to enjoy time together, clean up the beach and contribute to a healthier environment. The event was a family affair with many children participating with their parents.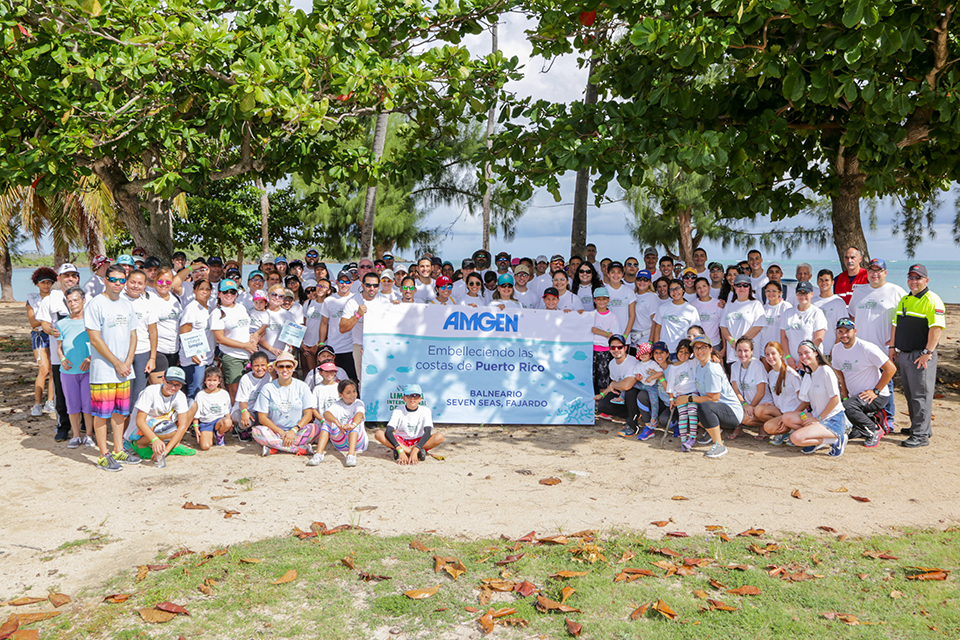 "Amgen was awesome in their support of staff in Puerto Rico with hurricane relief during the course of the past year and what they did for us during those difficult times," said Coraly, "I think people really wanted to pay it forward to give back to the community and enjoy a day at the beach with their families."
More than a decade with the ICC
Amgen's involvement with the ICC, sponsored by the Ocean Conservancy, dates back more than a decade. Over the years, staff from many of Amgen's North American sites including those in California, Massachusetts, British Columbia and Puerto Rico have participated. The data-driven volunteer event, in which volunteers gather debris from beaches and waterways and document their findings to contribute to the world's largest marine debris database, is a great fit with Amgen's scientific roots and culture of responsibility. It's just one of the many ways in which Amgen and its employees give back to local communities—from support of science education to participating in local walks raising awareness of cardiovascular disease and Alzheimer's research to providing healthcare professional education around the world.
For the 2018 ICC, Amgen staff helped clear hundreds of pounds of debris and raise awareness of the problem of ocean trash in events that help staff and their family members bond with each other and their communities. Many cleanups are partnerships with other community organizations interested in environmental sustainability such as the Scuba Dog Society in Puerto Rico and the Channel Island National Parks Service in California.