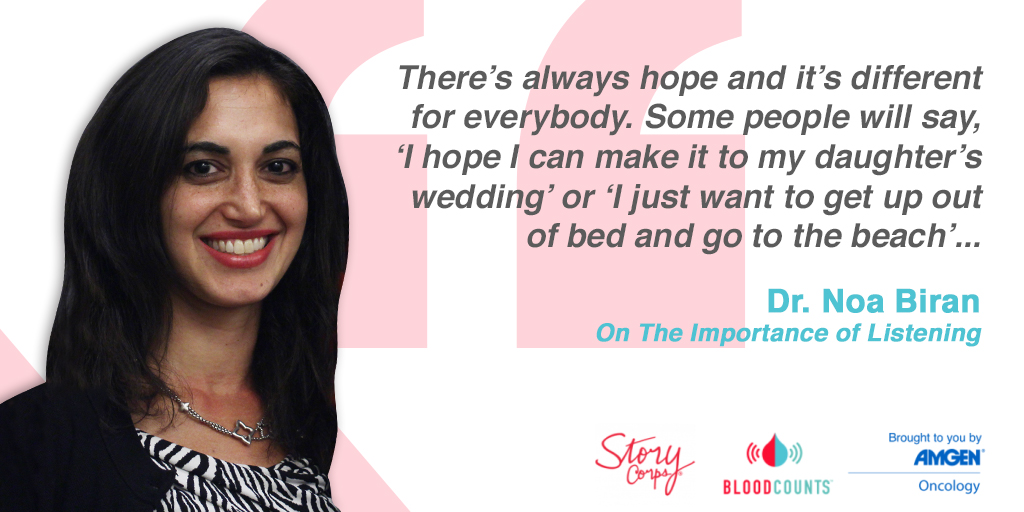 September is Blood Cancer Awareness Month. In recognition, throughout the month, Amgen will be highlighting inspirational personal stories from Blood Counts—a national program highlighting perspectives from those impacted by these diseases.
Approximately every 3 minutes one person in the United States is diagnosed with a blood cancer, and this group of diseases will account for 10 percent of the estimated new cancer diagnoses in the U.S. this year.1 Blood cancers typically start in the bone marrow with abnormal blood cells growing out of control, impeding the function of normal blood cells that fight infection. Leukemia and multiple myeloma are two of the three main cancers that affect the blood cells. 2,3,4
Blood Counts is a national effort led by Amgen Oncology, in collaboration with StoryCorps, to raise awareness about multiple myeloma and acute lymphoblastic leukemia (ALL) through the sharing of personal stories.
The stories reflect conversations between patients, caregivers, scientists and healthcare professionals as they recollect the most poignant moments along their respective journeys. The discussions touch on different themes from facing challenges and finding empowerment as a patient to listening to and working with patients as a healthcare professional or dedicating a career to innovation as a researcher. Together, they also celebrate the progress made in treating these diseases in recent years and the important work that still needs to be done.
The full-length conversations are archived by Story Corps at the American Folklife Center at the Library of Congress, preserving these experiences for generations to come. Follow @AmgenOncology on Twitter this September to discover and listen to clips from the stories. You can also check out our newly launched YouTube playlist.