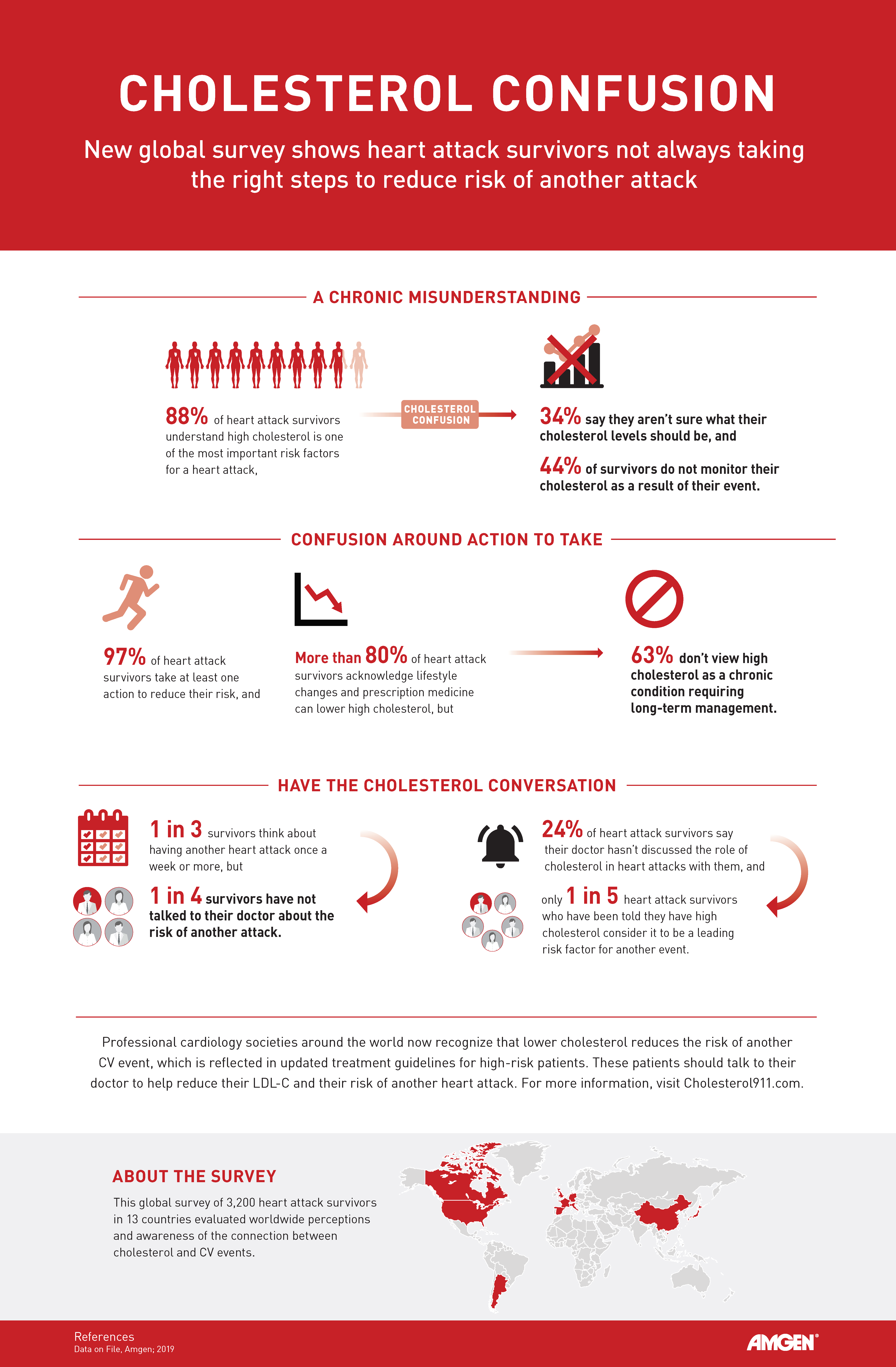 Globally, patients who have had a heart attack or stroke have a one in three risk of having another cardiovascular event.1 Lipids, such as low-density lipoprotein cholesterol (LDL-C), or "bad" cholesterol, are one of the most important risk factors for heart attack.2,3 In recognition of World Heart Day on Sept. 29, Amgen released results from a new global survey of more than 3,200 heart attack survivors across 13 countries on the connection between cholesterol and cardiovascular events.
The findings reveal the vast majority (97%) of heart attack survivors surveyed say they are taking at least one action, like monitoring blood pressure or dietary changes, to try to lower their risk of another heart attack.4
However, confusion remains on how lowering high LDL-C can reduce cardiovascular event risk. While 77% of heart attack survivors say treating high cholesterol to reduce their risk of another heart attack is very important, 44% are not monitoring their cholesterol regularly.4
Professional cardiology societies around the world now recognize that lower cholesterol reduces the risk of another cardiovascular event, which is reflected in updated treatment guidelines for high-risk patients.5 Approximately eight of 10 very high-risk adults are still unable to attain their LDL-C goal despite lipid-lowering therapy.6 Very high-risk adults have a history of multiple major atherosclerotic cardiovascular disease events or one major event and multiple high-risk conditions.
Amgen encourages heart attack survivors, or anyone concerned about their cardiovascular health, to spend this World Heart Day learning about cholesterol.
Learn more about this survey in the Amgen news release.
REFERENCES
Bhatt DL, et al. JAMA. 2010;304(12):1350-1357.
Yusuf S, et al. Lancet. 2004; 364:937-952.
Goldstein JL, et al. Arterioscler Thromb Vasc Biol. 2009; 29(4):431-438.
Data on File, Amgen; 2019.
Grundy SM, et al. J Am Coll Cardiol. 2018; doi:10.1016/ j.jacc.2018.11.003.
Gitt A, et al. Atherosclerosis. 2016; 255:200-209.