As members of Amgen's Security and Emergency team, Nick Razum and Erik Franco are all about keeping people safe—and that doesn't stop when they badge out at the end of a workday. We share their story during Thanksgiving in recognition of the many first responders who put their lives on the line to protect the public.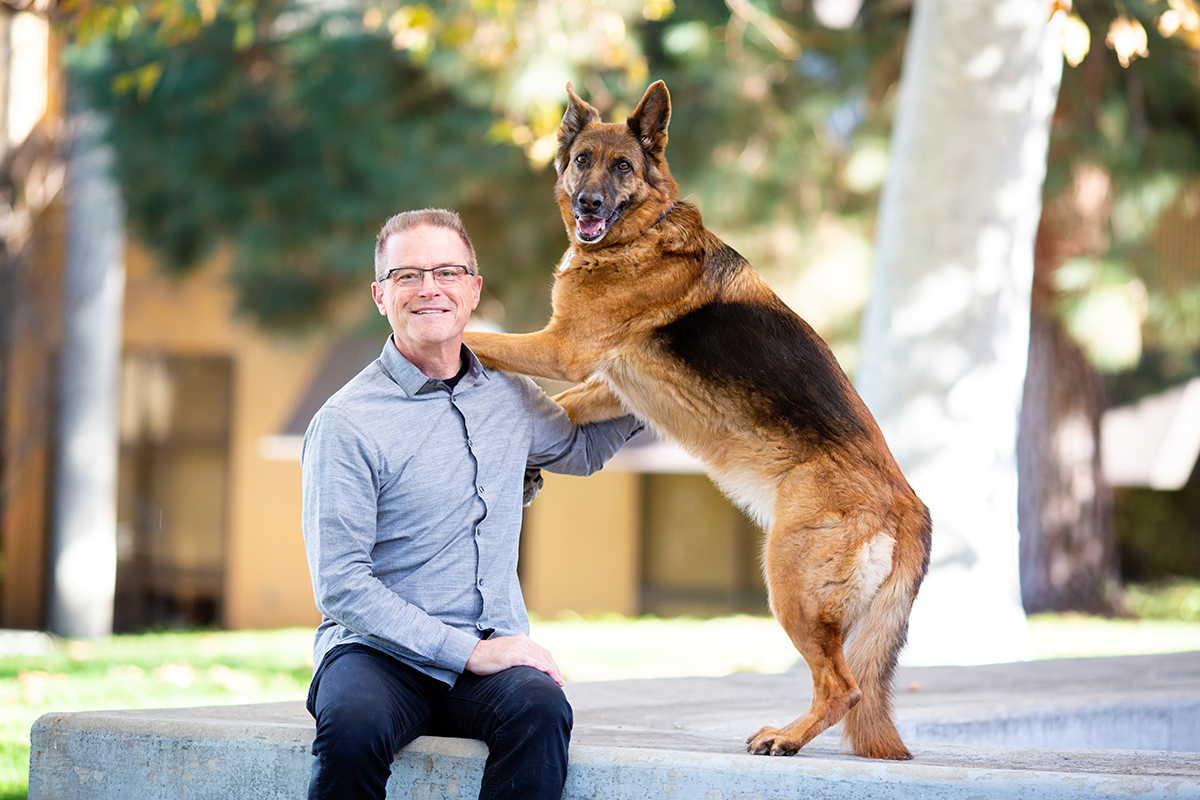 Nick Razum once was lost as a child. He doesn't quite remember all the specifics: It happened in Northern California's Sequoia National Park. There were trees towering above him. He thinks he was five or six. He was with somebody, though he can't recall exactly who it was. He believed they walked in circles, trying to find his parents. He isn't sure for how long, though. Hours, maybe.
What he does remember clearly and without any doubt was that sick feeling rising in his chest like an inflating balloon: Terror. And when he finally saw the familiar pickup truck with his father calling out to him from it, he remembered that feeling too: Overwhelming relief.
"I've seen that same look in kids' eyes that I've since found," Razum said.
Razum is a security director at Amgen—responsible for gathering intelligence and providing for the safety of global staff and contractors that number over 39,000 all over the world. Based at the company's headquarters in Thousand Oaks, Calif., he sits in a command center surrounded by scanners, computers, video screens and short-wave radios—all ready to alert him to the nearest threat or emergency. He's worked in security and research for Amgen for about 14 years.
And when he's off the clock, Razum continues to fuel his passion: "Trying to help people," he said.
For the past 25 years, Razum has volunteered with the Los Angeles County Sheriff's Department. He has spent those years finding the lost, rescuing the injured and recovering the dead. Working with so-called "sniffer dogs," he figures he's been involved in more than 1,000 searches and call-outs over the decades.
That included his work during the Woolsey Fire last year, which affected the community surrounding Amgen.
Along with Erik Franco—an Amgen security manager who also volunteers with Malibu Search and Rescue—the two logged 12-hour days after working full shifts at Amgen during the fires. Franco said he worked even as his own home was placed under mandatory evacuation when the Woolsey Fire flared up on Nov. 8. During the fires, more than 1,000 Amgen employees were forced to evacuate their homes while another 700 were living in voluntary evacuation areas. The fire ultimately scorched more than 96,000 acres and more than 250,000 evacuated after it ignited. Both Razum and Franco said Amgen has always been supportive of their efforts in volunteering and "probably wouldn't have it any other way," Franco said.
Franco said his family ended up spending three days at his dad's house during the evacuation while keeping tabs on the fire on a laptop and rolling out for search and rescue operations day and night. Razum, along with his dog Cheyenne, searched a number of destroyed homes and helped locate the remains of one of the three victims of the Woolsey Fire—a difficult recovery in the hills amid still-smoldering tree stumps and a charred, collapsed house full of dangerous debris.
This month, Franco was honored by the Los Angeles County Sheriff's Department as Reserve Deputy of the Year. Razum highlighted Franco's receiving of the award to staff at Amgen, even though Franco likely would've let the kudos slide by quietly.
He wasn't surprised Razum did it, however.
"He's always been a very positive person, magnifying the accomplishments of others rather than his own," Franco said. "But I have so much respect for him for what he's done."
Razum said he's always been interested in law enforcement and from an early age. Almost every year growing up, it was the same Halloween costume: A policeman. He joined ROTC in high school with thoughts of joining the military. His favorite television shows were "Highway Patrol," Adam 12" and "Emergency!"
But he said his dad didn't want him to be a cop. Instead, his father—a high school science teacher—wanted him to go to the U.S. Air Force Academy. "A $1 million education—and you learn to fly," Razum recalled his dad telling him.
Razum wasn't sold on that, however. Along with police work, he was also an electronics geek, fiddling with circuit boards and even building a laser at his house when he was 15. He said when he rustled up a long extension cord and pointed the red beam outside the bedroom window and saw the dot of light on the mountainside along the San Gabriel Mountain Range. He was locked in on finding a way to combine both technology and law enforcement.
Over the years, he has published peer-reviewed articles on lasers, pulling them up on his computer and explaining the properties of the different colored beams. Lasers, he explains, don't diffuse like flashlights, but instead their energy is focused, bouncing at high rates of speed in a tube until the beam emerges—straight, true and focused.
Razum talks like that—a rapid, rhythmic cadence that appears frenetic to start but ultimately finds a straight path to communicate what he's trying to say: That it was a love of lasers and technology that led him to work with dogs.
"My first year in college and the professor was a ham radio operator," Razum said. "He trained bloodhounds. One day we got to talking and he issued a challenge to me: Go out a mile and get lost. If you can outsmart my dog and he doesn't find you, I'll give you an A in the class."
The dog found him.
He said the professor gave him a double-or-nothing offer. "I was a runner and I went into streams, climbed trees—just getting lost."
The dog found him. Again. And again.
Razum, who never seems to do anything half-way, jumped into the world of sniffer dogs. He got his first true sniffer dog in 1981—a bloodhound. A few years later, he began doing patrols with the Los Angeles County Sheriff's K-9 units.
Sgt. Bill Schuessler had Razum as a partner in the unit in the 1990s, remembered those patrols with Razum and said he soon surpassed him in the ability to work with sniffer dogs. He noted Razum did a dissertation in canine olfactory physiology as a part of a doctorate in health science research and education from Trident University.
He said he's seen Razum work several scenes with dogs, including dozens of fires and crime scenes. While always professional and on task, Schuessler also said sometimes the tragedies get to him. He said when Razum worked the Metrolink train crash in the Southern California town of Chatsworth that killed 25 and injured more than 100 it affected him a lot.
"I remember talking to him and he was pretty emotional," Schuessler said. "He told me, 'This is a tough one, Billy. This is a bad one. I've seen a lot of bad, but this one is different.'"
Razum said he is an emotional guy. He cries at movies – "Gardens of Stone" is one that he's seen several times and it always chokes him up. He's had 12 workings dogs—or partners—over the years and has wept for all of them when they died. He keeps the ashes of some in urns at his house. "These dogs defend our lives. You don't get over it," he said.
He currently works with Cheyenne and Yona—along with his wife, who has also has been working with sniffer dogs for about 20 years. They both deploy to scenes regularly, searching for the missing. He said he believes this is the work he was put on earth to do.
"I'm blessed to have been able to find several people," Razum said.
And, over the years, found himself along the way.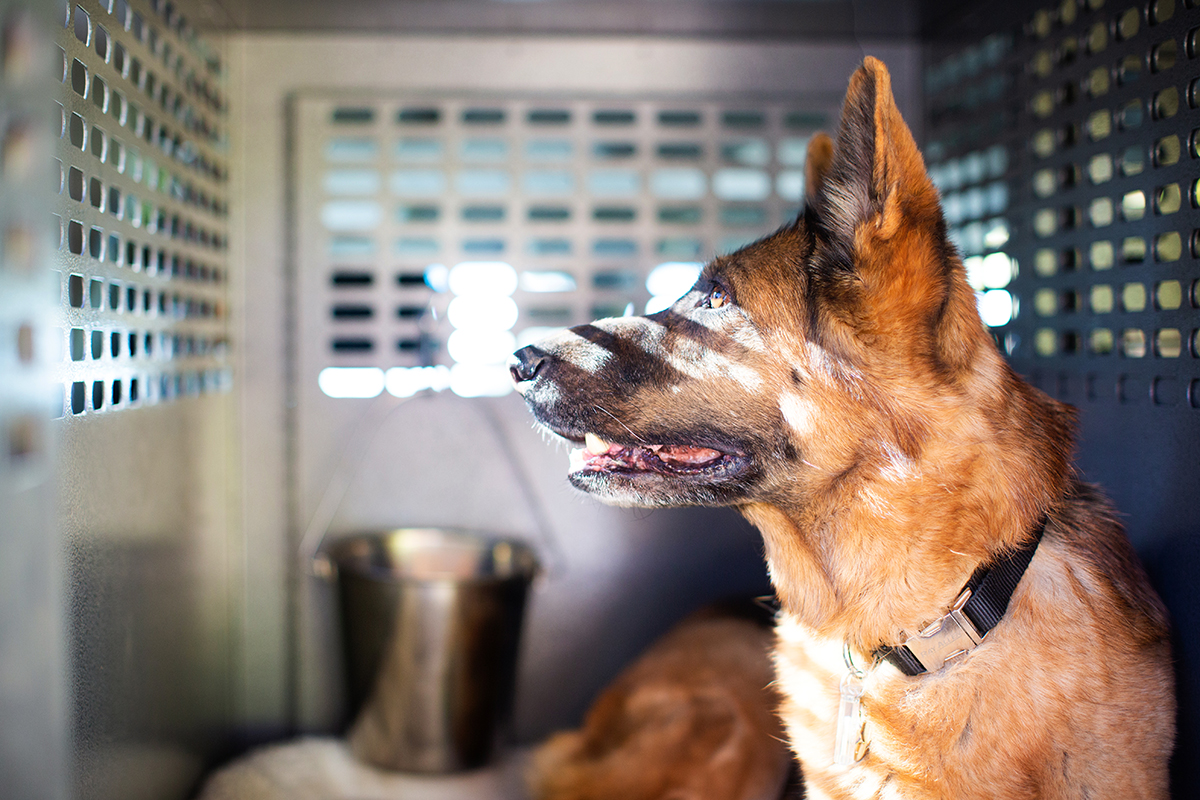 More Stories About the People of Amgen