On Nov. 7, 2018, tragedy struck Amgen's hometown of Thousand Oaks, Calif. where 12 people were killed in a shooting at the Borderline Bar & Grill just a few miles from campus. Amgen employee Patrick Russell was there during the attack. Thankfully, he survived. But like so many others, his life was permanently changed. His story is chronicled below to honor the survivors and those who were lost that day, recognizing that it may be disturbing to some.
Patrick Russell dropped to his belly and crawled toward the bar. The gunshots popped steadily and now he was choking on thick smoke, too.
He needed to escape, but where? He had just seen a muzzle flash and the security guard at the front crumple to the ground. He remembered the music—Chris Brown's "Turn up the Music"—continuing to play loudly amid the chaos. Just minutes before, he'd been awkwardly trying to dance. Now he was simply trying to stay alive.
The Borderline Bar and Grill had become another site for a mass shooting. And like many before it, nobody saw it coming. They have become the deadly and real-life jump-scares in America. One moment you're dancing. Or singing along at a concert. Watching a movie. Sitting in a classroom. Shopping at a Walmart. Then come the shots and the paralyzing fear of death. If you survive, the world will never feel the same again.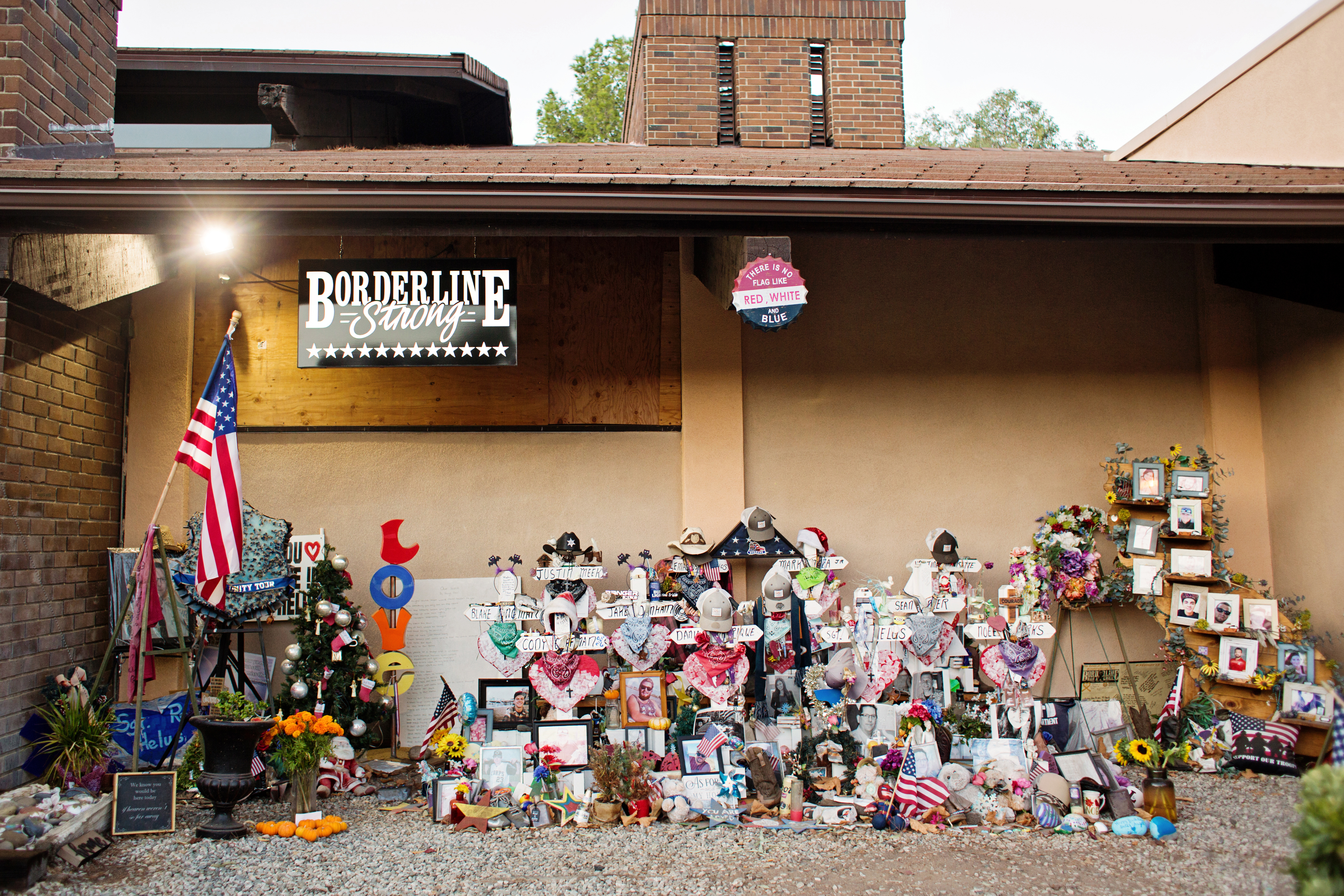 Russell had seen them on the news before. The mass shooting in Las Vegas, which left 58 dead at the Route 91 Harvest country music festival in 2017, had hit close to home. He knew someone who survived that one.
But those thoughts weren't in his mind as he drove to the Borderline the night of Nov. 7. It was a Wednesday and he needed to be back at his finance job at Amgen the next morning. He had already decided he would limit himself to a beer and be home by 11 p.m. The Borderline had been a regular hangout with his buddies—all Thousand Oaks residents—for years. A collection of laid-back, young country music fans. Maybe he'd meet some cool people there, too.
He had driven his Honda Civic that night and met Tyler Williamson, 23, at the Borderline. Between his friends, they hung out on the side of the bowl-like dance area and watched people line dance in sync with ease. Russell knew his limitations: two-stepping was about as good as it got for him.
But instead, he now found himself crouched by the bar, inhaling smoke. He wondered if it was fireworks or maybe smoke grenades. He had been separated from Williamson, his friend. The shots were steady, but not in continuous bursts. He counted rounds in his head. He thought maybe seven or eight. The smoke was getting thicker. Almost unbearable. He figured he had to make a break for it.
Someone else must have thought the same thing. Russell saw a guy pick up a barstool and throw it toward a window on the freeway-side of the Borderline, smashing it. Russell hustled to another window and started kicking it out.
Pop. Pop. He thought the shooting was slowing down.
Russell and his friend helped some people clamber out the broken windows. He rolled out and caught his hand on the ledge before swinging down onto the incline of shrubs and dirt surrounding the Borderline. A group of them made their way around the building. Russell and his friend bolted for his car and waited for a few minutes. A fireman came by and yelled for them to get out of there. They ran to a nearby gas station across Moorpark Road.
Williamson wasn't far behind them. The two friends had managed to text each other and agreed to meet at the Big 5 sporting goods store off Moorpark Road—just across Highway 101. "I follow Pat on location services and I could tell he got out OK," Williamson said.
Russell said nobody at the gas station knew if the shooter was still at large or not. His friend was bleeding, and he took off his shirt to help him bandage it. "There were a lot of guys shirtless that night," he said.
He called his older sister, Bridget Russell and told her what had happened. There had been a shooting at the Borderline.
"I'm OK," he told her. "I love you."
Then he said someone yelled "Get down!" He hung up.
In his apartment, where she had been staying, Bridget Russell fell to the floor. She felt nauseous.
Russell and the group began running, fearful the gunman was on the move. Breathing heavy, he came across a woman. She asked him if he'd seen her son.
"Who is he?" he asked.
"Blake Dingman," she said.
Lorrie Dingman had gone to bed early after her son Blake had gone out with Jake Dunham and a few friends, to the Borderline. She texted him around 11 p.m. and asked him when he thought he might come home, and then she went to bed.
She was awakened shortly after—getting a phone call from one of the boys who had been with Dunham and her son. There had been a shooting. Now they were separated. He didn't know more than that.
They lived just a few miles away and so Dingman and her husband woke their youngest son, Aidan, and bolted toward the Borderline. They were stopped at the end of the Moorpark offramp, which was jammed with firetrucks and police cars. Vehicle doors were open. Radios were squawking and blaring over each other. She said a fireman told her they still didn't know how many shooters there were.
But Dingman's only thought was: "Where is my son?" She saw Russell on the sidewalk. She walked up to him and grabbed him.
"Do you know Blake Dingman? Did you see him?"
Russell asked what he looked like. She pulled up a picture on her phone and showed him.
He hadn't seen him, Russell told her. She had no idea if they'd gotten out. She had called her son's phone. She had texted him. No response.
Russell told her he thought he was probably OK and that he'd gotten out. That maybe Blake had just dropped his phone. They hugged.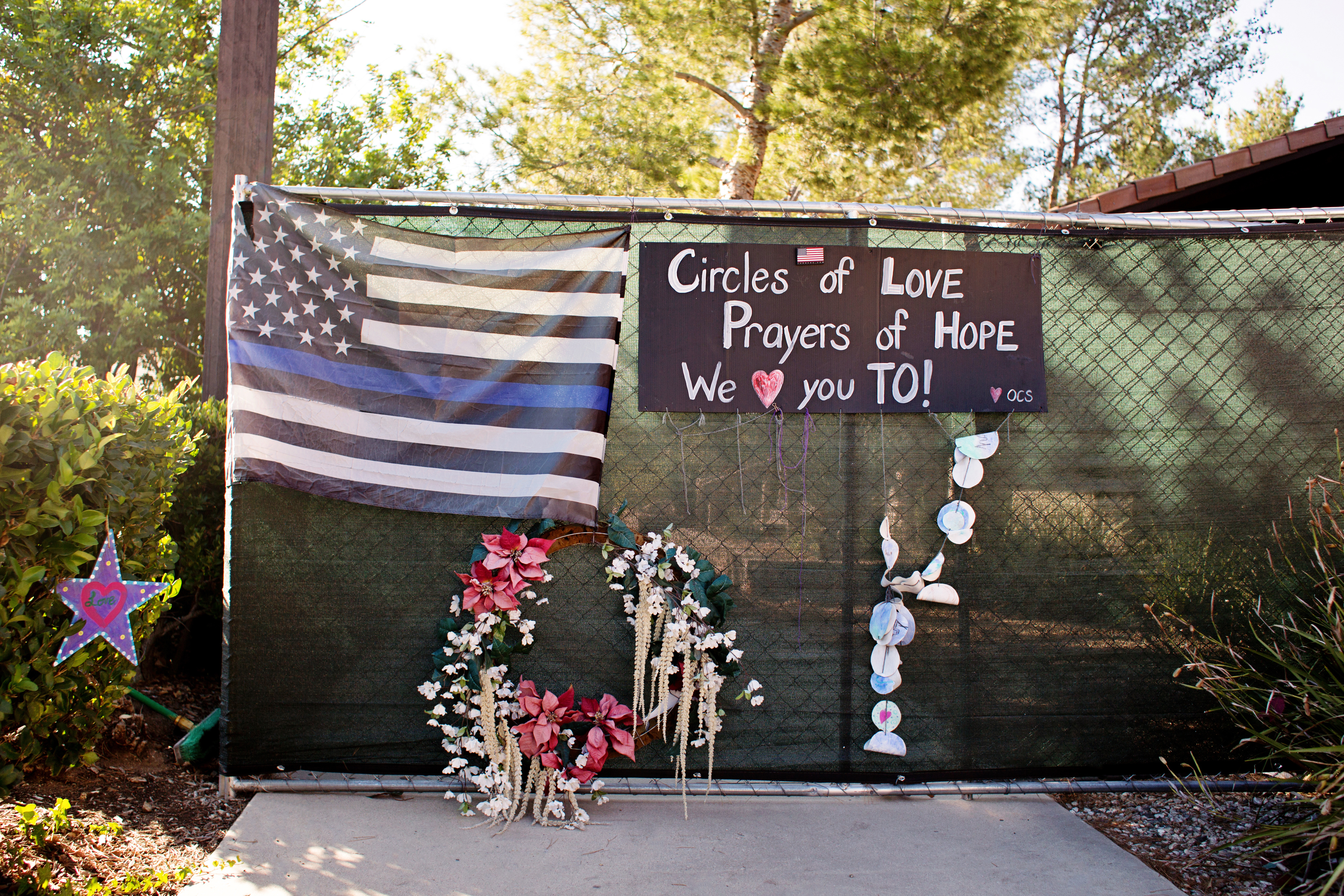 Russell hurried toward the Big 5 sporting goods store to meet his friends. He looked down at his new white sneakers that were covered in blood. Soon, his friends started arriving at the sign. Williamson saw Russell covered in blood. His other friend was bleeding, too.
Williamson felt relief, but said he was still not sure about the scope of what had happened. When Russell's sister arrived to pick him up, she gave Williamson a ride to his house. Then Patrick and Bridget went back to his apartment.
But Russell couldn't sleep. The sun rose and the names of the victims began to trickle out throughout the day. One was Blake Dingman. He remembered what he had told the mom he'd run into. He began to feel crushing guilt.
"I could not stop crying," Russell said. "I told his mom he was probably fine—and he wasn't okay."
Dingman said she remembered Russell and what he said.
"What else would he say?" she asked. "Everybody wants to think that. You don't think people would die at a hangout in your home town."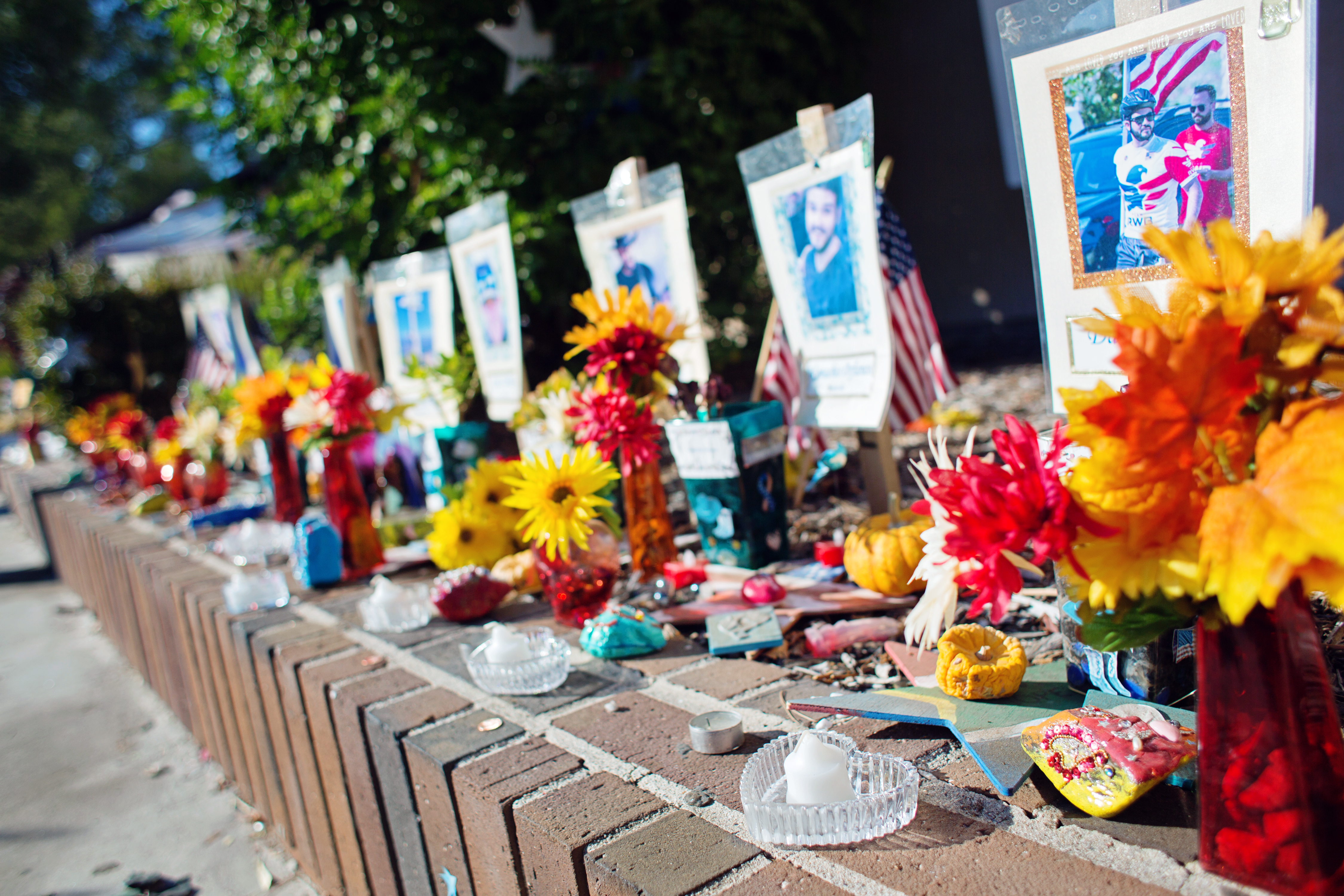 Russell and his sister decided they needed to get away for a little while that Thursday morning. They went to the beach. Russell said it is a place that has always offered peace. He said they sat there looking at the ocean. A few times, he went into the water to body surf, hoping it might soothe him. "Can I wake up from this nightmare?" he thought.
He wept.
Russell had already been told by his bosses not to come into work—to take as much time off as he needed. Russell, who said he is a generally a private person, tried a therapy session but said it didn't really work for him. The guilt was still there, too. He began thinking about making changes in his life.
He had always been fiscally responsible, allocating savings and not spending lavishly. He was a 23-year-old Washington State University graduate working in finance for a biotech company. He drove a practical car. But now he was wondering how much time he really had on earth. He wondered why a person like Dingman, who was younger and seemed to have so much passion for life, died while he got to live.
He learned more about Blake Dingman. He loved baseball and off-road trucks—especially with his friend, Dunham, who was also killed that night. He was a smart, friendly, mechanically-inclined kid who made people smile and drew them into his circle easily.
His mother said Blake always had people over at the house. He was a huge Dodgers fan, just like the rest of the family, and while he had been disappointed in the team's loss to the Boston Red Sox in the World Series in October, he took it in stride. "It's one of the things I admire about him," Lorrie Dingman said.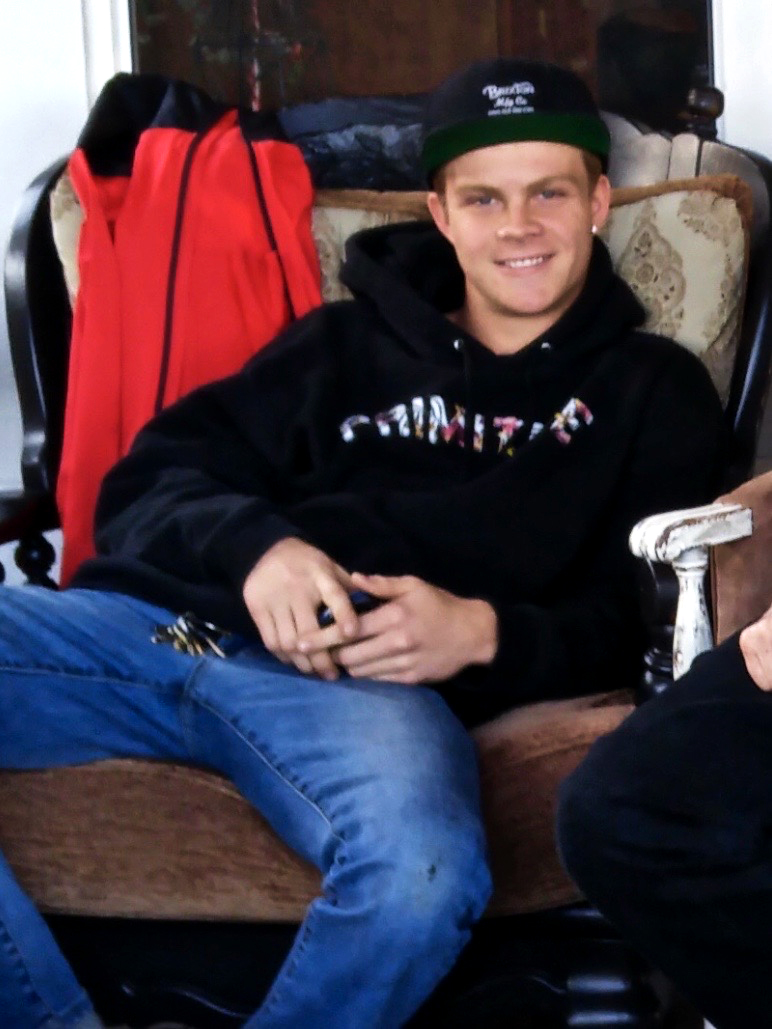 Dingman said she thought about Russell in the days and weeks after the shooting. But it wasn't until a country music concert at the Thousand Oaks Performing Arts Center to honor the 12 victims of the shooting that she saw Russell with Williamson and some of his friends.
Dingman hugged Russell. She said she was looking at him, but Williamson said it felt like she was talking to all of them.
She told them to dig deep and find the true meaning in their lives. Seek God. Go to church. Be good people.
"None of us is guaranteed tomorrow," she told them. "I personally believe all this—the hate and anger and horror—this is a huge wake up call. We need to care about each other. To put our phones down and talk to each other. Get to know each other and love each other."
Russell said hearing her words and getting the hug were like gifts. Her son lost his life, but her words helped restore his. He remembered she had told him to live his life to the fullest because that's what her son would have wanted—not to live weighed down by guilt.
A year later, his life has changed in both big and small ways.
When the Chris Brown song comes on, he turns it off. A few months after the shooting, he tried to go to a bar with friends, but felt trapped and had to leave. He can go out now, but he always scans for exits in buildings. He doesn't save as much as he used to; instead trading in a little future financial security for new experiences. He's been to Ireland, Thailand and Mexico.
He got rid of his Honda Civic—the one he drove to the Borderline that night—and bought his dream truck, a Toyota Tacoma. He takes it off-road sometimes, leaving the paved, marked highways for the dirt roads in open spaces. Places where Blake Dingman might have roamed—liberated and free.