Need couldn't wait.
Lara Harris pulled into the Midnight Mission in downtown Los Angeles on a gray, drizzling Saturday morning and parked. She figured she would have time to set up the more than 200 care kits, blankets and food items that had been donated and packaged by Amgen employees just days earlier as a part of a holiday outreach to help the homeless.
Instead, Joey Weinert – an employee at the Midnight Mission – walked up and shook her hand with urgency. Hungry people would be arriving in about a half-hour to get meals. She'd have to get her packages out quickly if she wanted to hand them out before they finished their food and headed back onto the streets.
So, she started unloading the items from her car onto a metal dolly quickly. Weinert helped. Six large boxes filled with Ziplock bags – each carrying toothbrushes, toothpaste, soap, shampoo, lotions and other basic hygiene products.
"We are glad you're here," Weinert said.
It was a little hard for her to believe she was there, though. It was the culmination of a small idea she had back in the late summer while chatting with Vivian Ikupolati-Adeniyi, another Amgen employee and member of the Amgen Black Employees Network. She said Ikupolati-Adeniyi told her how her family would go down to help the homeless on their own on weekends.
Harris said she had become more troubled about the rising homeless population in Southern California and wondered if there might be ways to volunteer or assist. But the homeless problem seemed daunting and a little scary, too. Could she even make a difference?
In June, the Los Angeles Homeless Service Authority had reported that upwards of 60,000 people are homeless on any given night in the county – with more than 44,000 of them sleeping on the streets. The report showed that almost 9,000 were younger than 24. News reports showed the homeless population had risen 12 percent in Los Angeles as high housing and rent prices continued to squeeze people out of the market.
She said her sister told her that her 11-year-old daughter's dance academy went down to do volunteer work among the homeless as well and Harris figured "if a child can do it, so can adults." She was convinced.
When she came back to work at the biotech's Thousand Oaks site in September and broached the idea with the Amgen Black Employees Network – with about 100 members and has been around since 2000 – to collect and donate care kits for the homeless during the holiday season, it was happening.
Keyana Hicks, a senior assistant in business development at Amgen, said after Harris made the decision, she was "a force to be reckoned with." Hicks could tell she was undeterred.
"She's great at execution," Hicks said. "But it takes a vision as well and she executed it perfectly."
Harris, a middle child of four and the daughter of an educator and a business analyst at IBM, said she grew up in a family that who preached being selfless – donating time or money to charitable causes. Her younger brother, Norman Harris, said the entire family is "pretty much Type A personalities" and that Lara Harris is among the most formidable. "In my family, my nickname is 'The Warden,'" she said with a laugh.
Norman Harris said, growing up in Southern California, the family would go to kitchens to help serve meals to the poor and work with their church, volunteering at schools or aiding those in need during the holidays. What Harris had set out to do at Amgen wasn't a surprise to him.
"She isn't one to sit around and wait for others to do something," he said.
When she posted on Amgen's internal online channel asking for donations and explaining her plan to deliver them to the homeless – along with providing chicken dinners to them – she said the response was huge.
Harris said she filled up two boxes with donations in just the first couple of days. Then another box. And another. She ran out of storage space and had to utilize a space that was being unused by the U.S. Food and Drug Administration the day before she got volunteers to join her in a conference room to assemble the kits.
And yet, she still underestimated the generosity when it came time to put together the kits.
She had allocated two hours at lunch and figured with about eight people, they could put them together quickly and load the car up with the supplies.
Instead, they needed close to four hours to get it all done.
The team of Amgen employees – listening to Dean Martin croon Christmas songs from a smart phone – set up a small assembly line and created hygiene kits for men, women and children. Nikki White, a quality assurance specialist, said the small toothbrushes were the hardest to pack.
"It's a sad reminder that it's families out there," she said.
Harris said as Saturday approached, it was clear that they would be limited and unable to distribute chicken dinners out on the street because a heavy rainstorm was predicted to hit Los Angeles over the weekend. She said she scrambled and got the Midnight Mission to agree to let her and the volunteers distribute in the non-profit's cafeteria after the lunch rush.
But as she started to set the packets on the table and the kitchen began to uncover steaming trays filled with rice, jambalaya and soup, the scope of the problem began to see the sweep of the issue.
The outside world trickled into the cafeteria in tatters. Men with canes limped in, balancing a tray in one hand and a bag of clothes in another. A woman towed her life behind her in a small cart. The volunteers dished up the food and the people took their trays and sat at tables with fixed round stools attached to them.
Weinert said about 500 people would eventually come through there for the hot lunch.
Most sat quietly and ate, though a couple of men jawed at each other for a few minutes until Midnight Mission Security Supervisor Antonio Haygood took a few steps toward them and secured a tenuous peace. Haygood stood by Harris as the people finished up their meal and came by the table to pick up their hygiene kits.
"There you go, sir," Harris said as a man took the kit, inspected it quickly, and headed out the door. Some thanked her. A few were picky. One man, wearing a Dodgers hat, asked if he could have the blue blanket instead of the red one. "Go Dodgers," he said with a smile.
A man on a crutch named Taylor T. said he'd been homeless since the 1970s after a disability left his right leg in tatters. He said he's had several canes stolen, but the crutch he was leaning on this day had been with him for more than a year. "Never leave it alone," he said.
He looked at the items in the kit and said he figured it would last him about a week – which he said he was grateful to receive. He said his next goal for the holiday season was to get a pair of socks. "You've got to take care of your feet out here, otherwise you get nowhere," he said.
The items went fast – within 45 minutes. A few of the Amgen employees who arrived later took some of the donations and walked out onto the street to give out the rest.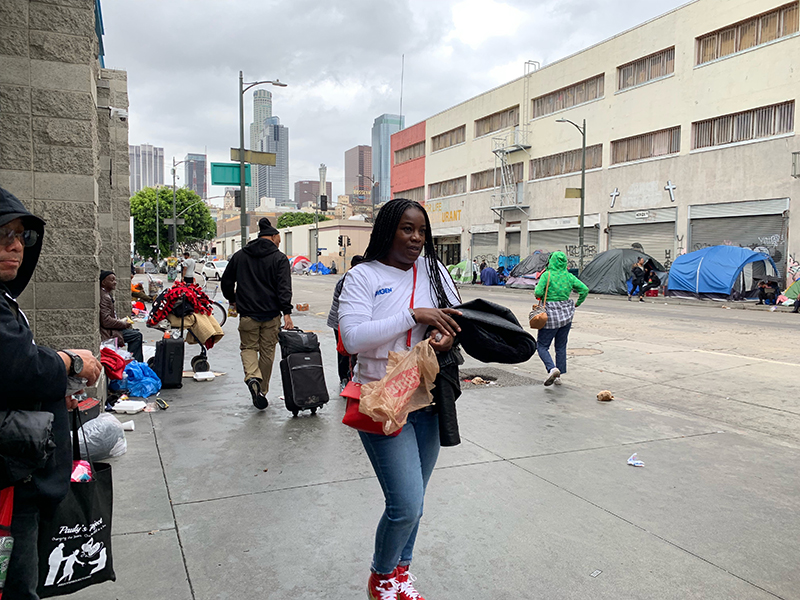 Harris walked down San Pedro Street, past a row of tents and gave out the last of the kits. Across the street, a man's voice was heard yelling at someone to stop following him. Dozens more milled across the street while a few cars honked and veered around to get through. A drizzle started up again.
Rosezina Moore, a project manager at Amgen, who had been handing out blankets from the sidewalk gave out her last one. She looked around and said it made her wish she could do more.
Harris had heard Weinert say they need help year-round. So she and the other volunteers got together and decided they would come back out again to help a couple of times next year, too as a part of the Amgen Black Employees Network community outreach effort.
The need would be there still. Waiting.