He was a chemist who developed a drug made widely available for the treatment of glaucoma, helped pave the path for the use of steroids in curbing miscarriages and ultimately received dozens of honorary degrees from prestigious universities that previously had denied him admission.
Percy Julian was also black – the grandson of Alabama slaves – who lived most of his life in a segregated America. He saw his house bombed and torched, was refused admission to graduate school despite being top of his class in college and later in life lamented that, despite his ground-breaking achievements in chemistry, he never achieved his ambitions.
"I feel that my own good country robbed me of the chance for some of the great experiences that I would like to have lived through," he once said. "Instead I took a job where I could get one and tried to make the best of it. I have been perhaps a good chemist, but not the chemist I dreamed of being."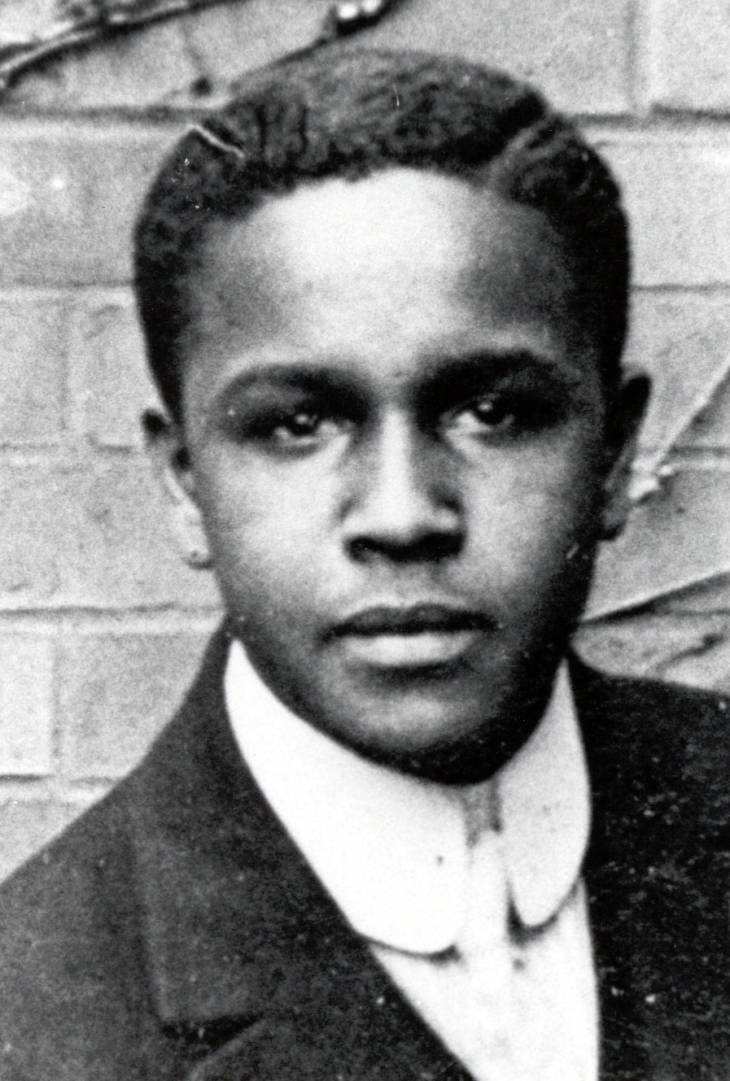 Small Town Struggles to the Top of His Class
This year marks the 100th anniversary of Julian's graduating from DePauw University and the small town of Greencastle, Ind. is making somewhat of a big deal for one of its most famous residents. There were receptions for Black History Month in the building now named for him – the Julian Science and Mathematics Center. There was a screening of a documentary about his life in the university's auditorium. Exhibits, coupled with an oral history project, are being done at the Putnam County Museum.
Greencastle has since named one of its main thoroughfares for him – Percy Julian Drive. A stamp was issued almost two decades after his death – which remains a mark of local pride. There is a scholarship in his name offered at DePauw. Children in the schools of Putnam County all learn about Julian and his achievements.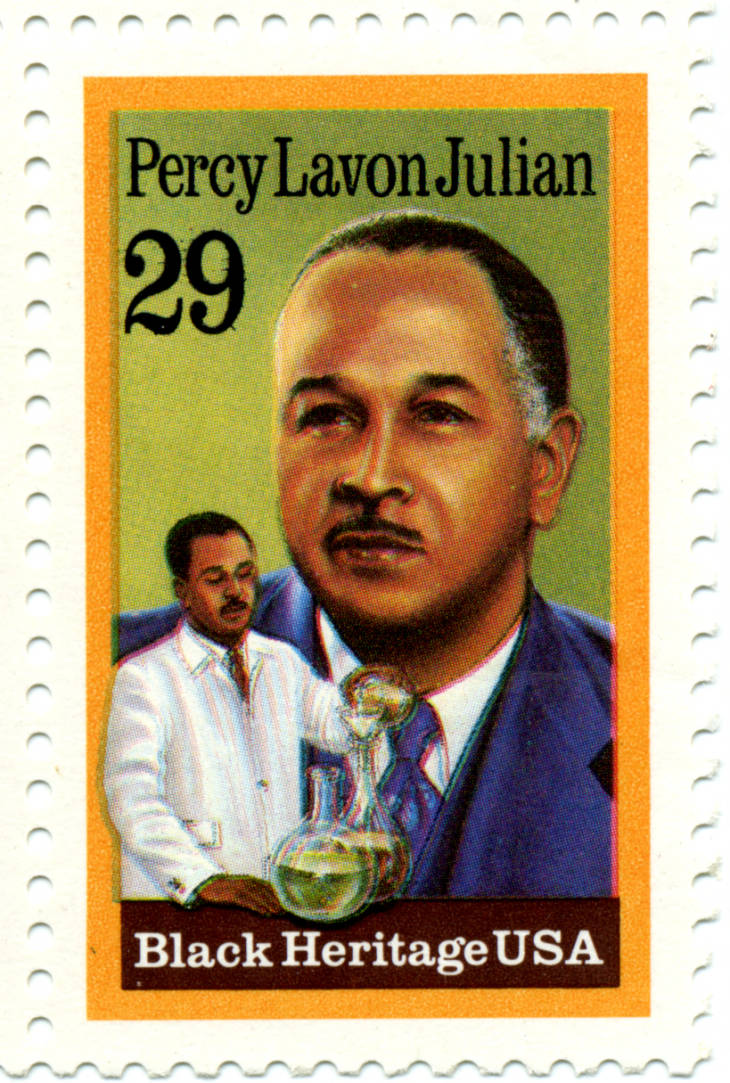 But Lisa Mock, executive director of the Putnam County Museum, said it wasn't always this way for Julian.
She said when Julian first arrived from Alabama in 1916, he faced discrimination right away, even though DePauw University was one of the only colleges that accepted him and allowed him to begin as an undergraduate student.
When he arrived from Montgomery, he wasn't initially allowed to stay in dorms on campus and, in a segregated community, most restaurants in town wouldn't serve him meals. Mock said he had nowhere to go and no friends to help him. Ultimately, he got a minimalist room with a landlord who barely tolerated him.
"This was not a terribly friendly place by reputation for people of color," Mock said.
Julian was determined to graduate, however. Because of the racist separate but equal policy established by the U.S. Supreme Court, black schools often ended at 8th grade in the South and Julian had to take remedial courses concurrently at DePauw to catch up with white students.
When he graduated with his bachelor's degree in 1920, he was top of his class.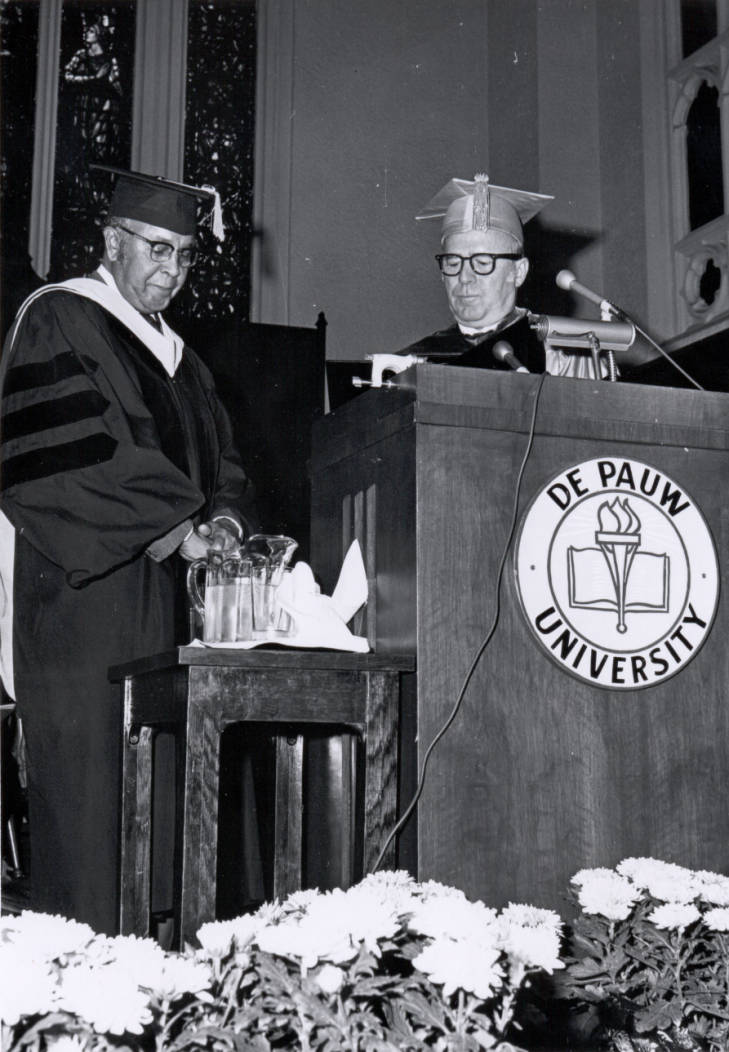 Inspiring Researchers Today
Graduate school is critical for scientists to continue research paths, but Julian was denied access to all of them. He was encouraged to return to teach black children in the South despite his promise as a chemist. It was a major setback for the scientist who was known for his focus and drive to unlock the secrets to synthesizing chemical compounds.
Omar Barnaby, a senior scientist in bioanalytical research at Amgen, said reading about Julian's determination was inspiring and said a lack of access to graduate school – like what Julian first encountered - would have stunted his career growth and an ability to advance scientific discoveries.
He said pursing a doctorate in chemistry at the University of Nebraska-Lincoln and later a post-doctorate at Harvard Medical School provided unique opportunities that allowed him to gain experiences critical to his current research job.
Barnaby said he got a chance to learn how proteins are modified by disease and discover biomarker candidates for dementias – both things he builds upon to drive research at Amgen in the search for cures to the most debilitating diseases, including cancer – which struck his father.
"Julian's example exemplified the type of tenacity and resilience that is required for success in the sciences," Barnaby said. "The same grit is needed in scientific research as a person of color today, where I sometimes find myself having to not internalize what people may say or perceive – or what I perceive them to think – but instead focus on the bigger picture and my reasons for pursuing a career in research."
Unlocking the Secrets to Plants
Julian's path was marked by obstacles throughout his career. With no post-graduate schools willing to take him on, he took a teaching job at the historically black college, Fisk University. He ultimately got to Harvard and got a master's degree but was denied pursuing a doctorate because he was black.
It forced the chemist to pursue that degree at the University of Vienna in 1929, where he began studying plants and alkaloids. Plant alkaloids include nicotine and caffeine and were viewed in the world of chemistry as promising areas of study. Unlocking the secrets of plants became a fierce obsession with him and ultimately led him back to the United States after finishing up his doctoral work in Vienna.
Back at DePauw, he began zeroing in on the synthesis of physostigmine.
Jeff Hansen, professor of biochemistry at DePauw University, said Julian's work was "brilliant" and that it showcased two truths: Sufferers of glaucoma owe a debt of gratitude for what he developed in the lab and secondly, America's racist policies likely held Julian back from making more discoveries that could've helped more people with a wide array of maladies.
"If he'd gotten the same access as his white counterparts, there is no doubt in my mind he would've done so much more," Hansen said. "In that regard, his achievements also highlight our incredible loss."
Prior to his discovery, treatment for glaucoma was limited because chemists had not been able to create a synthetic version of physostigmine. In the lab, however, he synthesized the alkaloid and that led to widespread production for glaucoma treatment that had been previously unavailable to the public.
The Toll of Glaucoma
The eye disease, which generally affects people over 60, is marked by fluid building up and creating pressure in the eye that ultimately will damage the optic nerve.
Glaucoma is one of the most studied eye diseases and the National Eye Institute reported that the number of people affected by glaucoma is expected to grow from 2.7 million to 6.3 million people over the next four decades and that it is one of the leading causes of blindness in the elderly. Black Americans over 40, according to the National Eye Institute, are at the highest risk of contracting the disease.
Christopher Passaglia, professor of medical engineering at the University of South Florida who has done research on glaucoma, said Julian's findings are foundational to current treatments.
"Julian pioneered the large-scale synthesis of physostigmine," Passaglia said. "We wouldn't be where we are without what he did."
'Worth all the Scars.'
But despite his findings and the prestige that brought DePauw, the university didn't offer him a permanent spot on the faculty due to his race. He was forced to find a job in the private sector – losing opportunity after opportunity because he was black.
It wasn't until Glidden hired him and allowed him to direct research for the company that he made another breakthrough discovery – isolating proteins in the soybean. That step allowed Glidden to manufacture, on a large scale, everything from paints to fire-resistant foam that was used to protect pilots in World War II.
Julian was driven by the science of helping people, however.
Using soy beans, he figured out how to develop hormones to reduce miscarriages by converting plant steroids rather than animal extracts containing steroids. It made the treatments widely available and saved lives. Julian eventually founded his own research firm, Julian Laboratories in 1953 and became one of the first black millionaires in America.
He developed a foundational steroid to help treat rheumatoid arthritis. His work began to get more acclaim, even as the country seemed to be tearing apart at the seams over civil rights. His son, Percy Julian Jr. joined the movement to push for civil rights, participating in demonstrations in Tennessee and eventually becoming a civil rights lawyer.
Two years before his death in 1975, Julian was named to the National Academy of Sciences – only the second black scientist to be inducted and the first chemist. Posthumously, he was inducted into the National Inventors Hall of Fame. In 1999, the American Chemical Society called his synthesis of physostigmine one of the top 25 achievements in the history of American chemistry.
For Julian, his life was always about education – for his brothers and sisters and his children, too.
In the 2007 Nova special "Forgotten Genius," he recalled an emotional moment after he graduated from DePauw in 1920. He said his grandmother showed him scars on her back – the marks of a whip from when she was a slave and told him of her pride with his accomplishment.
"This is worth all the scars," she said