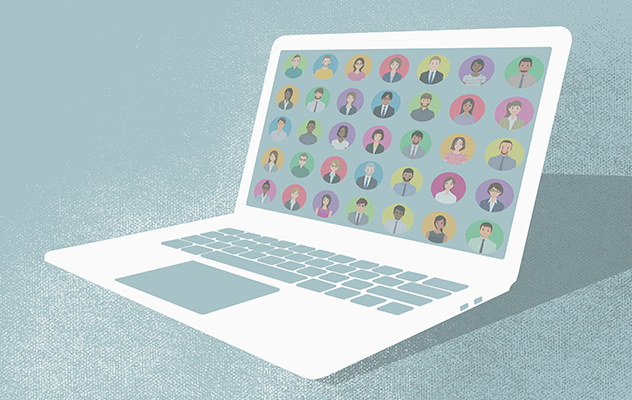 For nearly 70 years, scientists and cardiologists have gathered in person for the American College of Cardiology's Annual Scientific Session/World Congress of Cardiology (ACC.20/WCC) to share the latest clinical research and professional insights about treatments for cardiovascular disease. Around 17,000 people attend ACC's annual meeting, but as the COVID-19 pandemic spread around the world earlier this year, organizers of the 2020 congress in Chicago moved to conduct the congress virtually for the first time in its history.
This decision allowed for essential scientific exchange on the latest cardiovascular disease research, while ensuring that attendees could continue doing their parts to slow the pandemic while serving their own patients. "This was absolutely the right decision given the need for cardiovascular clinicians around the world to be on the front lines helping patients and their communities address COVID-19," reads a statement from the congress' COVID-19 Update.
ACC.20/WCC Virtual took place over three days, from March 28-March 30, and it was free and open to everyone. The materials published by attendees, including recordings of all sessions, remain available to view on-demand for 90 days.
As a premier sponsor for ACC.20/WCC Virtual, Amgen's cardiovascular Medical Communications team launched two virtual medical booths where attendees could easily find new information about Amgen's clinical trials and explore disease state education for cardiovascular disease.
"The preparation for a medical congress is a tremendous cross-functional effort, not only the publications team working with external presenters to share our data, but also preparing a booth for the in-person event," says Donna Harrell, a senior manager in Global Medical Communications. "From a medical booth perspective, we took all the planning and materials we had created and quickly converted them to fit the virtual format."
The virtual medical booths offered visitors easy access to a host of multimedia content, from disease state awareness videos and Industry-Expert Theater presentations, to clinical trial booklets and information about Heart Failure Link, a newly refreshed online resource created by Amgen for healthcare providers to learn more about pathophysiology and unmet needs in heart failure.
Amgen also released new information about current and upcoming clinical trials, including the GALACTIC-HF trial for Omecamtiv mecarbil. The large, phase 3 global trial has enrolled more than 8,200 patients at over 900 sites in 35 countries. It is designed to evaluate whether treatment with investigational Omecamtiv mecarbil, when added to standard of care, reduces the risk of heart failure events (heart failure hospitalization and other urgent treatment for heart failure) and cardiovascular death in patients with chronic heart failure with reduced ejection fraction. Results are expected in late 2020.
In an oral presentation during the clinical trial portion of the event, Amgen reported new data from a phase 3b study of the LDL-C lowering medicine Repatha® (evolocumab) in people living with HIV who have high LDL-C. The study showed a significant reduction of LDL-C among patients with HIV, making Repatha the first PCSK9 inhibitor to demonstrate LDL-C lowering results in people living with HIV and hypercholesterolemia or mixed dyslipidemia.
ACC.20/WCC Virtual was among the first major medical congresses to go virtual in response to the COVID-19 pandemic, but it won't be the last. The American Society of Clinical Oncology (ASCO) recently announced its Annual Meeting will take place virtually, and others are expected to follow suit.
"It was a whirlwind effort for everyone involved to bring this virtual event together so quickly, but it all came together in the end," Harrell says. "Most importantly, we were able to share important findings and advance the science to continue helping patients with cardiovascular disease."
Important U.S. Product Information
Repatha is a PCSK9 (proprotein convertase subtilisin/kexin type 9) inhibitor antibody indicated:
to reduce the risk of myocardial infarction, stroke, and coronary revascularization in adults with established cardiovascular disease.
as an adjunct to diet, alone or in combination with other lipid-lowering therapies (e.g., statins, ezetimibe), for treatment of adults with primary hyperlipidemia (including heterozygous familial hypercholesterolemia [HeFH]) to reduce low-density lipoprotein cholesterol (LDL-C).
as an adjunct to diet and other LDL-lowering therapies (e.g., statins, ezetimibe, LDL apheresis) in patients with homozygous familial hypercholesterolemia (HoFH) who require additional lowering of LDL-C.
The safety and effectiveness of Repatha have not been established in pediatric patients with HoFH who are younger than 13 years old or in pediatric patients with primary hyperlipidemia or HeFH.
Important U.S. Safety Information
Contraindication: Repatha is contraindicated in patients with a history of a serious hypersensitivity reaction to Repatha. Serious hypersensitivity reactions including angioedema have occurred in patients treated with Repatha.
Allergic reactions: Hypersensitivity reactions (e.g. angioedema, rash, urticaria) have been reported in patients treated with Repatha, including some that led to discontinuation of therapy. If signs or symptoms of serious allergic reactions occur, discontinue treatment with Repatha, treat according to the standard of care, and monitor until signs and symptoms resolve.
Adverse reactions: The most common adverse reactions (>5% of patients treated with Repatha and occurring more frequently than placebo) were: nasopharyngitis, upper respiratory tract infection, influenza, back pain, and injection site reactions.
From a pool of the 52-week trial and seven 12-week trials: Local injection site reactions occurred in 3.2% and 3.0% of Repatha-treated and placebo-treated patients, respectively. The most common injection site reactions were erythema, pain, and bruising.
Allergic reactions occurred in 5.1% and 4.7% of Repatha-treated and placebo-treated patients, respectively. The most common allergic reactions were rash (1.0% versus 0.5% for Repatha and placebo, respectively), eczema (0.4% versus 0.2%), erythema (0.4% versus 0.2%), and urticaria (0.4% versus 0.1%).
The most common adverse reactions in the Cardiovascular Outcomes Trial (>5% of patients treated with Repatha and occurring more frequently than placebo) were: diabetes mellitus (8.8% Repatha, 8.2% placebo), nasopharyngitis (7.8% Repatha, 7.4% placebo), and upper respiratory tract infection (5.1% Repatha, 4.8% placebo).
Among the 16,676 patients without diabetes mellitus at baseline, the incidence of new-onset diabetes mellitus during the trial was 8.1% in patients assigned to Repatha compared with 7.7% in those assigned to placebo.
Homozygous Familial Hypercholesterolemia (HoFH): The adverse reactions that occurred in at least two patients treated with Repatha and more frequently than placebo were: upper respiratory tract infection, influenza, gastroenteritis, and nasopharyngitis.
Immunogenicity: Repatha is a human monoclonal antibody. As with all therapeutic proteins, there is a potential for immunogenicity with Repatha.
Please contact Amgen Medinfo at 800-77-AMGEN (800-772-6436) or 844-REPATHA (844-737-2842) regarding Repatha® availability or find more information, including full Prescribing Information , at www.amgen.com and www.Repatha.com.