Every three seconds, a bone breaks due to osteoporosis somewhere in the world.1 Osteoporosis is a bone disease that occurs when the body loses too much bone, makes too little bone or both.2 As a leader in osteoporosis research, Amgen is joining the global effort to raise awareness for osteoporosis during World Osteoporosis Day.
An osteoporosis-related fracture can be life-altering.3 After an initial bone break, approximately 80% of patients remain undiagnosed and untreated.4
One way to help ensure that more people are diagnosed and treated for the disease following a fracture is to implement more outpatient post-fracture care coordination programs around the world.5,6 These programs are designed to help people who have experienced a fracture due to osteoporosis receive the appropriate information and care to help prevent future fractures before they occur.5
Announced earlier this year, the Capture the Fracture Partnership – an initiative of the International Osteoporosis Foundation supported by Amgen and UCB in collaboration with the University of Oxford – seeks to address the global health burden of osteoporosis through five interconnected pillars.

"With more than two decades of bone research, Amgen is proud to support Capture the Fracture and its goal to reduce the incidence of osteoporosis-related hip and vertebral fractures 25% by 2025." said Darryl Sleep, M.D., senior vice president of Global Medical and chief medical officer at Amgen.7,8*†
Though just announced in June, the Capture the Fracture Partnership has launched in 10 countries across Europe, Asia Pacific, North and South America and the Middle East and has seen measurable successes that include: establishing 56 new post-fracture care coordination programs, providing post-fracture care coordination services for an estimated 12,000 patients at post-fracture care sites across the globe and launching mentorship programs in two countries.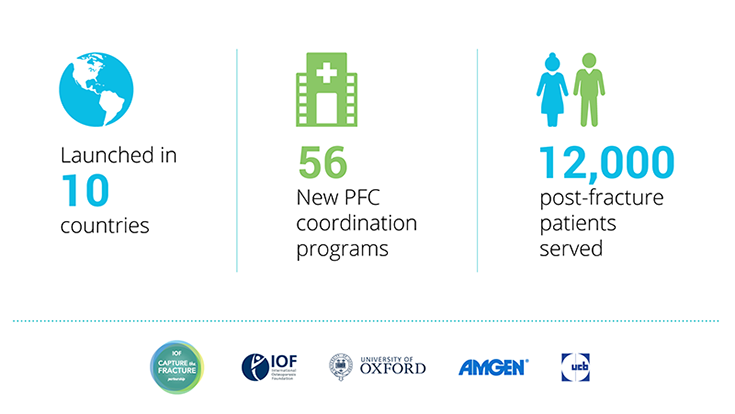 Amgen staff around the world are raising awareness about osteoporosis – which affects an estimated 200 million people – and encouraging friends and family to take the International Osteoporosis Foundation (IOF)'s Risk Check.9 This can be done online with a few quick clicks or taps on your mobile device.
Keep osteoporosis top of mind all year by visiting Amgen on Instagram to find mobile device wallpapers released for World Osteoporosis Day that serve as helpful reminders to care for your bones.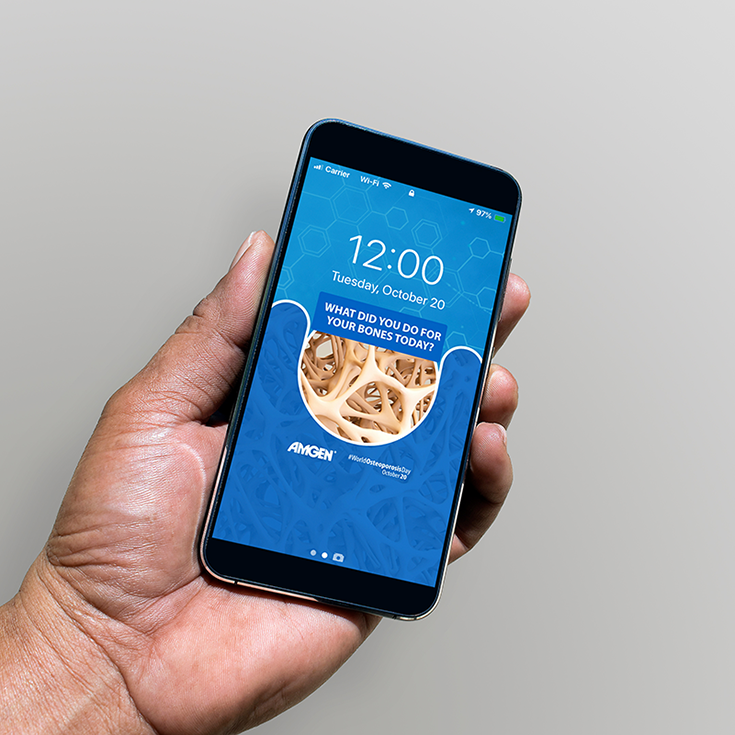 *RANKL pathway was first published in 1997.
†10 years since FDA approval.
REFERENCES
Johnell O and Kanis JA (2006) An estimate of the worldwide prevalence and disability associated with osteoporotic fractures. Osteoporos Int 17:1726-1733.
National Osteoporosis Foundation. What is Osteoporosis and What Causes It? https://nof.org/patients/what-is-osteoporosis. Accessed September 23, 2020
Cosman F, de Beur SJ, LeBoff MS, et al. Clinician's Guide to Prevention and Treatment of Osteoporosis [published correction appears in Osteoporos Int. 2015 Jul;26(7):2045-7]. Osteoporos Int. 2014;25(10):2359‐2381
Nguyen TV, Center JR, Eisman JA. Osteoporosis: underrated, underdiagnosed and undertreated. Med J Aust. 2004;180:S18-S22.
International Osteoporosis Foundation. Capture The Fracture – A global campaign to break the fragility fracture cycle (October 2012). http://share.iofbonehealth.org/WOD/2012/report/WOD12-Report.pdf. Accessed September 23,2020.
Akesson et al. Capture the Fracture: a Best Practice Framework and global campaign to break the fragility fracture cycle. Osteoporos Int. 2013 Aug;24(8):2135-52
Data on file, Amgen; 2019.
Martin TJ. Historically significant events in the discovery of RANK/RANKL/OPG. World J Ortho. 2013; 4: 186-193
Reginster JY, Burlet N. Osteoporosis: A still increasing prevalence. Bone. 2006;38 (2 Suppl 1):S4-S9