Download Amgen's 2020 Letter to Shareholders and Annual Report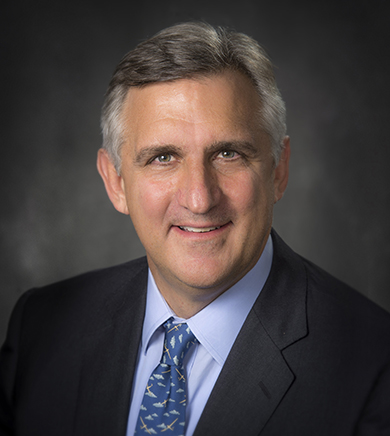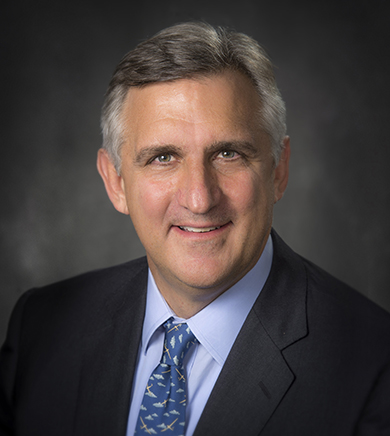 To My Fellow Shareholders:
When I wrote to you one year ago, it was still early days for the COVID-19 pandemic that has since resulted in more than 120 million infections and 2.6 million deaths worldwide. Indeed, 2020 proved to be a year like no other, with worldwide economic disruption and social turmoil caused by the greatest public health crisis in more than a century.
While the end of the pandemic may not yet be near, we should feel confident today that we at least have reached the beginning of the end. Incredible feats of biotechnology have made that possible in a remarkably brief period of time.
A belief in the potential of biotechnology inspired Amgen's founders to create our company more than 40 years ago. We are even more convinced today about the potential for biotechnology to make a positive difference in the world than they were then.
Under very trying circumstances, Amgen fulfilled many important objectives over the past year. With so many families and companies struggling with the effects of the pandemic, this is not a time to celebrate our performance. Nonetheless, I want to acknowledge the resilience of our staff and their dedication to our mission to serve patients. We were strong heading into the pandemic and, thanks to them, we expect to emerge from it even stronger.
$
0
Non-GAAP
Earnings Per Share1
$
0
B
Research and Development Investment
0
%
Non-GAAP
Operating Margin1
Responding To COVID-19
Throughout 2020, and still today, we have kept our focus on a few priorities.
Foremost among these is the health and safety of our employees around the world. Roughly three-quarters of our staff continue to work from home, and we have taken comprehensive measures to ensure the safety of those working on-site in our manufacturing plants and laboratories. We have also offered paid leave to medically-trained staff members who wish to volunteer full time to assist in COVID-19 relief efforts. In a poll of our staff, more than 90% of our people responded that they are satisfied with how the company has been supporting them during this challenging time.
By keeping our people safe, we have enabled them to provide an uninterrupted supply of our medicines to patients around the world. While the pandemic has consumed much of the world's attention, we know that millions of people continue to have other devastating health events like heart attacks, migraines, and bone fractures that our medicines can help prevent. Thanks to the investments we have made over the years in our global manufacturing network and the commitment of our manufacturing staff, we have been able to maintain our tradition of serving "every patient, every time"—including those patients receiving investigational medicines through Amgen-sponsored clinical trials. To interact with customers, we quickly adopted new digital technologies that have enabled us to stay connected with the physicians prescribing our medicines and the patients using them.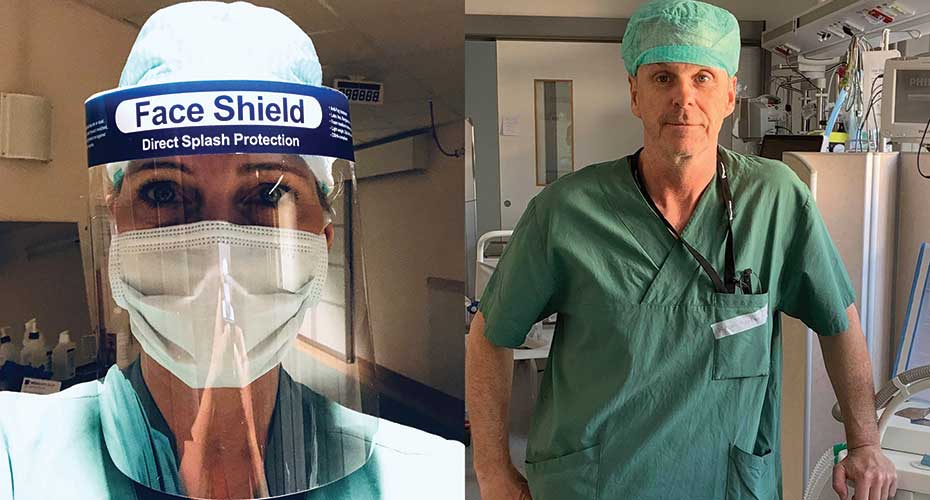 We are also contributing our scientific and manufacturing expertise directly to the fight against COVID-19. For example, our deCODE Genetics subsidiary has conducted extensive genetic research into how the coronavirus spreads and mutates, with its findings published in The New England Journal of Medicine. Our anti-inflammatory medicine Otezla® is being studied as a potential therapy for COVID-19, and our company is collaborating with Eli Lilly and Company to manufacture an antibody that has received emergency use authorization from the U.S. Food and Drug Administration (FDA) for treating patients with mild-to-moderate COVID-19 who are at high risk for progressing to severe COVID-19 and/or hospitalization.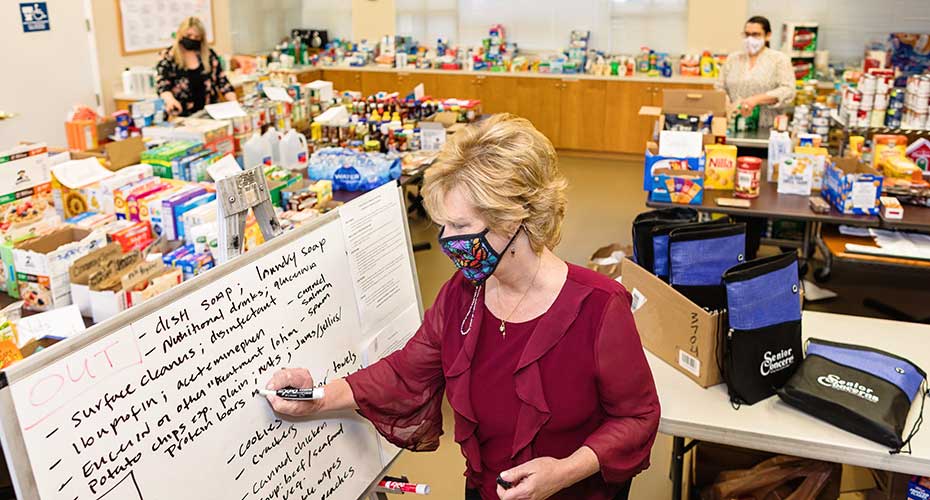 Finally, Amgen is contributing to the health of the communities where we live and work. In March 2020, Amgen and the Amgen Foundation pledged $12.5 million to support COVID-19 relief efforts around the world. Some of these funds have gone to nonprofit organizations like Direct Relief that do their work on a global scale. The vast majority of our donations, however, have been made at the local level—to food banks, ambulance squads, and senior care facilities. Additionally, the Amgen Foundation has been working to extend the impact of two virtual science education platforms, Khan Academy and LabXchange. These platforms—free to everyone—have become increasingly important for the millions of children staying home from school. LabXchange, for example, was launched in January 2020 and has already reached six million users interested in conducting virtual lab experiments.
To learn more about Amgen's response to COVID-19, please visit www.amgen.com/covid-19.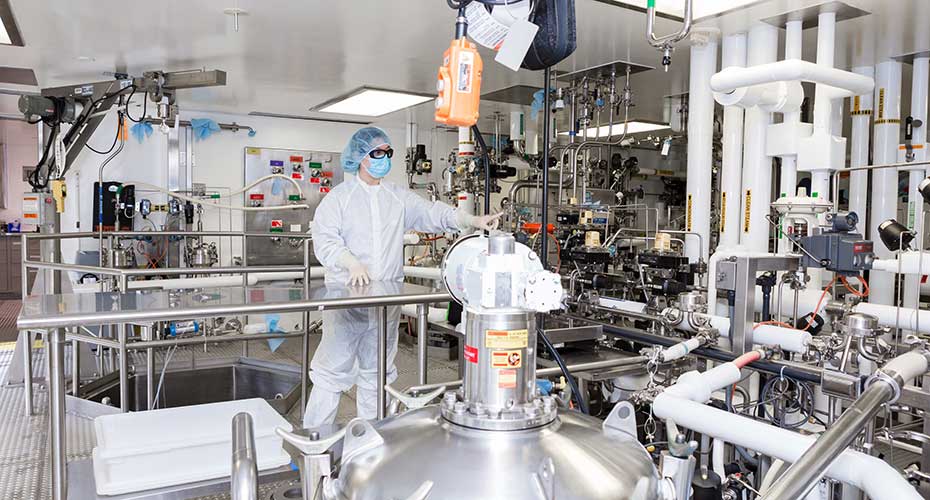 Delivering Results
The people of Amgen rose to the challenge of COVID-19 in 2020 and generated impressive results. I told you a year ago that we expected revenue growth in 2020. Despite an incredibly challenging and unpredictable year, total revenues increased 9% to a record $25.4 billion, driven by a number of factors:
We delivered year-over-year, double-digit growth for many of our newer innovative medicines, including our cholesterol treatment Repatha® (+34%), our migraine therapy Aimovig® (+24%), and our osteoporosis medicine EVENITY® (+85%). We have been able to generate this strong growth overall through volume gains, rather than price increases—important in light of intense budget pressures facing healthcare systems around the world.
We successfully integrated Otezla®, strengthening our decades-long leadership in inflammation. Acquired by Amgen in November 2019, Otezla® generated sales of $2.2 billion in 2020, and we believe it will be a strong growth driver for us in the coming years.
We grew annual sales of our biosimilars to $1.7 billion. Four Amgen biosimilars are now available to patients around the world. The most recent addition to our portfolio is RIABNI™, approved in the U.S. in December 2020 as a biosimilar to the cancer medicine Rituxan®.2 We have an additional three biosimilars in Phase 3 development.
We increased our sales by 10% outside the U.S. to more than $6 billion, with our revenues in the Asia-Pacific region exceeding $1 billion for the first time.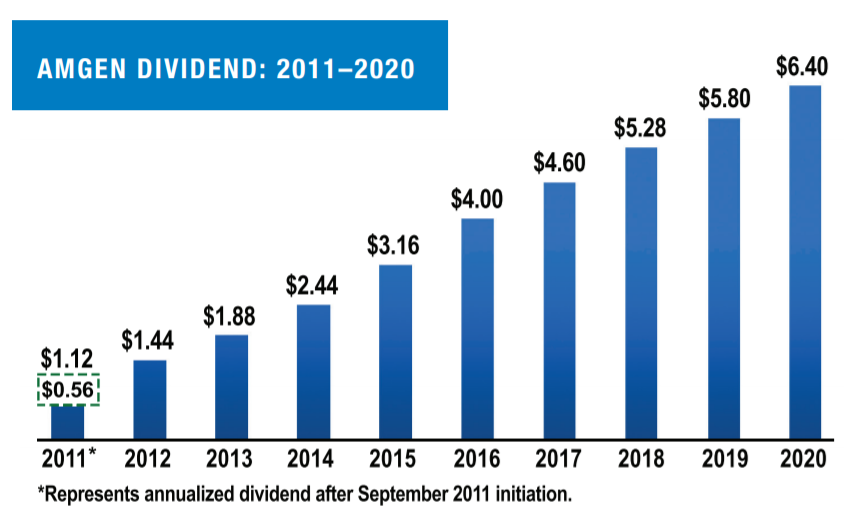 Our non-GAAP earnings per share rose 12% in 2020 to a record $16.60,
1
with our non-GAAP operating margin increasing 0.7 percentage points to 50.9%,
1
among the highest in our industry. Both of these measures reflect that we are managing our business efficiently and driving continuous productivity gains.
Research and development investments are inherently long term. We invested $4.2 billion in research and development in 2020—and approximately $19 billion over the past five years—to advance potential medicines at all stages of our pipeline and to strengthen our early research capabilities, which I will discuss below.
Although total shareholder return declined a modest 2% in 2020, it has increased by 44%, 63%, and 425% over the past three, five, and ten years, respectively, exceeding our peer group in each of these longer-term time periods.
We returned in excess of $7 billion to shareholders in 2020 through dividends and share repurchases. As the chart above illustrates, we have increased our dividend nearly sixfold since 2011, with an additional 10% increase for the first and second quarters of 2021 versus the same periods in 2020.
Focusing on 2021 and Beyond
By any measure, 2020 was a very successful year for Amgen, and our ability to deliver in the most trying of circumstances gives us confidence for the future. The pandemic has made it clear that the world needs more innovation, not less, and we at Amgen are determined to provide it.
We have more than 20 marketed medicines in our portfolio that treat some of the world's most serious, widespread, and costly diseases. We believe that many of these products can benefit significantly more patients around the world than they do today.
In 2020, for example, we filed for approval of our migraine prevention treatment Aimovig® in Japan, where eight million people live with this often incapacitating disease. This marked the first regulatory filing for Amgen in Japan since we assumed full ownership of our long-standing collaboration with Astellas Pharma Inc. in April 2020.
In China, our cancer medicines are reaching more patients thanks to a strategic collaboration initiated in January 2020 with BeiGene, Ltd., a leading cancer biotechnology company in that market. As part of our collaboration, we have invested $3.35 billion to establish an ownership stake in BeiGene of approximately 20%. Outside of this collaboration, Amgen in 2020 launched Prolia® in China, where one in three women over the age of 50 is affected by osteoporosis.
Otezla® is another product with strong growth potential globally, having been launched in only about 40 of the 55 countries where it is approved. Additionally, in February 2021, we filed Otezla® for a new indication in the U.S., which would significantly expand the number of patients who could potentially benefit from this medicine.
Looking forward, we are especially excited about two potential new product candidates—sotorasib for non-small cell lung cancer and tezepelumab for severe asthma—both of which have received Breakthrough Therapy Designation from the FDA.
Sotorasib represents the culmination of a 40-year quest to treat non-small cell lung cancer and other solid tumors harboring the KRASG12C mutation. This mutation is found in approximately 13% of patients with non-small cell lung cancer, which is the most common form of lung cancer. The KRASG12C protein was long considered an "undruggable" target. Amgen scientists were the first to identify a previously hidden crevice on the surface of the KRASG12C protein. Our scientists then engineered a molecule—sotorasib—that could attach to the protein.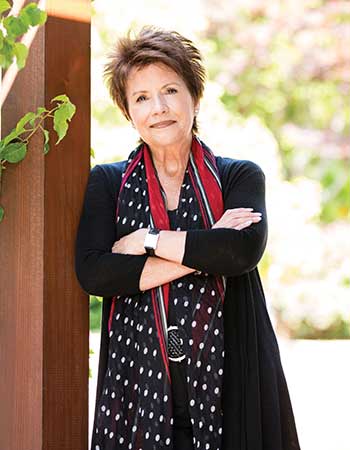 We have moved sotorasib forward with unprecedented speed, filing it for approval in the U.S. and the European Union just 28 months after the first patient was dosed in a Phase 1 clinical trial—making it among the fastest drug development programs in history. What's especially remarkable is that during the last 10 of these 28 months, everyone involved with this program—Amgen staff, clinical trial investigators, and, of course, patients—had to deal with the complications presented by the pandemic.
In the U.S., sotorasib has received Priority Review designation from the FDA and is being evaluated under the agency's Real Time Oncology Review program, which aims to create a more efficient review process so that important new treatments are made available to patients as early as possible. Additionally, as of March 1, we have filed sotorasib for approval as a non-small cell lung cancer treatment in Australia, Brazil, Canada, and the UK.
We are also studying sotorasib in combination with other cancer therapies and in other solid tumor types. We expect data from several of these studies to become available during 2021.
Tezepelumab is our investigational medicine for severe asthma, a debilitating disease that affects millions of people worldwide. Unlike existing treatments, tezepelumab targets a protein that sits at the top of multiple inflammatory cascades and is critical in the initiation and persistence of airway inflammation associated with severe asthma. The prevalence of severe asthma is expected to grow over time as millions of people around the world move from rural to urban areas, where the air quality is typically poorer. We expect to submit tezepelumab for regulatory approval in the U.S. and Europe in the first half of this year. We are also exploring it as a potential treatment for chronic obstructive pulmonary disease.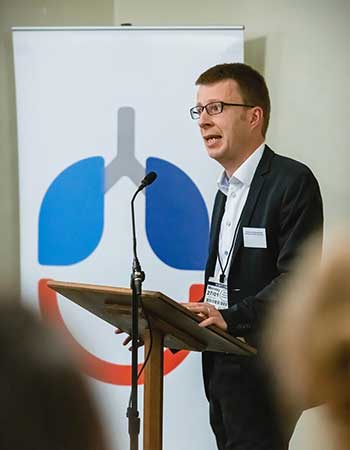 Sotorasib and tezepelumab represent the very best of Amgen—potential first-in-class medicines that treat serious diseases for which there are very few good options otherwise available for patients. We believe both have the potential to be important products for Amgen for many years to come.
Behind our late-stage pipeline assets are several potential new medicines now in Phase 2 development for the treatment of atherosclerosis, systemic lupus erythematosus, and celiac disease. Among the many Amgen molecules in Phase 1 development, AMG 160 and AMG 757 have each shown encouraging early data suggesting effectiveness against prostate cancer and small cell lung cancer, respectively. Both are in a class of medicines known as bispecific T-cell engagers, or BiTE® molecules, which are designed to engage a patient's own immune cells to target and destroy tumor cells. In 2020, we advanced an additional eight investigational therapies into Phase 1 clinical studies—one more than in 2019, which is remarkable given the challenges of COVID-19. Seven of the eight represent "firsts," either for Amgen or the entire industry.
To keep our pipeline full of promising new treatments over the long term, we continue to invest in building a set of differentiated early research capabilities. In human genetics, for example, we are adding information from as many as one million volunteers in the U.S. and the UK. This will augment the data we already have on 1.5 million individuals from around the world, many of whom live in Iceland, home to deCODE Genetics. In what is shaping up to be the world's largest proteomics experiment, we are measuring the relative levels of some 5,000 difficult-to-detect proteins in the blood of 37,000 Icelanders who have cardiovascular disease and whose genomes have been sequenced.
We are excited about the insights being generated from this groundbreaking work, which we expect will improve our ability to predict who is at risk for disease and to develop therapies to keep them healthy.
Amgen is also pioneering new types of molecules that work through a principle we call "induced proximity." I mentioned earlier that the KRASG12C protein found in many patients with non-small cell lung cancer was an elusive target for decades due to the difficulty of getting a drug to bind to its surface. This is a common problem, with an estimated 85% of human proteins falling into this "undruggable" category. To overcome this challenge, we are now developing drugs that can form connections between two or more proteins. Instead of operating on their own—as traditional medicines do—these drugs induce proximity between targeted proteins, clearing the way for powerful biological mechanisms to help get the job done. This opens up vast new possibilities to tackle diseases that currently have few, if any, good treatment options.
To learn more, please visit www.amgen.com/science.
Operating With Purpose
For several years now, businesses have faced increasing expectations of corporate responsibility, and I expect that the pandemic will only accelerate this trend. Our society confronts multiple challenges, and we are working to do our part to address them as effective corporate stewards. Here are just a few examples of what we are doing:
In January 2021, we announced ambitious new environmental goals, including a goal to achieve net zero carbon emissions (also known as "carbon neutrality") by 2027, along with a 40% reduction in water used and a 75% reduction in waste disposed.3 These new targets build on the good progress we have made in these three areas since 2007, all coming even as we significantly expanded our business.
We are building a more diverse and inclusive culture at Amgen—one in which all of our people feel they belong and can achieve their full potential. We surveyed our staff in 2020 and found that the vast majority believe they "work in an environment that is free from harassment and discrimination" and are "treated with respect and dignity." While our scores are well above global benchmarks, we know we can do even better. To date, our employees in the U.S. and Canada have completed mandatory unconscious bias training, with the rest of the organization to follow this year. Our employee resource groups—which have always enjoyed strong support at Amgen—increased their membership by 75% collectively in 2020, and these groups increasingly meet together to discuss common areas of interest such as maintaining mental health and well-being during stressful times.


Our minority employees have told us heartbreaking stories about how they are marginalized—and often mistreated—in their personal lives. As a result, the Amgen Foundation, working in partnership with the Amgen Black Employee Network, donated $7.5 million last year to support organizations advancing social justice across the U.S. at the national and local levels. One of these organizations, Strive for College, connects high school students in financial need with free, one-on-one mentoring to help them navigate the college and financial aid application process. Eighty-five percent of these students are minorities, and many will be the first in their families to go to college.


In December 2020, Amgen became a founding member of OneTen, a coalition of more than 40 of the world's largest, best-known companies that aims collectively to hire one million Black Americans into good-paying jobs over the next ten years, with a specific focus on those without a four-year college degree.
We recognize that people of color experience many diseases at higher rates than the general population, while having less access to healthcare and suffering poorer health outcomes. Amgen is working to address these health disparities, in part through efforts to increase the diversity of participants in our clinical trials, which will in turn help us better understand how our medicines will perform in a broad patient population. I want to acknowledge the Amgen Black Employee Network for its leadership on this important issue.


We recognize that many patients are unable to afford the medicines they need. In response, the Amgen Safety Net Foundation has provided approximately $6 billion4 of our medicines at no cost over the past five years to qualifying patients.5 We are also committed to the responsible pricing of our medicines. In fact, 2020 marked the third year in a row in which the average net price of Amgen medicines declined.
To learn more visit www.amgen.com/responsibility and www.amgensafetynetfoundation.com.
Moving Forward With Optimism
Optimism might not come naturally during difficult times such as these, but I remain enthusiastic about the outlook for our business. Recent advances in science and technology are breathtaking—and accelerating. Amgen is at the forefront of these advances, increasing our ability to tackle serious illnesses and help millions of people around the world live longer, healthier lives.
On behalf of Amgen's board of directors, our senior leadership team, and our employees around the world, I thank you for your continued support of our company and the important work we do.

Robert A. Bradway
Chairman and Chief Executive Officer
March 18, 2021

For more information on the Amgen medicines mentioned in this letter, please visit www.amgen.com/products.
This is a non-GAAP financial measure. See reconciliation to U.S. generally accepted accounting principles (GAAP) accompanying this letter.
Rituxan® is a registered trademark of Biogen.
Represents reductions against established baselines, taking into account only verified reduction projects, and does not take into account changes associated with contraction or expansion of the company.
Valued at wholesale acquisition cost.
Amgen Safety Net Foundation is a separate legal entity entirely funded by Amgen.
---