Lung cancer is by far the leading cause of cancer death among both men and women, making up more than 25% of cancer deaths.1

Non-small cell lung cancer (NSCLC) is the most common type of lung cancer, accounting for 85% of cases.1

Despite recent advances in the treatment of advanced lung cancer, there remains a high unmet need for patients and outcomes remain poor.2

Approximately 50% of NSCLC patients have an oncogene, that initiates cancer and contributes to its growth.3

KRAS G12C, a newly actionable biomarker, occurs in 13%, or 1 in 8 NSCLC patients in the U.S.4

Comprehensive biomarker testing at diagnosis is critical because it can help patients develop a targeted and personalized treatment plan.5,6

Depending on stage at diagnosis and a patient's biomarker status, NSCLC treatment options may include chemotherapy, immunotherapy, radiation, surgery, or targeted therapies.7

For patients with a mutational driver identified by biomarker testing, treatment with targeted therapy is associated with improved outcomes for patients.6*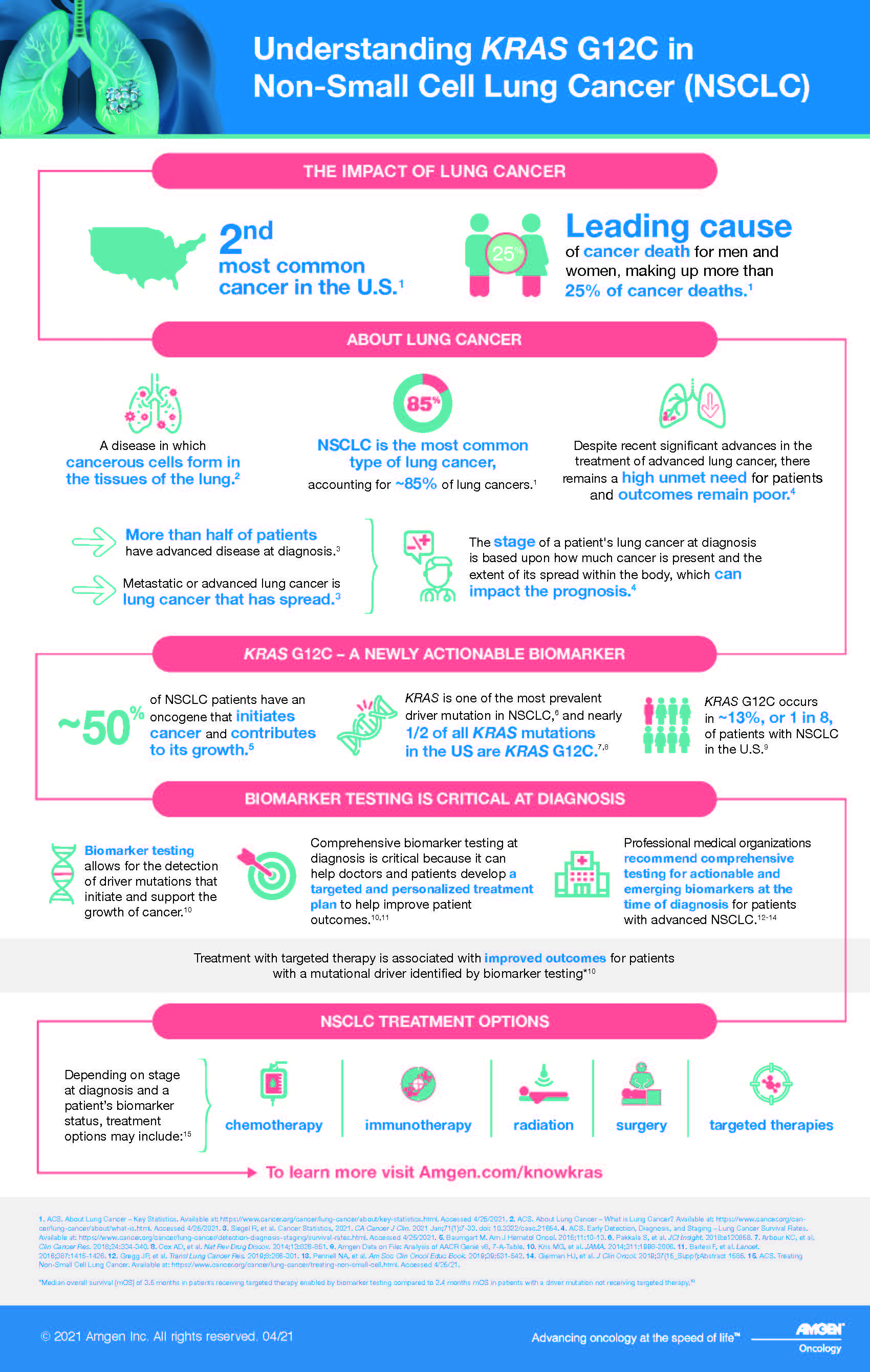 ACS. About Lung Cancer – Key Statistics. Available at: https://www.cancer.org/cancer/lung-cancer/about/key-statistics.html. Accessed 4/25/2021.
ACS. Early Detection, Diagnosis, and Staging – Lung Cancer Survival Rates. Available at: https://www.cancer.org/cancer/lung-cancer/detection-diagnosis-staging/survival-rates.html. Accessed 4/25/2021.
Baumgart M. Am J Hematol Oncol. 2015;11:10-13.
Amgen Data on File: Analysis of AACR Genie v8, 7-A-Table.
Barlesi F, et al. Lancet. 2016;387:1415-1426.
Kris MG, et al. JAMA. 2014;311: 1998-2006.


6* Median overall survival (mOS) of 3.5 months in patients receiving targeted therapy enabled by biomarker testing compared to 2.4 months mOS in patients with a driver mutation not receiving targeted therapy.

ACS. Treating Non-Small Cell Lung Cancer. Available at: https://www.cancer.org/cancer/lung-cancer/treating-non-small-cell.html. Accessed 4/25/21.