Our total water usage in 2020 increased from 2019 by 209,000 cubic meters (CM). Water usage increases are the result of manufacturing increases and equipment commissioning. We measure progress toward our targets by quantifying results of projects and initiatives independent of growth or contraction of the business. We do not count facility or building closures in our target progress. Despite increased water usage in 2020, we have reduced annual water usage through projects eliminating 981,000 CM, or 30%, since 2007.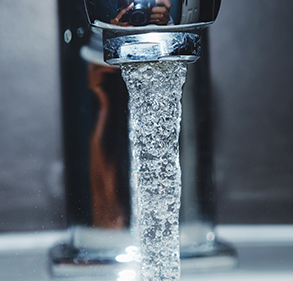 Drought is a concern at key Amgen facilities, including our world headquarters in Thousand Oaks, California. We continue to implement projects identified through an extensive water assessment at this location that have the potential to substantially improve water conservation and provide cost savings.
With their continuous improvement mindset, Amgen staff seek opportunities to use new technologies and approaches to use water more efficiently companywide, such as:
Ongoing use of next-generation biomanufacturing technologies that reduce the volume of water required to maintain manufacturing equipment and spaces


Conservation of 4,300 cubic meters (CM) of water from modifications to cooling tower operations
Water Sources
Most of the water we use—99 percent of it—comes from municipal sources. A much smaller portion—1 percent—comes directly from groundwater. In addition to efforts to reduce the demand for water, as described above, we also work to maximize the amount of water recovered for recycling or reuse, particularly at our facility in Puerto Rico, which features a water treatment and recycling plant that processes wastewater to a standard above potable levels. In 2020, we recycled or reused 567,000 CM of water, representing 24% of our total water withdrawal.
Managing Wastewater
Successful water management includes reducing water consumption while also monitoring wastewater discharge. To comply with local wastewater requirements, Amgen facilities operate under agreements that regulate the amounts and types of materials discharged in wastewater.