Amgen CEO Bob Bradway recently announced a new environmental sustainability plan with the ambitious goal of making the company carbon neutral by 2027, along with a 40% reduction in water use and a 75% reduction in waste disposal. These targets are the culmination of years of commitment to improving not only the environmental sustainability of the company's operations, but also the biopharmaceutical industry as a whole.
Amgen's wide range of sustainability projects encompass everything from reducing the carbon footprint of the company's office buildings to piloting more sustainable methods for producing life-saving biologic medicines. Sam Guhan, vice president of Engineering, is Amgen's VP sponsor for environmental sustainability, which allows him to work with teams around the world who are putting these projects into action.
"I have the privilege of being able to impact sustainability across a wider cross section than just my area of the business," Guhan says. "These teams design new factories and look for more sustainable solutions to scientific problems, and we're also looking at the gardens, the boiler rooms, the cars in the sales fleet and anywhere else we can make improvements."
A Lifelong Journey
Guhan's passion for environmental sustainability has been a lifelong journey, one influenced by the impacts from pollution and climate change he has witnessed over the years. "I grew up near Bangalore, India, which is nicknamed the 'Garden City' because it was once lush and green, but it has become so polluted that the name doesn't really fit anymore," he says. "For decades, I've tried to do my part at home—composting, recycling, gardening—but now I have an opportunity to make an even greater impact."
Although Guhan became Amgen's VP sponsor for environmental sustainability in 2019, the company has been quietly focused on sustainability for quite some time before that. Guhan credits Margaret Faul, Amgen's vice president of Manufacturing and Clinical Supply, as a leader and advocate for Amgen's early shift to "green chemistry." The approach was a major step that shifted a culture and significantly reduced harmful waste from Amgen's synthetic drug substance processes and helped earn the company a spot on the Dow Jones Sustainability World Index.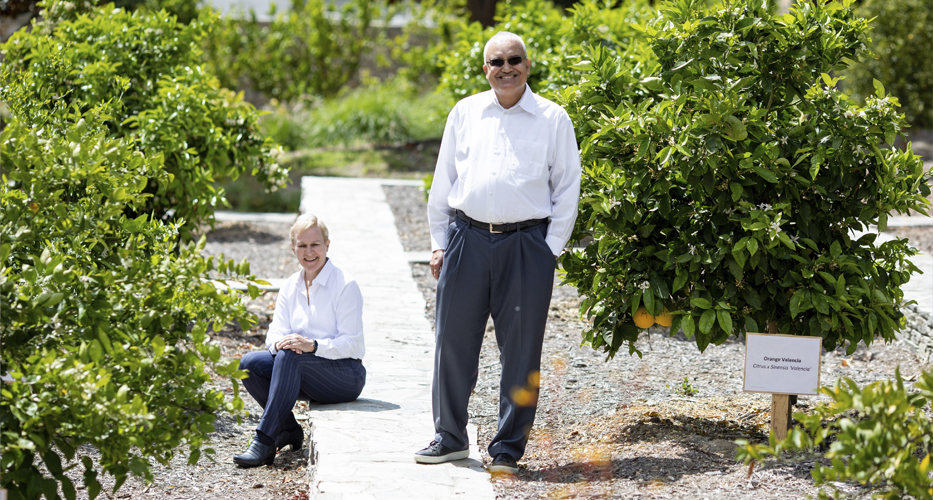 "The concept of green chemistry first gained traction in the late 1990s to early 2000s, and Margaret Faul was a leader in adopting these practices at Amgen," Guhan says. "The next step was looking at how we can take the same approach with biological process, and then looking at things like water use and energy consumption in other parts of the company."
Beyond Next-Gen Manufacturing
Another area where Amgen has made significant investments and progress toward sustainability is the in development of next-generation biopharmaceutical manufacturing. Amgen opened its first next-gen facility in Singapore in 2014, and the results were resoundingly positive for both the environment and Amgen's business. A second next-gen facility in Rhode Island recently completed its first runs to produce medicines.
"Our next-gen factories are smaller, more efficient, they cost less to operate, and they are significantly more environmentally friendly in terms of energy and water usage, all without compromising on our business or the quality of our medicines," Guhan explains. "That has positively impacted our entire industry, as we were the first biotech company to develop next-gen manufacturing on a commercial scale, and we have certainly inspired other companies to do the same."
However, Guhan says next-gen manufacturing alone isn't enough, and his team continues to iterate on Amgen's operations, looking for ways to make them even better.
A Catalyst for Change
One of Guhan's guiding principles in advancing Amgen's environmental sustainability efforts is that green initiatives and business success are not mutually exclusive. "We don't have to make a compromise between business and the environment," he says. "Focusing on sustainability makes us more innovative, not less."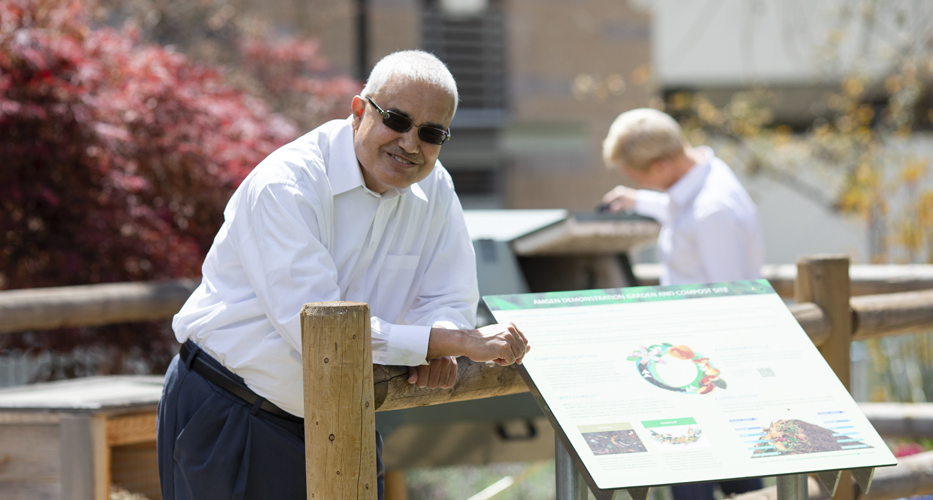 That doesn't mean it will be easy, however. To achieve Amgen's 2027 sustainability goals, Guhan says that teams are looking beyond the factory floor, and pushing boundaries, to make improvements throughout the company. "We're asking questions like how much carbon do we reduce by changing all the lightbulbs in our offices? Should we go with electric vehicles for our sales teams when the leases come up for renewal? How can we work with local governments to develop infrastructure so we're not sending waste to landfills?" he says. "If we only focus on one thing, we won't achieve our goals—it needs to be a company-wide effort."
One unexpected source of sustainable innovation? The COVID-19 pandemic.
"The silver lining from this horrible year is that we are now using new technologies that accelerate innovation and reduce our carbon footprint," Guhan says. "For example, we used to have someone fly out to a vendor facility to conduct a Factory Acceptance Test every time we built a new piece of equipment, but now we do it virtually and it works beautifully. We never would have dreamed we could do this a year ago."
Guhan says he felt heartened by stories he heard from India during the early days of the pandemic. "When everything was shut down, people in Bangalore were saying they could hear the birds singing for the first time in years. In the northern part of the country, the industrial smog had cleared, and people could see the Himalayas again," he says. "That serves as a reminder that pollution and climate change are manmade, and that through motivation and innovation, it is still possible to make a change."