Our Approach to Pricing, Access and Affordability
WHY WE DO WHAT WE DO
Amgen's mission is to serve patients. Every day, we work to discover, develop and deliver breakthrough medicines that make a difference to patients' lives and address some of society's most serious diseases, including cancer, cardiovascular disease, inflammation and osteoporosis.
Healthcare systems are facing unprecedented challenges, such as increasing prevalence of chronic diseases, health disparities and constrained budgets, while access to and cost of medication is a concern for many patients.
At Amgen, we believe that innovative medicines are the best hope for patients in the fight against serious disease. To realize the full value of our medicines and for the patients who need them most, Amgen is delivering patient access and health system solutions.
DELIVERING PATIENT ACCESS AND HEALTH SYSTEM SOLUTIONS
We're helping to evolve the health ecosystem by actively engaging with governments, manufacturers, academics, payers, digital health companies, and practitioners. Together, we are working to co-create solutions that transform health systems by not only treating disease after it strikes, but also helping to predict and prevent disease before it occurs. We are also advocating for policies that would help make medicines more affordable and accessible for patients.
Amgen is delivering patient access and health system solutions across three pillars and eight "Amgen Solutions." Click on each pillar below to learn more about what we're doing.
Explore Amgen's access and system solutions further:
THE BURDEN OF DISEASE DICTATES INNOVATION
The growing burden of disease not only takes an enormous human toll, but also creates a huge financial burden on society. Innovation is necessary now, more than ever, to prevent taking a step backward in the progress of human health. For many diseases, more effective therapies are needed—key examples are cancer, cardiovascular disease, inflammation and osteoporosis.
RISK OF NOT INNOVATING
More than 800,000 people in the United States die from cardiovascular disease each year—that's 1 in every 3 deaths.1  The total costs of cardiovascular disease in the United States are expected to reach $1.1 trillion by 2035.2 A study published in 2019 looked at where we might go from here and presents a very stark choice.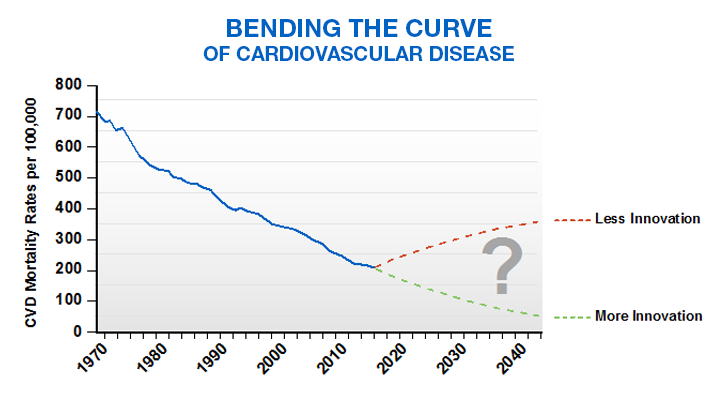 As this chart shows, if innovation stagnates, the cardiovascular (CV) mortality rate in the U.S. is predicted to significantly increase. However, if innovations are widely adopted and new innovations come along behind them, the CV mortality rate could be significantly reduced, building on the remarkable gains of the past 50 years. It is important to remember that these lines on this chart represent people's lives—that is what's at stake here.
There is a tremendous opportunity—and an urgent need—to bend the curve of cardiovascular disease, cancer, osteoporosis and the many other serious diseases that affect tens of millions of people around the world. Our aspiration is to be a leader advancing innovative medicines that bend the curve on the rising burden of disease to benefit patients, society and other stakeholders.
Million Hearts. Costs & Consequences. Accessed June 20, 2023. Circulation. 2021;143:e254–e743.
RTI International. Projections of Cardiovascular Disease Prevalence and Costs: 2015–2035: Technical Report [report prepared for the American Heart Association]. Research Triangle Park, NC: RTI International; November 2016. RTI project number 021480.003.001.001.
PRICING DECISIONS IMPACTING OUR PRODUCT PORTFOLIO
Net Price = the actual amount that the manufacturer recoups from selling its product, once fees, discounts and rebates to various stakeholders—including wholesalers, payers, Pharmacy Benefit Managers (PBMs)—are taken out.
List Price = the price a manufacturer establishes for a product. In most basic terms, it is the original selling price before discounts and rebates are applied.
Each year since 2018, the average net price for Amgen medicines has declined,* but this downward trend has not uniformly resulted in lower costs for patients filling their prescriptions. This is especially true in the United States, where the prescription drug system is complicated by multiple intermediaries that chip away at patient savings. Amgen understands that the cost of prescription drugs is a concern for many people, and we are committed to the responsible pricing of our medicines.
Learn more about Amgen's Approach to Responsible Pricing.
*This content was updated as of June 2023 based on data through June 2022 reflected in the 2022 ESG Report.
OVERSIGHT OF OUR APPROACH TO PRICING, ACCESS AND AFFORDABILITY OF MEDICINES
The Corporate Responsibility and Compliance Committee of our Board of Directors receives regular updates regarding our approach to pricing, access and affordability of our medicines, as well as on the activities of our Amgen Safety Net Foundation and other philanthropic activities that provide access to our medicines across the globe.
OUR COMPLIANCE WITH DRUG PRICING LAWS
One of our core Company values is "Be Ethical," and part of being ethical is being compliant. At Amgen, compliance is adhering to the laws and regulations that govern what we do, including those that govern healthcare pricing and reimbursement.
---
Forward-Looking Statements
This material contains forward-looking statements that are based on the current expectations and beliefs of Amgen. All statements, other than statements of historical fact, are statements that could be deemed forward-looking statements, including any statements on the outcome, benefits and synergies of collaborations, or potential collaborations, with any other company (including BeiGene, Ltd., Kyowa-Kirin Co., Ltd., or any collaboration to manufacture therapeutic antibodies against COVID-19), the performance of Otezla® (apremilast) (including anticipated Otezla sales growth and the timing of non-GAAP EPS accretion), the Five Prime Therapeutics, Inc. acquisition, the Teneobio, Inc. acquisition, the ChemoCentryx, Inc. acquisition, or the proposed acquisition of Horizon Therapeutics plc, as well as estimates of revenues, operating margins, capital expenditures, cash, other financial metrics, expected legal, arbitration, political, regulatory or clinical results or practices, customer and prescriber patterns or practices, reimbursement activities and outcomes, effects of pandemics or other widespread health problems such as the ongoing COVID-19 pandemic on our business, and other such estimates and results. Forward-looking statements involve significant risks and uncertainties, including those discussed below and more fully described in the Securities and Exchange Commission reports filed by Amgen, including our most recent annual report on Form 10-K and any subsequent periodic reports on Form 10-Q and current reports on Form 8-K. Unless otherwise noted, Amgen is providing this information as of the date of this material and does not undertake any obligation to update any forward-looking statements contained in this document as a result of new information, future events or otherwise.
No forward-looking statement can be guaranteed and actual results may differ materially from those we project. Our results may be affected by our ability to successfully market both new and existing products domestically and internationally, clinical and regulatory developments involving current and future products, sales growth of recently launched products, competition from other products including biosimilars, difficulties or delays in manufacturing our products and global economic conditions. In addition, sales of our products are affected by pricing pressure, political and public scrutiny and reimbursement policies imposed by third-party payers, including governments, private insurance plans and managed care providers and may be affected by regulatory, clinical and guideline developments and domestic and international trends toward managed care and healthcare cost containment. Furthermore, our research, testing, pricing, marketing and other operations are subject to extensive regulation by domestic and foreign government regulatory authorities. We or others could identify safety, side effects or manufacturing problems with our products, including our devices, after they are on the market. Our business may be impacted by government investigations, litigation and product liability claims. In addition, our business may be impacted by the adoption of new tax legislation or exposure to additional tax liabilities. If we fail to meet the compliance obligations in the corporate integrity agreement between us and the U.S. government, we could become subject to significant sanctions. Further, while we routinely obtain patents for our products and technology, the protection offered by our patents and patent applications may be challenged, invalidated or circumvented by our competitors, or we may fail to prevail in present and future intellectual property litigation. We perform a substantial amount of our commercial manufacturing activities at a few key facilities, including in Puerto Rico, and also depend on third parties for a portion of our manufacturing activities, and limits on supply may constrain sales of certain of our current products and product candidate development. An outbreak of disease or similar public health threat, such as COVID-19, and the public and governmental effort to mitigate against the spread of such disease, could have a significant adverse effect on the supply of materials for our manufacturing activities, the distribution of our products, the commercialization of our product candidates, and our clinical trial operations, and any such events may have a material adverse effect on our product development, product sales, business and results of operations. We rely on collaborations with third parties for the development of some of our product candidates and for the commercialization and sales of some of our commercial products. In addition, we compete with other companies with respect to many of our marketed products as well as for the discovery and development of new products. Discovery or identification of new product candidates or development of new indications for existing products cannot be guaranteed and movement from concept to product is uncertain; consequently, there can be no guarantee that any particular product candidate or development of a new indication for an existing product will be successful and become a commercial product. Further, some raw materials, medical devices and component parts for our products are supplied by sole third-party suppliers. Certain of our distributors, customers and payers have substantial purchasing leverage in their dealings with us. The discovery of significant problems with a product similar to one of our products that implicate an entire class of products could have a material adverse effect on sales of the affected products and on our business and results of operations. Our efforts to collaborate with or acquire other companies, products or technology, and to integrate the operations of companies or to support the products or technology we have acquired, may not be successful. A breakdown, cyberattack or information security breach could compromise the confidentiality, integrity and availability of our systems and our data. Our stock price is volatile and may be affected by a number of events. Our business and operations may be negatively affected by the failure, or perceived failure, of achieving our environmental, social and governance objectives. The effects of global climate change and related natural disasters could negatively affect our business and operations. Global economic conditions may magnify certain risks that affect our business. Our business performance could affect or limit the ability of our Board of Directors to declare a dividend or our ability to pay a dividend or repurchase our common stock. We may not be able to access the capital and credit markets on terms that are favorable to us, or at all.