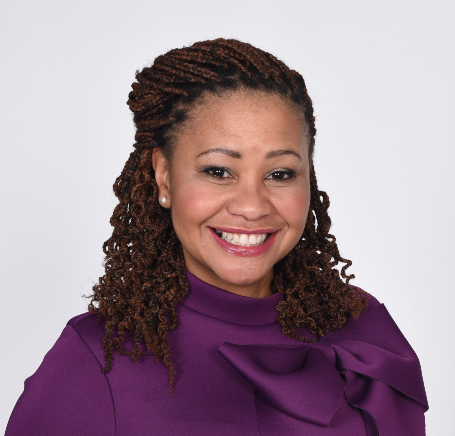 Guest: The Right Patients
Dr. Ponda Motsepe-Ditshego leads the development and execution of the medical strategy and tactical plans, scientific dissemination, education, and external engagements across multiple therapeutics areas, including, Cardiovascular, Metabolism, Bone, Inflammation, Nephrology and Neuroscience. Ponda also serves as the Global Chair for the Amgen Black Employee Network where she plays a leading role in advancing Amgen's objectives of improving health equity and increasing minority group enrollment in clinical trials. In her most recent role, Ponda was the Global Medical Platform Lead for Bone & Nephrology after having led the medical affiliate as the executive medical director, Amgen Canada Inc., in September 2017. She has seventeen years of experience in the pharmaceutical industry, nine of which have been with Amgen.
Ponda is also a loving wife and mother of two children and is an unabashed advocate for women in business and girls in STEM education. Ponda devotes personal time to mentoring young women and recently founded an initiative at Amgen Canada to inspire its Women to be Exceptional. Amgen's mission is to serve patients and with her science and business background Dr. Motsepe-Ditshego, is a catalyst to ensuring the right medications to the right patients at the right time. She looks for unique opportunities to invest in people and cultivate talent while fostering a culture that is inclusive and diverse. To that end, Dr. Motsepe-Ditshego has been leading Amgen's efforts to improve diversity and representation in Amgen's clinical trial programs and has recently created a dedicated team to focus on this important initiative.
Prior to her current role, Ponda served as the country medical director for Amgen South Africa where she was tasked in establishing Amgen's research and development and medical affairs department and was one of the founding leaders of the newly created affiliate. Ponda's previous leadership roles include head of medical affairs, at Wyeth in South Africa. At Wyeth, Dr. Motsepe-Ditshego held roles in medical and commercial functions and gained extensive experience across therapeutic areas such as specialty medicines, vaccines, and primary healthcare in both South Africa and the United Kingdom.
Dr. Motsepe-Ditshego holds a Bachelor of Medicine, Bachelor of Surgery from the Medical University of South Africa and completed a Management Advanced Program at the University of the Witwatersrand and a Global Executive Development Program at the Gordon Institute of Business Science, where she was awarded top Student in 2015. In 2019, Dr Motsepe-Ditshego was selected as the Healthcare Businesswoman Association and Amgen's "Rising Star" in recognition for her perseverance, diligent work ethic, impact on Amgen's mission to serve patients, as well as her outstanding contribution to the healthcare industry and her exemplary leadership qualities.