Gene Cooper sometimes sits at the baby grand piano in his home in Thousand Oaks, California—a silent reminder of what used to be.
"My wife would play 'Moon River,' on it," Cooper said, referring to a famous song popularized by the 1961 American movie Breakfast at Tiffany's. "I'd always ask her to play it for me. It was my favorite."
But in late January, Carolyn Cooper suffered a stroke and she was taken to the hospital. Her left hand—once so dexterous on the keys—became mutinous. Diagnosed with dementia a few years earlier, she found her memory of some things sliding into darkness. Still, she recognized her husband of 58 years and he felt glad he could visit and be with her regularly when she moved to the skilled nursing facility in Thousand Oaks in February.
He would visit her there every day. She was the love of his life. He and his son arranged for a keyboard to be put in her room so she could try to practice on it as she began recovery from the stroke. A long-time music and elementary school teacher, they figured it would bring her comfort. It certainly did for him.
Then COVID-19 arrived with ferocity in mid-March.
As the cases of those infected grew, his world began to shrink. The church services he looked forward to on Sunday stopped allowing them to gather. His genealogy study group groups halted meetings. The restaurants he and his wife would go to sometimes in nearby Westlake Village—The Olive Garden, Brent's—closed their dining rooms.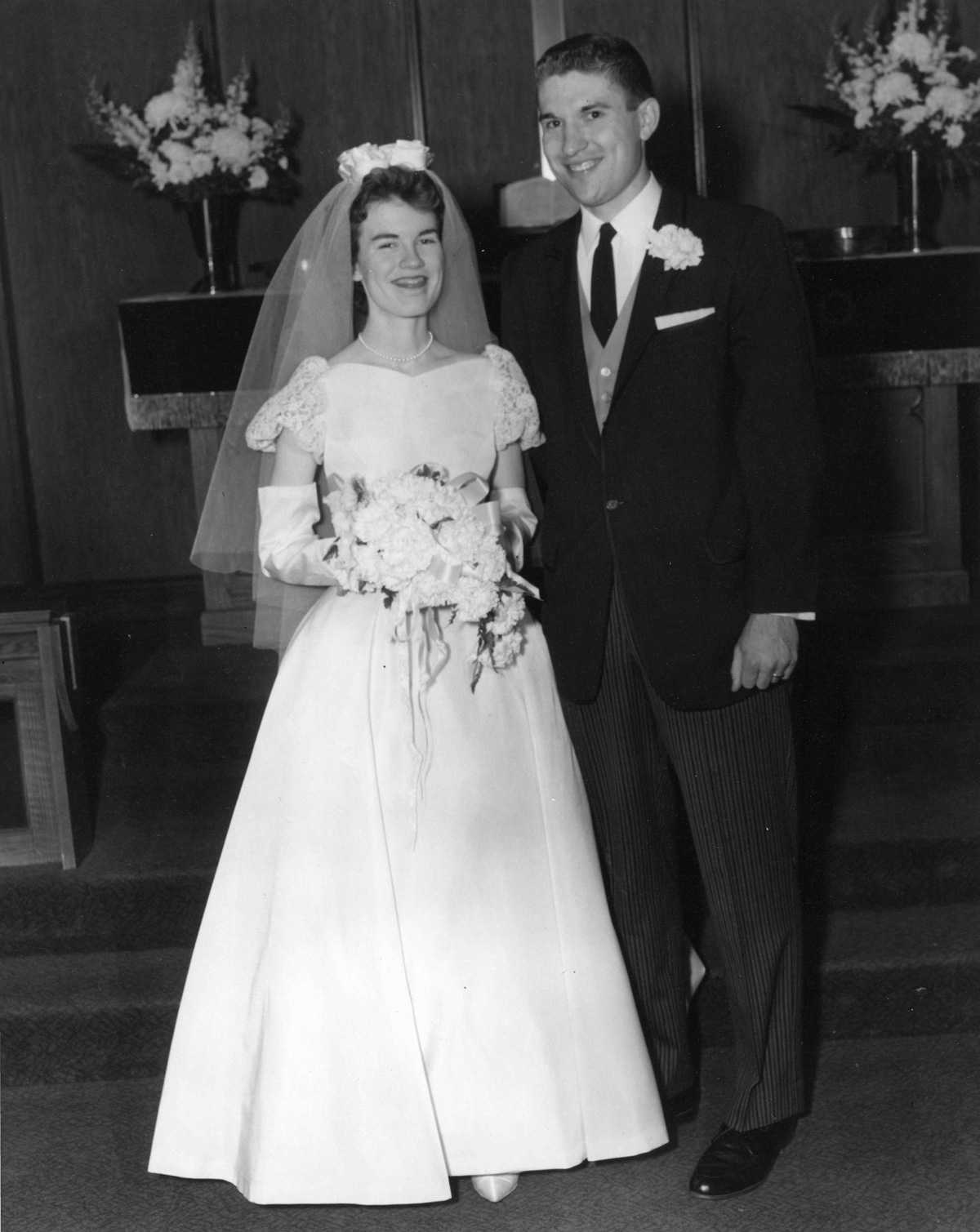 He became more reliant on Meals on Wheels, which was run through the nonprofit group Senior Concerns. Getting those deliveries, he said, became critical.
"I get a hot meal every night," Cooper said. "Monday, Wednesday and Friday I get a sandwich and Tuesday and Thursday I get a salad. I am diabetic and they still manage to cater to my needs."
Senior Concerns Executive Director Andrea Gallagher said the sudden strain on the operations threatened its existence. They had been in Ventura County for 45 years, serving the senior population with Meals on Wheels, a food pantry for low-income seniors—along with social events and activities at their location in Thousand Oaks.
When Amgen stepped in to help in April with a $100,000 grant, Gallagher said the money was instrumental in helping them extend operations. In just a month since COVID-19 hit, her agency has seen the number of meals being delivered jump from 1,160 to 1,958 per week. The grant is part of a sweeping package of up to $12.5 million in donations from Amgen and the Amgen Foundation recently announced as the company has tried to step into the breach and assist local communities hammered by a pandemic that has reached almost every country in the world. Of the $12.5 million, approximately $2 million is being donated in California, which is where Amgen is headquartered.
Gallagher said since seniors have been restricting movements and children aren't able to see them as often for fear of spreading the virus, people have gone from ordering two meals a week to asking for seven per week. "It was such a significant contribution," she said. "We have gotten other donations, but Amgen's was by far the largest. It will keep us going for another two months and get us closer to the fiscal year."
Eduardo Cetlin, president of the Amgen Foundation, said the company needed to help in any way it could. "It is vitally important to support vulnerable members of society impacted by the COVID-19 pandemic and its many repercussions," he said. "That is why Amgen and the Amgen Foundation committed the relief to support responding organizations in the U.S. and around the globe. Those funds are being turned into action in each of our Amgen communities."
That action was felt directly by Tom Condon.
The 88-year-old said he needed certain vitamins and after shelter-in-place orders from the county and the state took effect, it became harder for him to find them. But he said the people at Senior Concerns have made sure he is getting what he needs.
"I try to build up a list of 10 to 12 things so as to not inconvenience them," he said. "But one time I called and told them about a vitamin I needed and couldn't find it, she went to two stores before tracking it down I thought that was remarkable. It seems people rise to the occasion in times of crisis."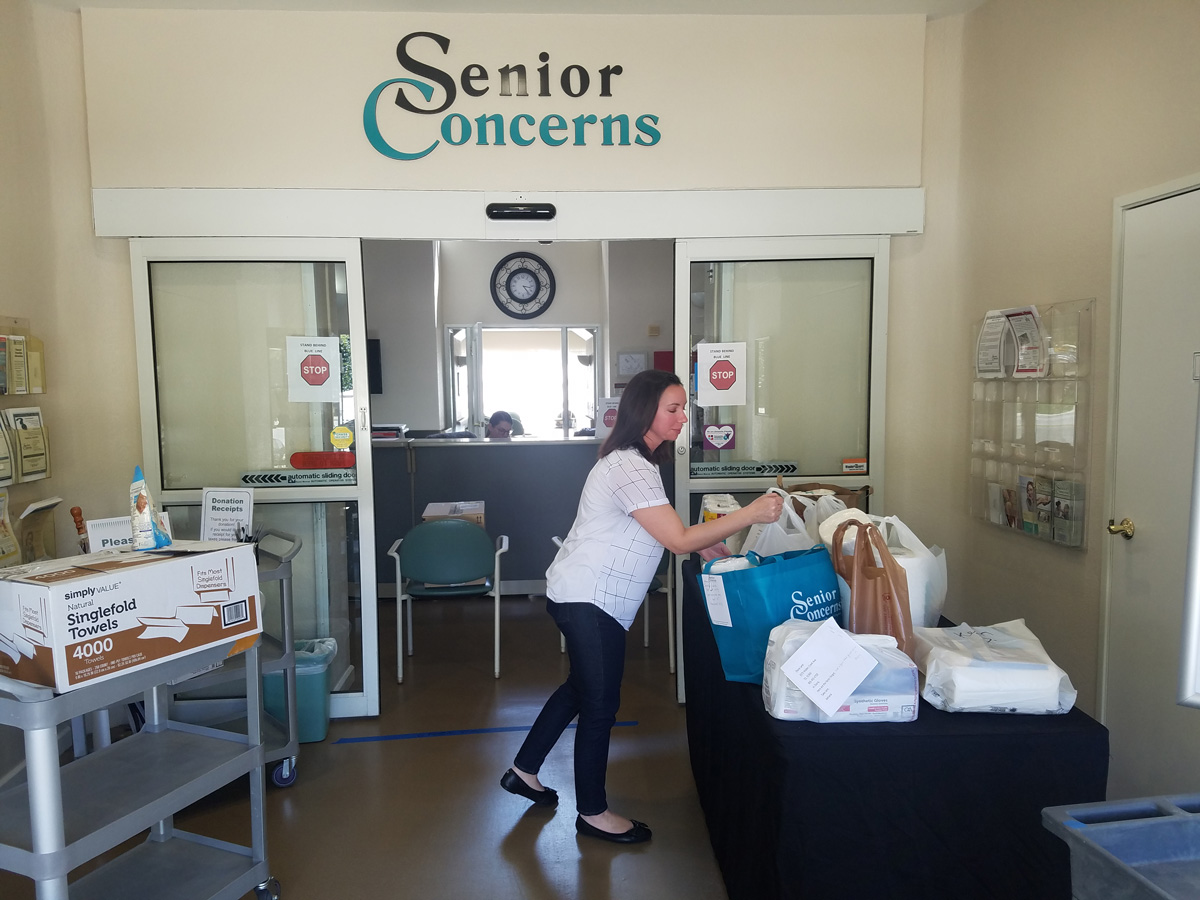 Condon, a retired high school history teacher, said the COVID-19 experience has been far more frightening than anything he's experienced.
He said even during World War II, when he was a pre-teen, he didn't recall the sense of dread that came with this. Condon remembered block captains and blackout curtains and recycling rubber and collective conservation efforts—things that became normal over time as the nation slogged its way to victory over the Axis powers in 1945.
This pandemic, he said, is different. He said even during World War II, he never felt in danger. This virus, he said, is invisible and seems to be hardest on his age group—both physically and mentally. His wife, suffering from dementia, is aware of what is going on but he is bearing the brunt of the feelings of isolation.
"I've never experienced anything like this—being in solitary confinement like we seem to be right now—and not knowing when it will come to an end," Condon said. "I do hope we can get back to seeing some normal things again."
Gallagher said the stories she's heard from the people Senior Concerns serves have been heartbreaking at times.
She said social isolation is "the kiss of death for a senior and the key contributor to mortality." She said she knew of a married couple—she is 89 and he is 94—who asked Senior Concerns to do shopping for them because they were reading reports that if they got sick, they wouldn't be put on ventilators. "That's a daunting thought to have in your head," Gallagher said.
Another woman told Gallagher how her husband of 63 years died and couldn't get a hug of comfort from anyone at his funeral due to social distancing and fears of spreading the coronavirus. "These are profound and difficult things."
The role of Senior Concerns at this point is to help them weather the current crisis with the basics. With the Foundation's grant, she said that has allowed them to increase their volunteer numbers swelling to 60. She said they'd like to add 25 to 30 more—which would help as her staff of 15 is already on furloughs. All of the money is going to providing services, she said.
Senior Concerns lost three fundraisers. It's thrift store—the Bargain Boutique in Thousand Oaks—became another dried-up revenue stream when it shuttered due to the pandemic. She said it costs $40,000 a month to keep the current services going.
Cooper said he's grateful for the services that he's been able to access amid the health crisis and he said he's doing his best to adapt—even though it's difficult. He said he works on his genealogy projects at home, watches the news on TV and looked forward to FaceTime with his wife three times a day.
He said one of the caregivers even sent him a video of her playing "Moon River" on the keyboard in her room.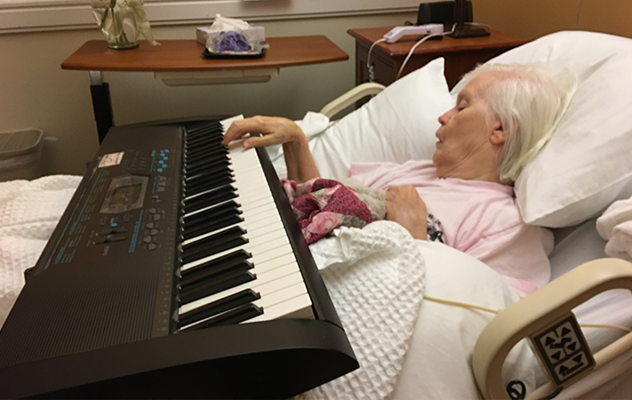 Cooper said on April 15, he got a surprise. For their 58th wedding anniversary, a care giver took him to the assisted living facility and his wife was rolled out in a wheelchair. They were about 10 feet apart—and he got to spend about 30 minutes to talk without any barriers. He wished he could have hugged and kissed her. But seeing her would have to suffice.
But sometimes, he turns on his computer. On it was another source of comfort—a video sent to him by the staff at the facility of her playing the keyboard.
On the video, Carolyn Cooper sits straight, eyes focused. She hits the first notes just as she has done for decades. The left hand is still shaky. But the tune grows more recognizable as she plays.
And in that moment, the music was a reminder of what still is.
For anyone wishing to volunteer to help with delivering meals to seniors, contact Senior Concerns at 805-497-0189 or visit: https://www.seniorconcerns.org/contact-us/
As the COVID-19 pandemic continues to evolve, we are committed to doing everything we can to keep our staff and their families safe, as well as to help the communities where we live and work reduce the number of people exposed to the virus. We are also committed to continuing to deliver an uninterrupted supply of our medicines for the patients who need them. If you are a patient, medical professional, employee, or member of the community, please see our COVID-19 Information Center page.