Following the tragic explosion at the Port of Beirut in Lebanon earlier this month, the Amgen Foundation donates $100,000 to relief efforts. Meanwhile, two locally based Amgen staff members share their stories.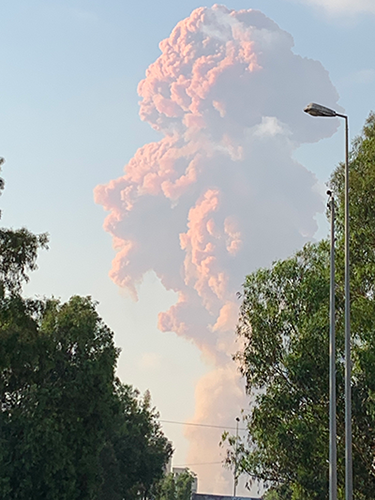 Olivia Morcos, an Amgen employee, looked at her three-year-old daughter in the backseat of the car, her small hands covering her ears after the big sound had jolted everyone around them.
Her husband was still in the Fahd Supermarket. People were fleeing from the store, frantic and frightened. She wondered if a rocket had exploded. Where was her husband? She turned back to her daughter. In the sky, a large cloud of smoke rose – tinged with a strange red and pink color. Morcos could tell her daughter was terrified.
"It was a balloon that popped," she told her daughter in a calm voice. "A big, big balloon. Don't be scared. You always play with balloons. You know how they are."
Morcos hugged her and gave her a kiss.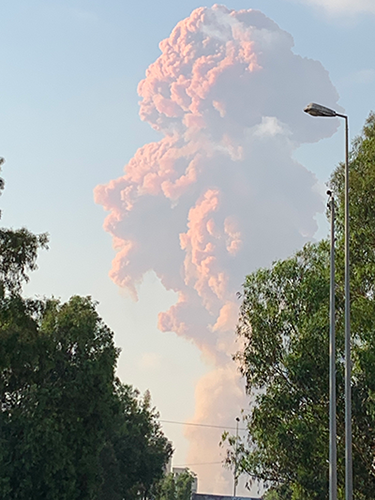 She then opened the car door and stepped out to take a photo of the rising smoke about four miles away. Her husband arrived empty-handed. At the sound of the explosion, he had dropped all the groceries in the store. They jumped back in the car and began to make their way home.
They had been on their way to the hospital to get a vaccination for their daughter. That building had been destroyed in the massive explosion. It wasn't until hours later that she began to think how she might have been there if they hadn't stopped at the store on the way. How they could have died.
"I didn't want to go to the store and my husband did," she said. "I think we were lucky we did."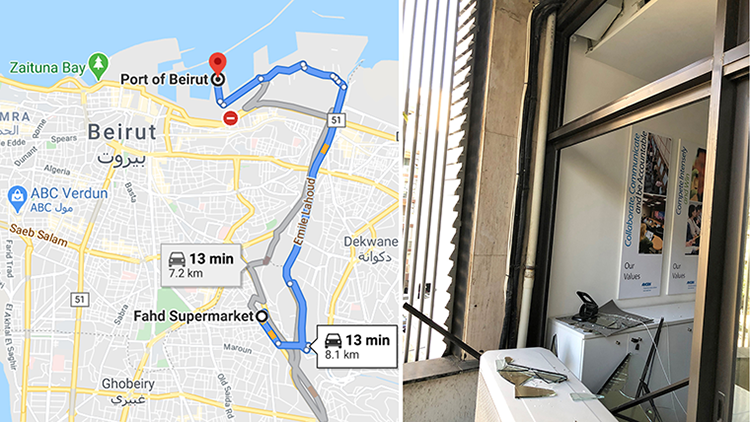 Amgen donates $100,000
The Port of Beirut was rocked on Aug. 4 when 2,750 tons of stored ammonium nitrate exploded, killing more than 200. More than 6,000 were injured in the explosion, which created a seismic shock felt as far away as Cyprus.
Lebanon had already been battered by a series of troubles before the explosion, including the COVID-19 pandemic that had swamped hospitals with patients.
The explosion left the country of 6.8 million looking for help. And hope.
International relief began making its way to the country.
The Amgen Foundation announced that it made a $100,000 grant to the International Medical Corps, a long-time foundation partner that has been working in Lebanon since 2006. The Foundation has also opened a disaster relief matching gifts program that allows Amgen staff globally to give financially to vetted, trusted non-profits – with the company matching staff donations dollar-for-dollar.
Amgen has 17 staff in Lebanon. All were safe and accounted for after the explosion. Mohamed Nasser, Amgen Middle East and Africa general manager, said Amgen staff in Lebanon were granted extended three days paid leave to focus on family after the explosion.
Staff were also granted helpline services for psychological support, extended medical insurance outside of network due to damage of hospitals in-network, accelerated payroll for support and looking into other local options to support team during such time.
Nasser said he was especially "glad the team and their families are safe and very proud of them for immediately volunteering after the explosion to help with relief efforts." He said the team helped in cleaning and restoring some of the devastated areas, including the warehouses of the Ministry of Health, and organized music concerts in hospitals to relief exhausted medical staff.
Nasser also thanked Amgen Corporate Security team for their leadership and momentarily response to ensure team members are safe.
Devastating scene
Amgen employee Maria-Nour Saliba felt the explosion from her home while drinking her coffee. She lived about 30 minutes away from its epicenter and her thoughts immediately raced to her mother, sister and grandparents – all of whom were close to the blast.
Shaking, she called her mother. She was OK. So was her sister. Then she tried her grandparents.
No answer.
"I didn't know what to do," Saliba said. "I began crying."
Her mother told her to try and get to her grandparents' apartment, which was less than a mile from the port. She got into her car and got on the main highway toward Beirut. She constantly dialed her grandparents' house. Still no answer.
Traffic was starting to snarl on the road. She veered off the main highway onto a smaller road. It was one way. She didn't care.
She called again. A man answered.
She didn't even say "hi."
"I just asked, 'Are they alive?'" she recalled. "He said, 'Who are you?'"
She told him she was Maria-Nour Saliba and she was calling to see if her grandparents were OK. He told her they were – but they were in a room in the building.
"I didn't believe him," she said. "Why wouldn't he put them on the phone?"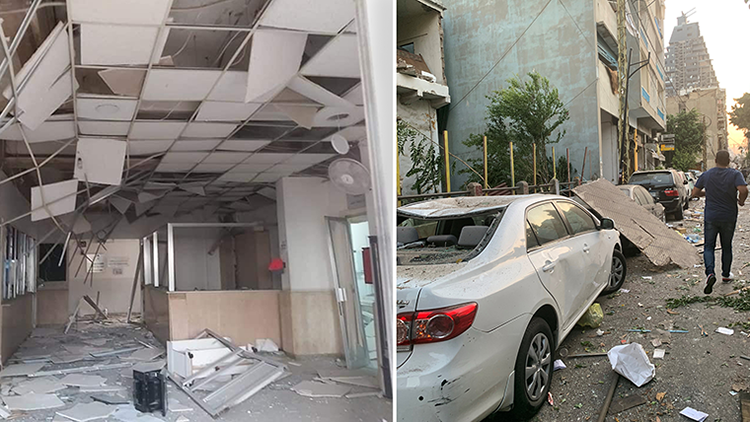 The traffic tightened. Soon, the car wasn't moving. She parked and abandoned the car.
"I was running and started passing people and they were covered in blood," she said. "I cried some more."
The scene got worse and worse as she got closer. No windows were in place. Shards of broken glass were all over the sidewalks and roads. Walls and doors were caved in and ceilings were either gone or drooped badly. Her optimism waned.
She heard an ambulance. People were gathered and yelling and crying. Confused, they wandered outside. Then, with the haze of smoke all around, she saw the apartment and it hit her.
There was no way they survived.
'The balloon did this'
Watching the news at home, Morcos said she and her husband would sometimes get so locked into the coverage they forgot their daughter was watching, too. In her small voice, she said, "Why are people so bad?"
Morcos said they quickly would turn the television off. She went back to the balloon popping.
"The balloon did this," she told her daughter.
On social media, she would find herself scrolling through images. Then she came across one from the babysitter who watched their daughter. Her babysitter's nephew was one of the first rescuers to try and start pulling people from the site of the detonation. The post said the man, who was about 22, was still missing.
Morcos felt this pit in her stomach. She called her and told the babysitter she would be praying for her. The woman said something she can't forget: "I miss him a lot. I pray every night for him to come back."
After she hung up, she hugged her daughter. Thankful.
"I feel hopeful," she said. "I think after you pass through difficulties – I lost my parents when I was 18 and had to raise my brother who was 15 – I think I have developed strength. I can deal with the situation and can accept anything now."
'Under here'
The apartment was a skeletal structure when Saliba walked through it – debris scattered through the rooms. Smashed furniture. Doorways with no doors.
She shouted for her grandparents by name as she walked carefully through the building. She was worried the ceiling might fall on her. She called for them again.
No answer.
When she reached their bedroom, she looked around and saw the two beds. The rest of the room was in tatters. She called out to them again.
"Under here," a voice said from beneath the bed.
Saliba dropped to her knees. Her grandparents had hidden beneath the beds. They were too frightened to move.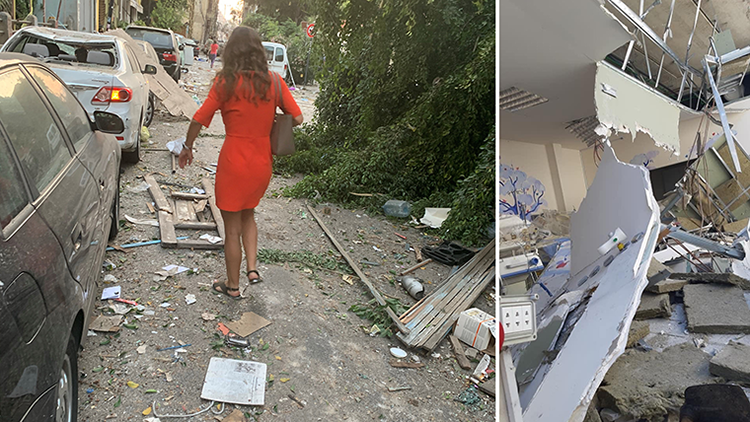 She called a relative to tell him she'd found them alive. They weren't injured. The relative left the house to pick the three of them up. Saliba coaxed her grandparents to emerge from under the beds. They slowly made their way back through the apartment. Once outside, she saw more people covered in blood. A person said a neighbor of Saliba's grandparents died.
When they got home, she wept. She took a shower. She looked down and saw the water had turned black from all the smoke, dust and ash that had settled on her. She hadn't noticed.
They have been helping with the cleaning since the blast and she said she still believes in her country.
"We do have a bit of hope," she said. "We will live in survival mode, but we are resilient, too."