Amgen has built a reputation as one of the world's leading biotechnology companies, not only due to incredible innovations in Research and Development, but also for the strength of its biopharmaceutical manufacturing operations. Every year, Amgen recognizes the vital work of these manufacturing teams around the world by hosting a "Best Plant" awards ceremony where facilities are bestowed awards for annual performance related to reliability of supply, quality measures, safety, efficiency and productivity, agility and ability to drive differentiation. This year, as a result of the incredible work by teams across the network, it was decided to recognize all plants for their efforts to maintain a safe and reliable supply of medicines to patients.
"Each year we celebrate the outstanding work across our network to deliver for 'every patient, every time' and we recognize the people that lead the way in delivering for patients," says Arleen Paulino, Amgen's senior vice president of Global Manufacturing. "2020 was a year like no other, and the organization rose to the challenge. I am proud of our team and celebrate how we came together as a network to deliver for patients."
In honor of this year's celebration, here are 10 interesting facts you should know about Amgen's manufacturing network that has been built over many years—and includes seven facilities globally.
1. Every Patient, Every Time. Even in a Pandemic
Many industries around the world saw serious supply chain disruptions during the COVID-19 pandemic—ask anyone who lived through toilet paper shortages in the spring of 2020. But Amgen's manufacturing network did not falter thanks to cross-functional partnerships, careful planning and additional safety measures, as told through stories like these of Amgen staff in Ireland and the Netherlands adapting how they work during the pandemic. These manufacturing teams continue to produce and deliver an uninterrupted supply of medicines for Amgen patients, as they have done throughout the pandemic. The motto that has long been used by the Operations team is a commitment to delivering for, "every patient, every time."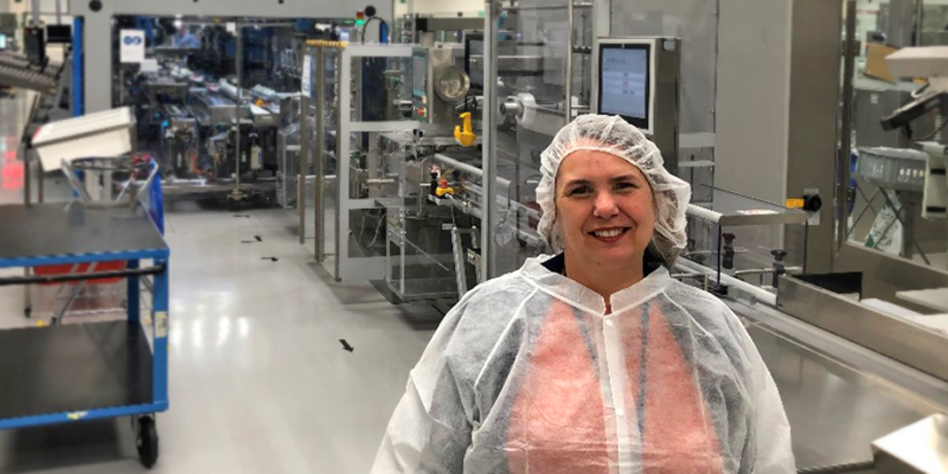 2. Biotech is Different
Unlike small-molecule medicines — typically a tablet or capsule taken by mouth — large-molecule biologics and other biotechnology medicines taken by injection must be manufactured in a highly controlled environment. In many cases, just one foreign microbe could be enough to taint a batch of medicine in production. Manufacturing medicines like these (and getting them to patients) requires expertise across many disciplines, from scientists and engineers to supply chain experts and quality control specialists.
3. Lending Manufacturing Support for the Fight Against COVID-19
Amgen joined forces with Lilly as a manufacturing partner for a COVID-19 antibody therapy that recently received Emergency Use Authorization by the U.S. Food and Drug Administration (FDA). At its facility in Puerto Rico, Amgen is applying its expertise in development, and transfer of process and manufacturing, to produce drug substance and fill drug product, ensuring vital supply for patients during the pandemic.
4. Part of Biotech History, Still Going Strong
Amgen's first medicine was approved by the FDA on June 1, 1989; it was manufactured on-site in Building 6 at Amgen's corporate headquarters in Thousand Oaks, California. The groundbreaking drug was one of the world's first biologic medicines, made using recombinant DNA technology, and it remains one of the most successful drugs in biotech history. Amgen continues to manufacture this medicine more than 30 years later.
5. A Strong, and Growing, Global Footprint
Amgen has an interconnected, global manufacturing network to ensure patients around the world always have access to the medicines they need. A substantial portion of Amgen's total supply of medicines is produced in the U.S. The company's manufacturing roots began in California, and later expanded to Rhode Island and Massachusetts, as well as to its largest manufacturing facility in Puerto Rico. Amgen also has significant operations in Europe with sites in Ireland and the Netherlands. Asia hosts a smaller, yet growing, segment of these operations, where Amgen's Singapore facility became the first location for an innovative new approach to biomanufacturing.
6. Amgen's Largest Manufacturing Site: Puerto Rico
In Puerto Rico, Amgen's largest manufacturing operation, Amgen Manufacturing Limited (AML), has earned the nickname "City of Amgen" because it employs around 2,400 staff members across 22 buildings, which include state-of-the-art manufacturing plants, a cafeteria, clinic, water recycling plant, child-care center, and much more. At the heart of AML is an outdoor plaza with a DNA double helix embedded in the bricks.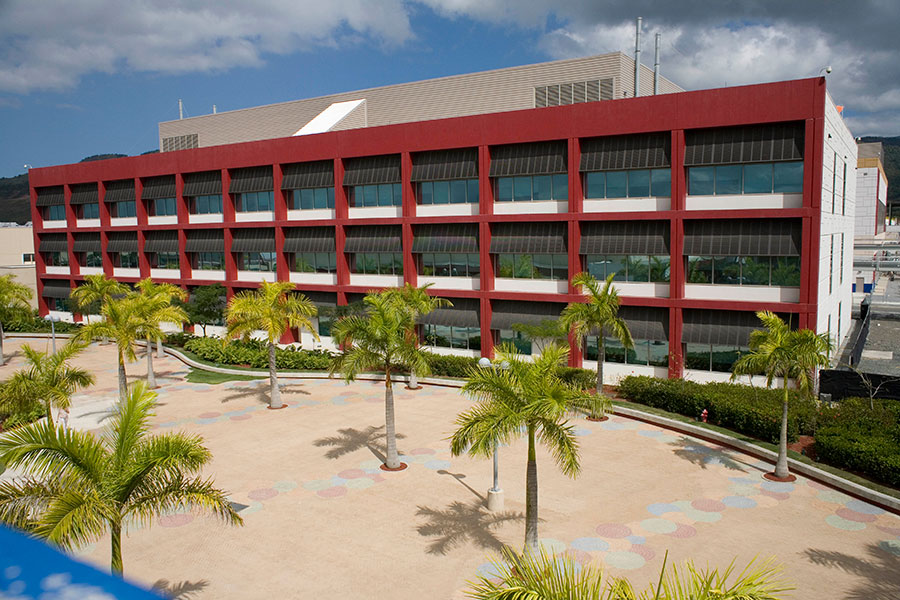 7. Applying Decades of Biotech Expertise to Biosimilars
Innovative medicines have been the heart of Amgen's business since the company was founded, but in recent years Amgen has applied its expertise in biomanufacturing to also produce biosimilar medicines, which are biological products that are highly similar to, and have no clinically meaningful differences from, existing and already approved biologic medicines. Today, four of the medicines produced at Amgen manufacturing sites are biosimilars.
8. Modular Manufacturing
Amgen piloted a new modular design when it created its second next-gen facility at the company's manufacturing site in Rhode Island, USA. It took three ships to bring the modular components to Amgen Rhode Island (ARI) from overseas, 150 tractor trailers trips to transport them to the site and hundreds of Amgen staff and local labor and union workers to bring the pieces together.
9. Pioneering Sustainable Drug Manufacturing
Amgen's groundbreaking site in Singapore, Amgen Singapore Manufacturing (ASM), was not only the company's first manufacturing site in Asia, but also one of the world's first biomanufacturing facilities using a combination of innovative flexible technologies. The next-generation manufacturing site produces the same amount of medicine in just 16% of the size of a traditional facility. It also took half the time build, and has one-third the operating cost, all while significantly conserving water usage and energy consumption.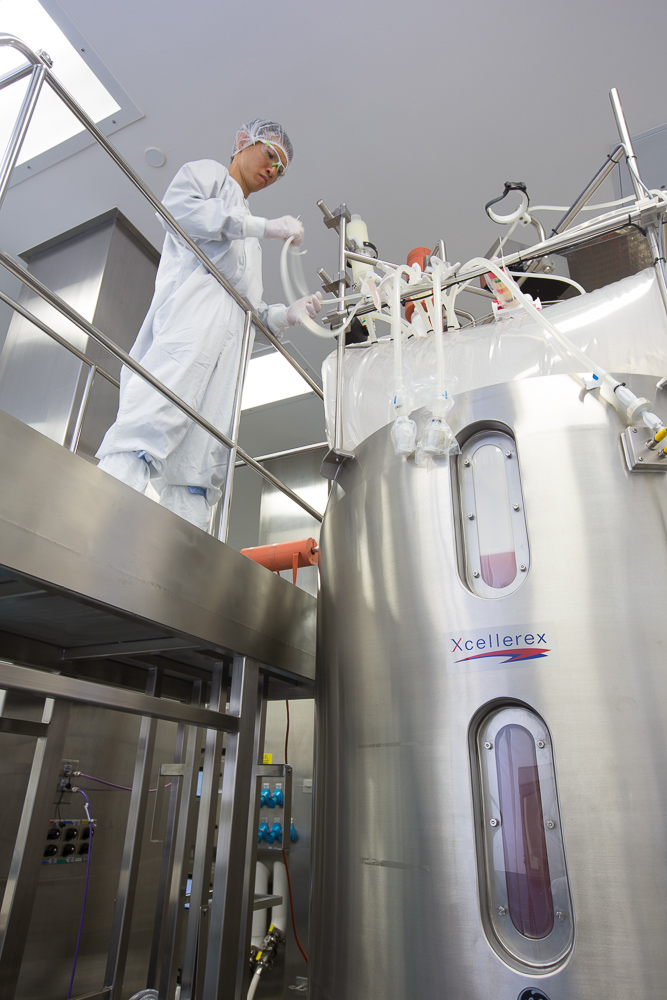 10. High-Tech Manufacturing at High Speed
For 10 years, the Amgen Dun Laoghaire (ADL) facility in Ireland has specialized in drug product manufacturing activities, such as formulating, filling and packaging. The skilled teams at ADL can fill 25,000 syringes with medicine every hour, which are then inspected, packaged and distributed to patients. ADL also has high-tech machines that can lyophilize (freeze-dry) 100,000 vials at a time.