Patrice Biermann was cold and desperate for kindling for the fireplace. Would the cylinders at the center of paper towel and toilet paper rolls work? How about some broken-down cardboard boxes? At one point, she finally made a trade with a neighbor: A bottle of wine for some firewood.
The temperatures outside her home near Austin were in the single digits. Inside the Amgen sales representative's house, it didn't feel a whole lot warmer. The firewood didn't last long.
"I had this Eddie Bauer jacket – I never wear that thing – that said it was good for temperatures to minus 60," Biermann said. "Sure was glad I had that."
The snow and ice storms that gripped a swath of the country last week led to several states declaring a state of emergency, put almost 70 million people under wind chill warnings or advisories and left millions without heat and power.
But few bore the brunt like Texas did.
The Lone Star State was paralyzed, with cities such as Dallas, Austin and San Antonio blanketed with as much as 6 inches of snow, while Houston got as much as 3 inches, according to the National Weather Service.
Amgen had 2,900 staff members who were issued alerts by text and email about the storms – 377 of which were located in Texas, according to vice president and chief security officer, Global Security Christopher Davis.
He said as the storm Uri left its icy trail across the state, about 10 staff members called into the Global Security Operations Center seeking information or assistance. Davis said his primary concern was for the safety of those staff members.
"A severe weather event like this is uncommon in the state of Texas and presented significant challenges to everyone," Davis said.
Including Biermann.
Austin
Biermann began working for Amgen more than five years ago and has lived in Texas for almost four times as long. She grew up in Kansas and went to school in Nebraska. She knew a thing or two about cold winters. The difference, she said, was preparedness.
"This sort of thing doesn't happen in Texas," she said. "We weren't ready for it."
It started badly for her when the first wave of cold struck Texas. She said there was some ice and sleet when she walked outside to check on the well that was also her home's water supply.
She slipped.
The pain was immediate. She had dislocated her kneecap. Lying in the middle of her back yard, she tried to yell to her brother inside the house, but he didn't hear her. She started to crawl through the sleet, pulling her body toward the garage.
When she got to the door, she pulled herself up just enough to punch the code into the keypad. Her brother heard the door open and saw his sister.
"At first they thought I was laughing," she said. "But I was crying in pain."
She called an orthopedist and made an appointment for the next morning. Biermann said when she got there, she managed to get a brace and kept her limp for the duration of the storm. Luckily, Biermann said, she got there then because for the rest of the week, the office would be shut down like the rest of the city.
Houston
Jeremy Breehne lost power at around 2 a.m. on Feb. 15. He said the temperature in the house began to fall immediately.
By 6 a.m. he said he could see his breath when he'd exhale. And that was indoors.
"It got super real at that point," he said.
The Houston-based district manager who had a team of about 10 employees tried to text them to see how they were doing and to make sure they were taking care of themselves and their families. But sending and receiving texts was spotty at best.
He made sure the fireplace was going and as the hours dragged on without power, he began to wonder how long it might be before they'd have heat again.
With four children ages eight, five, two and four months, he decided to focus on keeping the living room warm. They moved couches together, rounded up every blanket in the house and turned the area into a bedroom for six.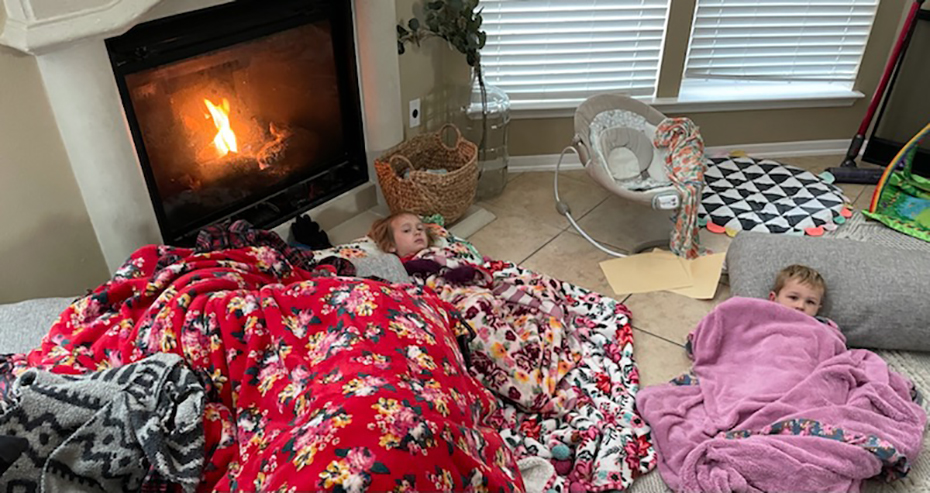 With limited cell phone service, he tried to text and get information about the storm, how long power might be out for and to see how his staff was faring. Occasionally, power would flicker on in the house and might last for a several minutes before going out again.
"Our cars became charging stations," he said. "We'd bundle up, go into the car and charge them. The only problem was, I hadn't filled up the tanks with gas and they were pretty low already."
Breehne said he knew he'd have to try and get to the gas station soon since power wasn't coming any time soon. But the roads were icy and there were lines at the gas station. He couldn't afford to idle in the car and sit in the cold.
So, for the first 24 hours, he waited it out.
San Antonio
Anna Velasco-Neaves got the video from her daughter, who was stuck at work.
It showed Gabby, 24, preparing a makeshift sleeping quarters at the grocery store where she worked. The icy roads had made it too treacherous for her to attempt the drive – normally 25 minutes away – home.
She lined three packs of paper towels to make a mattress. She layered some doggy pads from the pet section on top of them as an extra layer of cushion. She happened to have a blanket and beanie to round things out.
"Good night everyone," she said at end of the video.
Velasco-Neaves said she wouldn't see her daughter for several days. Gabby instead headed to her in-law's house which was closer to the store. Velasco-Neaves, her husband and 16-year-old son, hunkered down at the house.
But they were more prepared because of COVID.
She said her husband had, during the quarantine, begun stocking up on supplies; canned food, extra propane tanks and extra water. And last summer, he bought a generator.
"That proved to be important," she said.
They decided to use the generator for the stove for the first couple of days rather than for space heaters. But by Tuesday, they were all out of firewood. They also needed to be careful about using the generator too much since it ran on gas, of which they had a limited supply.
Her husband decided to drive to the gas station to fill up a five-gallon cannister.
She said it took him three hours in what normally would have taken a half-hour.
When he came back, power was mostly out – with occasional teases of electricity for a few minutes. On a couple of occasions, they got it for as long as 30 minutes before it would shut down again.
"We learned to do things quickly when it came on," she said. "Showers, charging devices – you just made sure the time didn't go to waste.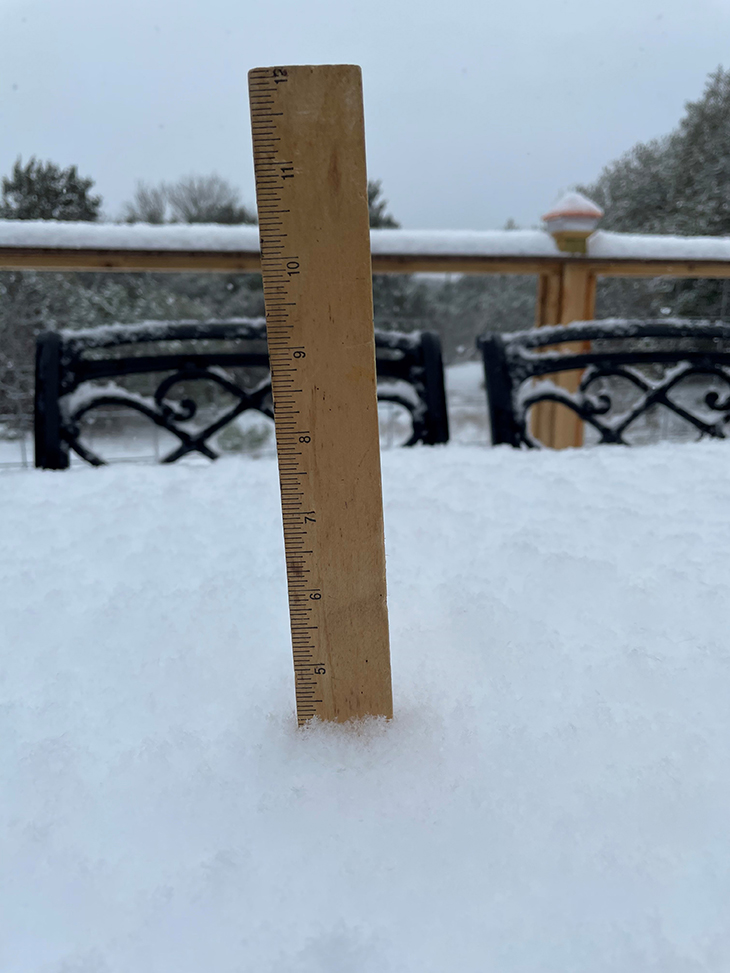 Austin
Patrice said nights were the creepiest.
Her yard is filled with large trees and, in the cold and dark with no power in the house, it was eerily quiet.
Then the air suddenly would be filled with creaking, followed by large snapping sounds of the trees made brittle by ice. Then heavy thuds as they hit the ground.
"Huge branches were popping and falling," she said. "You realize you're at the mercy of nature at that point."
After a week of sub-freezing weather, her property was covered by felled the big trees and ice-covered branches.
"It was like an ice tornado," she said.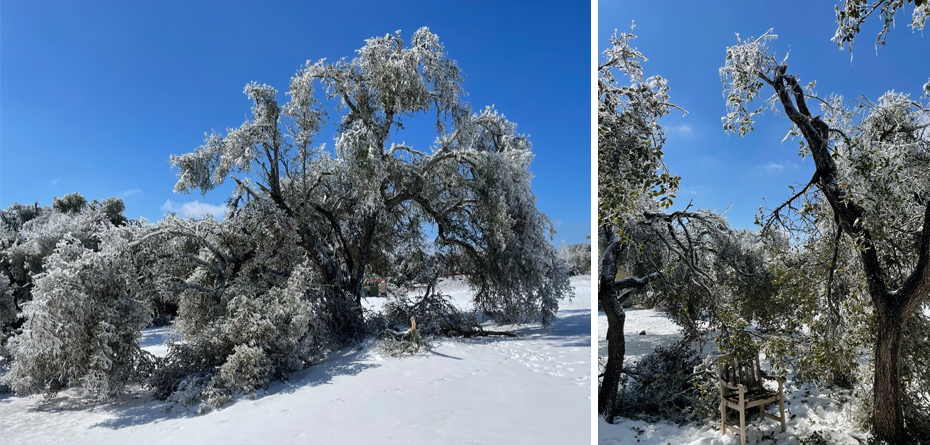 Houston
Breehne said on the first morning of the snow, the kids wanted to play in it. But over the course of the days, that didn't last long as the temperatures stayed below freezing. With no power, his wife got the kids to draw pictures while he also saw it as an opportunity to teach his kids about the importance of being prepared.
"I didn't think my kids were in jeopardy and we actually had plenty of food," he said. "But going on 48 hours without power is when you start to wonder how long it might actually last."
He said meals were like one of those reality TV cooking shows where random ingredients are gathered to make meals. He grilled a lot on the barbecue, too.
Breehne and his oldest set up light stations around the house – candles and flashlights – so getting around in the dark would be easier. At night, though, even with the gas-powered fireplace, sleep was hard to come by and he recalled his 2-year-old crawling on top of him to try and stay warm.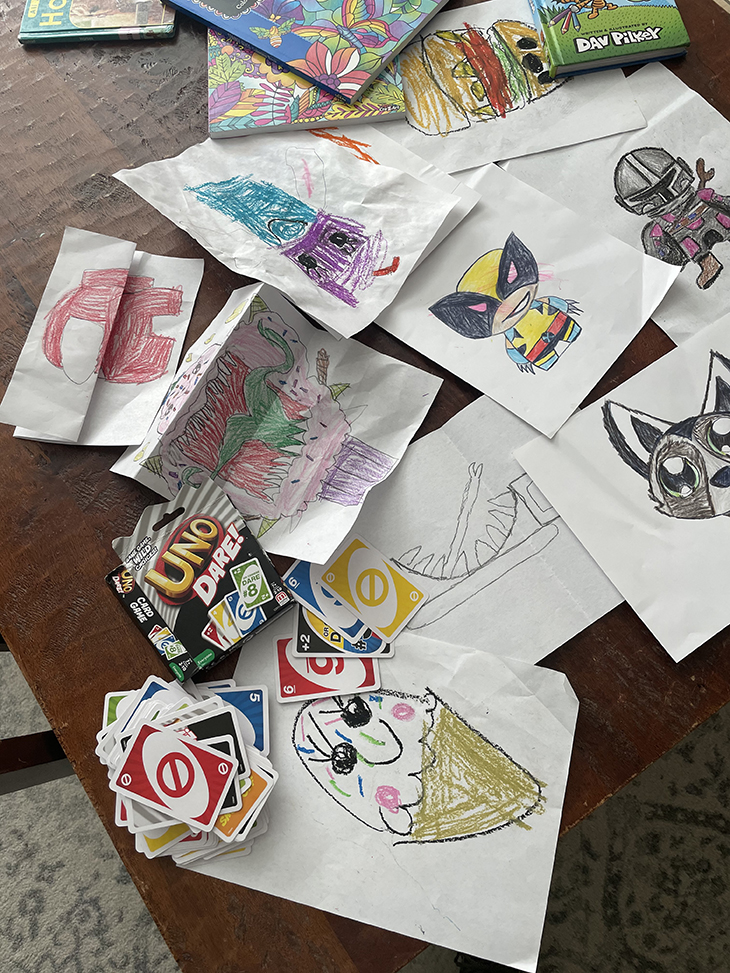 San Antonio
The pipe burst in Velasco-Neaves' kitchen was a cold, sopping mess.
Velasco-Neaves said she would lay 10 towels down to soak up the icy water, but then had no place to dry them. With no running water, she said she would wait for the occasional few minutes of power to come back on and try to heat up two kettles of water to have water to clean dishes.
"Mostly my hands were freezing," she said.
At night, the three of them would sleep all together on a king size bed with blankets, beanies and layers of jackets. A small generator provided just enough power to run a space heater in the bedroom.
She said during the day, they tried to play cards or board games, but the cold made focusing too difficult. But, by Wednesday night, the power had come back on – though she said she was jittery and moved fast out of instinct to heat things up in case the power shut off again.
And for the first time in three days, it didn't.
Thawing Out
Davis said over the course of the week, two identical alerts were sent to nearly 2,900 Amgen staff members in the path of the storms. A second alert was sent out due to concerns over whether staff members were in a position to receive communication due to widespread power, cell phone and internet outages.
He said now that the storms have passed, global security will conduct a lessons-learned review.
"You always learn from any event," he said. "This is no exception."
Breehne said he is planning to get a generator now – something he said he probably should have anyway given Houston's history with hurricanes. He also said he learned something about his Amgen team during the storm.
"I checked in with my team to see how they were doing the best I could," he said. "But I also found they quickly flipped the script and were concerned for my young family."
Velasco-Neaves said the pipe has been fixed and her daughter is back at home now. Work is slowly ramping up as some offices where she would make sales calls are open – but are backed up after being shut down for about a week.
And Biermann said she has begun getting estimates to clear the trees from her yard and is in the process of getting repairs from a cracked pool pipe that iced over during the storm. Her knee is healing, though she still limps around and said she has learned a few things: Have extra water on hand. Extra candles and flashlights.
And plenty of firewood.