This World Cancer Day, Amgen Oncology is joining the Union for International Cancer Control's (UICC) call to "Close the Care Gap" in cancer care. We live in a time of rapid innovative advances in cancer prevention, diagnosis and treatment; however, many people with cancer continue to face barriers to receiving care along their journey. Long-standing health inequities such as access to care, geographical location and income, as well as discrimination based on ethnicity, gender, sexual orientation, age, disability and lifestyle are just a few of the factors that can negatively affect cancer care.
We work hard to address inequities in healthcare, but it's not a simple problem to solve as the causes of those inequities are multifactorial. Closing gaps in cancer care isn't about simply providing patients with equal resources, because one size does not fit all and every challenge demands an adequate, and often personalized, solution.
— I-Fen Chang, VP, Global Therapeutic Area Head at Amgen
The work Amgen staff and partners around the world are doing underscores our commitment to closing the care gap. Amgen Netherlands is shining a light on stem cell donations through the AmgenCare donor program which was created to help cancer patients with stem cell transplantations. The program helps to reduce the burden on the donor and provides more flexibility in the planning of donations and stem cell procurement, which results in an increase in stem cell transplants.
Additionally, Amgen Netherlands participated in the Eleven Cities Cycling Tour to raise funds for the Dutch Centre for Stem Cell Donors which helps to register new donors. Some Amgen volunteers participated in the cycling portion, while others staffed a booth recruiting people to register as a donor during the event. Through initiatives like the donor program, Amgen is taking steps to help make healthcare accessible and inclusive.
In the U.S., to recognize ethnic diversity and show support for minority populations who are disproportionally affected by cancer, Amgen's Black Employee Network (ABEN) will partner with the National Breast Cancer Foundation (NBCF) to host a breast cancer informational webinar as part of their Black History Month activities for Amgen employees.
Amgen employees around the globe understand the importance of addressing health inequities from a company level, but also on a personal level. This rings true for U.S. Amgen employee Mel Piasecki who in 2015 was diagnosed with chordoma, a rare form of cancer, while pregnant. After giving birth, Mel and her family moved to Christopher's Haven in Boston to get proper treatment at Massachusetts General Hospital. Christopher's Haven is a non-profit organization providing housing support for those who would otherwise not be able to afford travel to and receive care at Massachusetts General Hospital. Each year Mel's family goes back to Boston to volunteer at the fundraising event "Cape Cod Bay Challenge" which helps to raise awareness about the organization.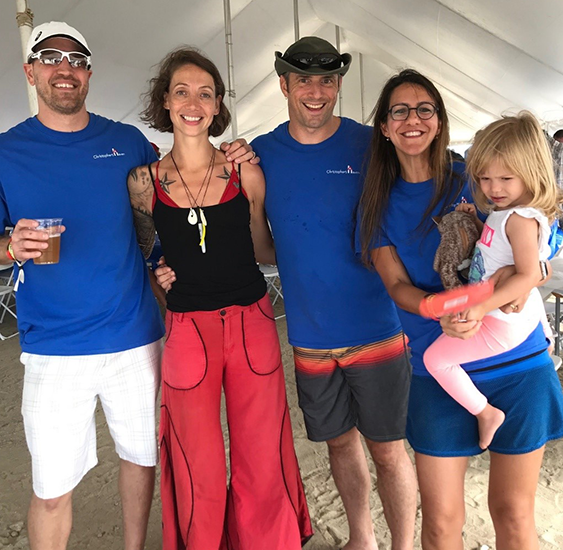 World Cancer Day is a powerful reminder that we all have a role in helping reduce the impact of cancer in our communities, while supporting those who have been impacted by this disease. We hope you will join us this #WorldCancerDay to learn more about how we can all help to #CloseTheCareGap. Be sure to visit our Twitter page to see how you can get involved in World Cancer Day, like signing the Close the Care Gap pledge.