In recognition of Asian American and Pacific Islander Heritage Month – and in the face of a new wave of hate crimes in the U.S. – we meet Ryan Futagaki, an Amgen sales rep. He was one of the first Japanese-Americans to play professional soccer in the U.S.
Describe your title, role and years of service at Amgen?
Sales Representative in the Integrated Specialty Sales Division based in the Columbus, Ohio area. I have been with Amgen for five years.
How would you describe your personal journey as a professional Major League Soccer (MLS) player to your role at Amgen?
I started playing soccer at the age of four. The early experience was the start of learning the importance of teamwork and helped build confidence. I always had a goal to become a professional soccer player, which kept me motivated to excel in club soccer and eventually make the U.S. Youth National Soccer Teams, Olympic Team and later play for University of California Los Angeles (UCLA).
When the Chicago Fire drafted me in 2002, I became one of the first Japanese Americans to play for that team. At the time, there were only 12 professional teams, whereas now there are 28. It was quite an accomplishment to play professionally at that time. Growing up as a fourth generation Japanese American in California, I understood the challenges that Asian Americans faced. My grandparents were in internment camps during World War II and our family lost a lot of land in California. They taught me never to give up and to persist in the face of adversity.
When my professional career with Chicago Fire ended after four years in 2006, I started exploring different career options where I could transfer my competitive spirit and support my goal-oriented mindset. Through networking with friends and colleagues, I was introduced to the medical sales profession and soon found another passion. I worked for several pharmaceutical and medical device companies in sales before landing the opportunity at Amgen. Being a part of Amgen has been incredibly rewarding. The mission of serving patients links strongly with my personal desire to help others. My father passed away when I was 22 after a nine-year battle with ALS. If you know anything about ALS, you know that this is a well-fought battle. I attribute this experience to his strong will to live and to be present for his family, as well as the care he was given by my mom. While she was his primary caregiver, my mother was diagnosed with stage IV breast cancer during that time, which she survived. I was also a caregiver to my father, and very involved in his care. During this difficult time, my parents' attitudes towards perseverance and a positive outlook on life instilled in me a never-quit attitude. I also have quite a bit of heart disease in my family. The history of these illnesses and my ability to help change people's lives in my current role at Amgen, drives my passion in this field every day.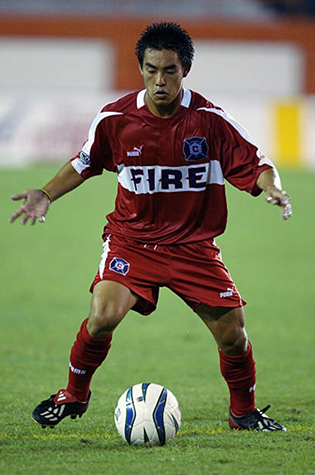 While sales became my main focus, I still maintained a connection to the soccer world. In 2007, I began playing for the U.S. Beach Soccer National Team and continued to do so until 2019. This year, I was honored with becoming the Assistant Coach for the U.S. Women's Beach National Soccer Team and continue to represent our country in this capacity. It is such an honor to continue my involvement with the sport and represent my country. Growing up in a culture with a sense of humility, I do not tend to bring up my past as a professional soccer player unless someone asks about it. However, I am very proud of my past accomplishments.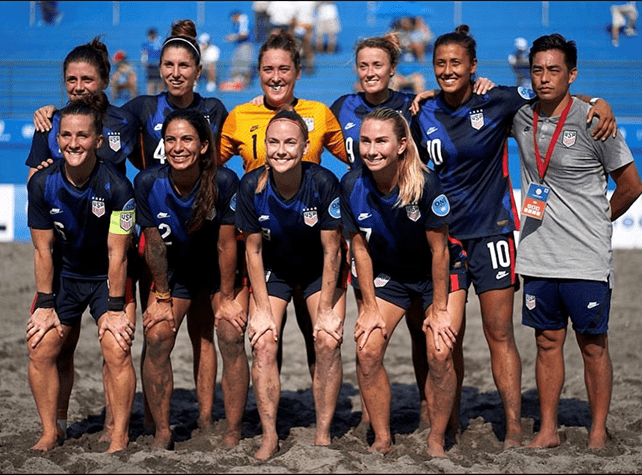 What were some of the challenges that you have faced?
Growing up as an Asian American on predominately white soccer teams, I encountered being taunted and bullied. Throughout my entire professional soccer career, members of the other team and fan base would direct racial slurs and always comment on my size. The insults only drove me to want to prove naysayers wrong and served as a big part of my self-motivation. My father was a football coach and was a man with a commanding stature. I, on the other hand (5-foot-5 inches and 135 pounds) was always on the smaller side and had to learn to overcome the challenges associated with racial stereotyping. My parents and two older brothers taught me to turn negatives into positives, which has helped me in many facets of life.
Fast forward to today, the pandemic and social injustices around the world have increased tension. For example, when those in society created a stigma by referencing COVID-19 as the "Chinese virus," that heightened the outward discrimination people were exhibiting. Public places like grocery stores and / or simply walking down the street were no longer safe spaces. There were instances where people would stare or quickly exit the line if they were standing near me in a store.
On the job, I often travel in rural areas and back roadways to interact with my customers. I see Confederate flags, viewed as a divisive symbol in history. There are people in these locations that are not comfortable or familiar with different cultures. Nonetheless, I remind myself to remain focused on work and the patients we serve.
How has the Employee Resource Group Amgen Asian Association (AAA) served as a valuable resource to you?
Amgen Asian Association has truly been a valuable and amazing resource. I did not participate or have access to groups with previous employers. Over the past couple years, it has been disheartening to hear about the increase in anti-Asian violence and other heinous incidents that other ethnic groups have faced. AAA has provided the platform to talk with others about their experiences and helped them through challenging circumstances. This group provides the opportunity to support and empower one another.
What steps are you taking to maintain your health and wellness in these socially volatile times?
I work hard to embrace the strong connection with my family's legacy and values. I never heard my grandparents talk ill of anyone, despite what they went through. They passed on their relentless spirit and respectful attitude to my parents, who passed that along to my two brothers and me. My wife Regina and I ingrain those same qualities to our children. We teach them to treat those with kindness and respect, regardless of race, gender, sexuality, etc. I enjoy spending time with my wife and the kids and watching them enjoy their hobbies and sports brings me the greatest joy.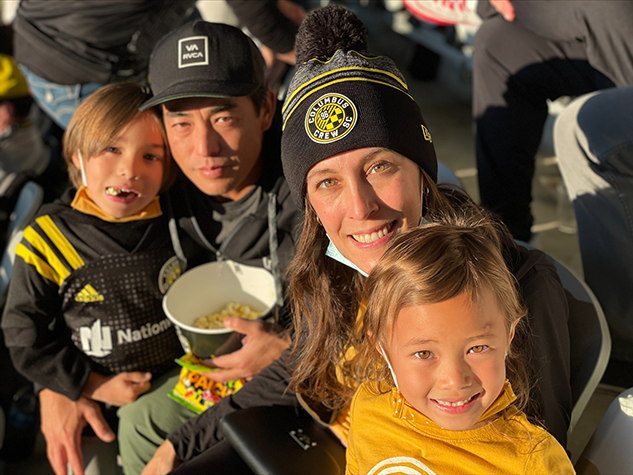 I am currently an Assistant Coach for a varsity girls soccer team in a Northeast Columbus suburb. At times, I find myself practicing the art of listening. We live in a complex world and younger generations are challenged with social vulnerabilities. As a coach and parent, I reinforce how important it is to embrace and celebrate our differences. To maintain my own physical and mental wellbeing, and working out four to five times per week is a big plus.