She used to go to punk rock concerts and would get that colored paper band placed around her wrist hundreds of times.
Long nights with Flogging Molly. Bad Religion. The Violent Femmes. Late nights at small venues like The Majestic Theater in Ventura, California or The Palace near the famed Capitol Records building in Hollywood. Loud drums, louder guitars and the endless energy of long-haired singers belting out rapid-fire lyrics to an audience singing them right back at the stage.
That wristband kept her in the audience. A way to prove she could be at the show. There was no moment in those shows she ever imagined that paper wristband would become the inspiration to help patients with arthritis.
Page Buchanan, who works with the Amgen Safety Net Foundation, said a few years ago she was looking at the packaging of the drug and noticed on a visit to Building 6 in Thousand Oaks, California that it seemed difficult to open. By now, years removed from her fast-paced rock concert attending days and struggling with carpel tunnel syndrome herself, she wondered how a patient with arthritis might struggle with the packaging.
She would eventually remember the concert wristband and the adhesive tab that clasped it together around her wrist and how easy it was to put on and how well it stayed on – so well that she'd have to use scissors to cut it off sometimes.
And then asked the question that changed everything: What if?
"What if I had arthritis and tried to open this?" Buchanan said. "It's about understanding things from the patients' perspective that leads to seeing things differently and thinking differently. I think I do that because I've had an unconventional path and that's allowed me to see things in a different light."
Thinking Outside the Box
Before 2016, Amgen patients who received the medicine through the Amgen Safety Net Foundation, got a large box filled with Styrofoam that had strict temperature requirements for the medicine's 48 hours from packaging to porch.
Buchanan, who worked in Thousand Oaks in Corporate Philanthropy and had been with the company for seven years, sometimes liked to visit the packaging site and shoot the breeze with the packaging engineers on site. Problem solving had always appealed to her and so did seeing things from a different point of view.
She had no background in package engineering, but she quickly noticed a few things about the boxes and her mind started turning. She ran her hands over it, felt it and opened it. With a carpel tunnel syndrome condition she had developed when she was young, it wasn't easy. She asked if she might be able to take a crack altering the packaging.
Sure, Bill Lewis recalled. Lewis, a packaging engineer at Amgen, was open to new ideas.
"I had no idea I was good at it," Buchanan said. "But Amgen gives you permission to see something and, if you can make it better for patients, go for it. So, I took one of the boxes and began studying it."
Over the course of 18 months studying the box, she began to find ways to improve the patient experience for opening the box, but also a way to make the packaging more environmentally friendly and cheaper to send.
One of the first things she noticed was the size of the box.
She figured making it smaller would be helpful to cut down on the shipping costs. She also saw a chance to make the box compostable rather than just trash and noted that the package had polyurethane that stuck to the cardboard and that was made up of oil. She said every time oil prices went up, so did the packaging costs.
Buchanan discovered the packaging process took 10 steps and she thought she could reduce that to four. And by building small canals in the Styrofoam for water packets to regulate the medicine's temperature, it extended the time it could stay in the box to more than 72 hours.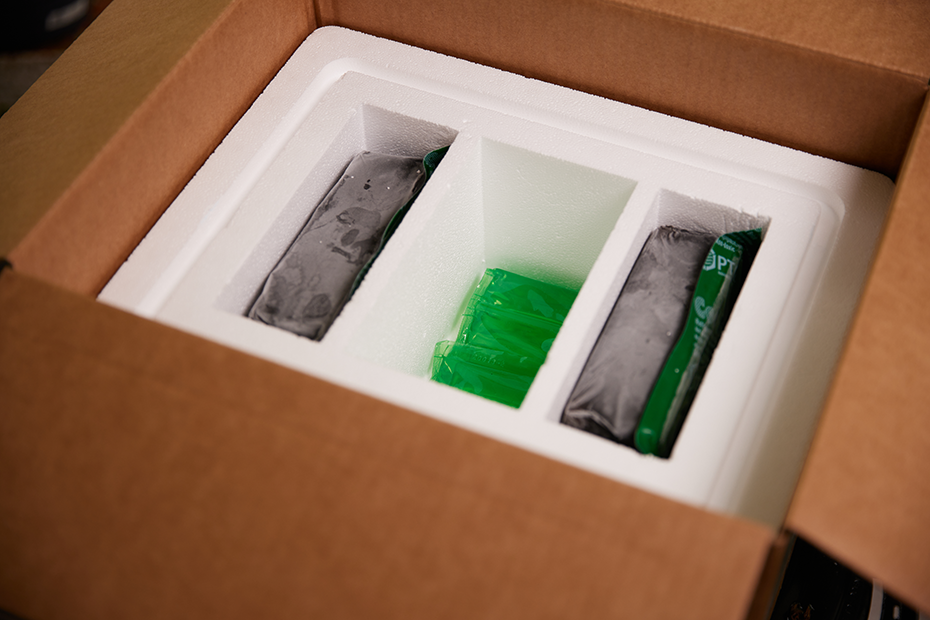 But it was the opening of the package by a patient that made her remember her concert-going days.
"It was very hard for someone with arthritis to take off the top piece of Styrofoam," she said. "I imagined what it would be like for an elderly patient with arthritis and that's when I thought about the concert wristbands."
The wristband, she said, has adhesive glue so when it's wrapped around the wrist, it stays firmly attached while hanging on the wrist. What if, she thought, you glued one end of a tab on each side of the Styrofoam and had it run up over the edge loose so all a person had to do was pull the tabs and it would lift off easily?
It worked.
Lewis said he remembered when Buchanan made the proposal.
"I sometimes think we get some really great ideas from people who are outside," he said. "I do believe good ideas can come from anywhere and my feeling is if someone has the confidence and ability to reach out and share an idea, I say let's do it."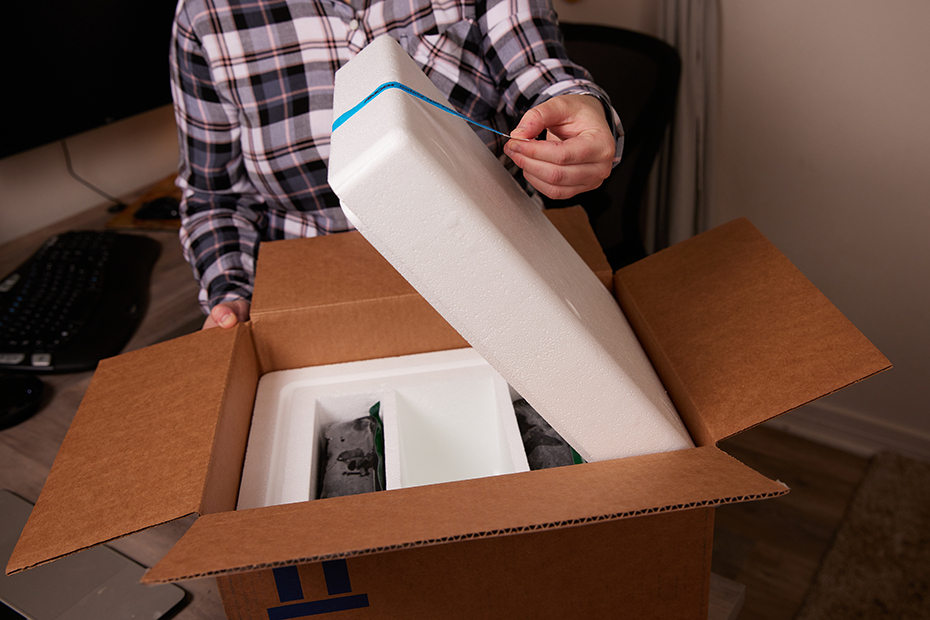 Still Delivering
Now in its seventh year using the new designs with the adhesive tape, the package with the arthritis medicine is delivered to patients throughout the United States through the Amgen Safety Net Foundation. When Buchanan first saw the feedback from patients, she saw and felt the weight of what making a difference means.
"When you have arthritis, your hands don't work as easily," Patricia D. wrote in a patient survey response to the packaging. "I've had other boxes where you can't get it out of the box. The top opened nicely; the packaging stuff came out easily."
In 2021 Amgen Safety Net Foundation provided almost $2.2 billion of Amgen medicines to qualifying patients throughout the United States. To qualify for the Amgen Safety Net Foundation, see the requirements here.
Eduardo Cetlin, executive director of corporate affairs who oversees the Amgen Safety Net Foundation, said the charitable program aims to provide the same level of commitment to patients that drives the entire enterprise.
He said Buchanan's work fell in line with that mission perfectly and is a model of how one person can make a difference for so many.
"Page's efforts are testament to our commitment to continuous improvement," Cetlin said. "Her ability to see the patient as a full human being and her sincere empathy helps our team not only do what we do but embodies why we do it. We are fortunate to have her."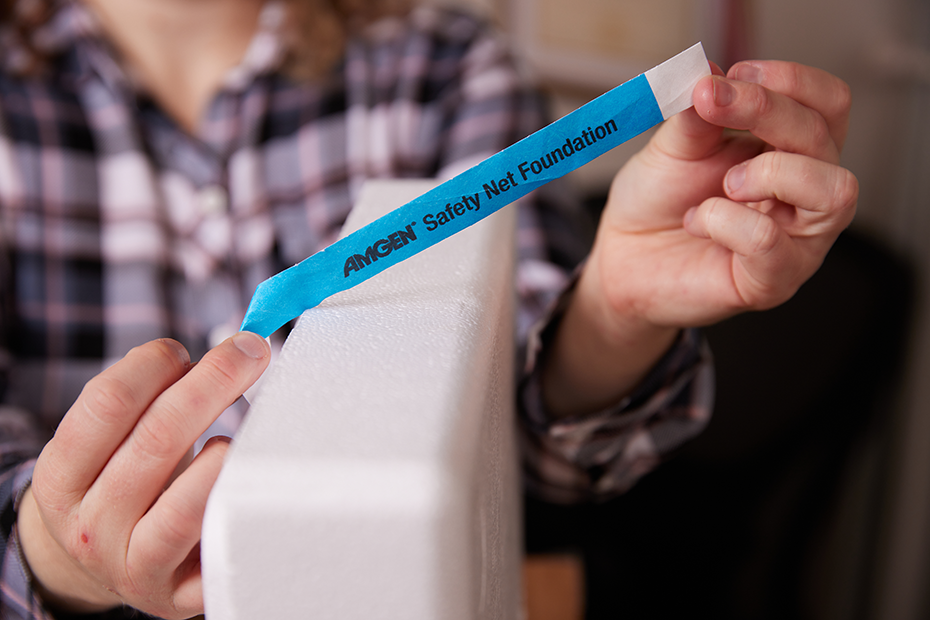 "Amgen Origins" is a series focused on highlighting the origin stories behind innovations large and small across Amgen.