The year 2012 got off to a bang in China – literally, with some 600 million yuan's worth of fireworks ignited in Beijing alone to mark the start of Chinese New Year. Notable events for the year included publication in August of a new five-year national energy plan establishing ambitious targets for renewable energy generation, the introduction at the National Party Congress in November of the country's next generation of political leaders – and the establishment of Amgen's first direct presence in this vast nation of more than 1.3 billion people.
Since 2012, Amgen China has grown from a handful of colleagues in Beijing and Shanghai to become a large and growing organization with more than 1,000 employees and a presence in more than 100 cities across China. In fact, Amgen's team in China now constitutes more than 40 percent of the company's entire Asia-Pacific workforce.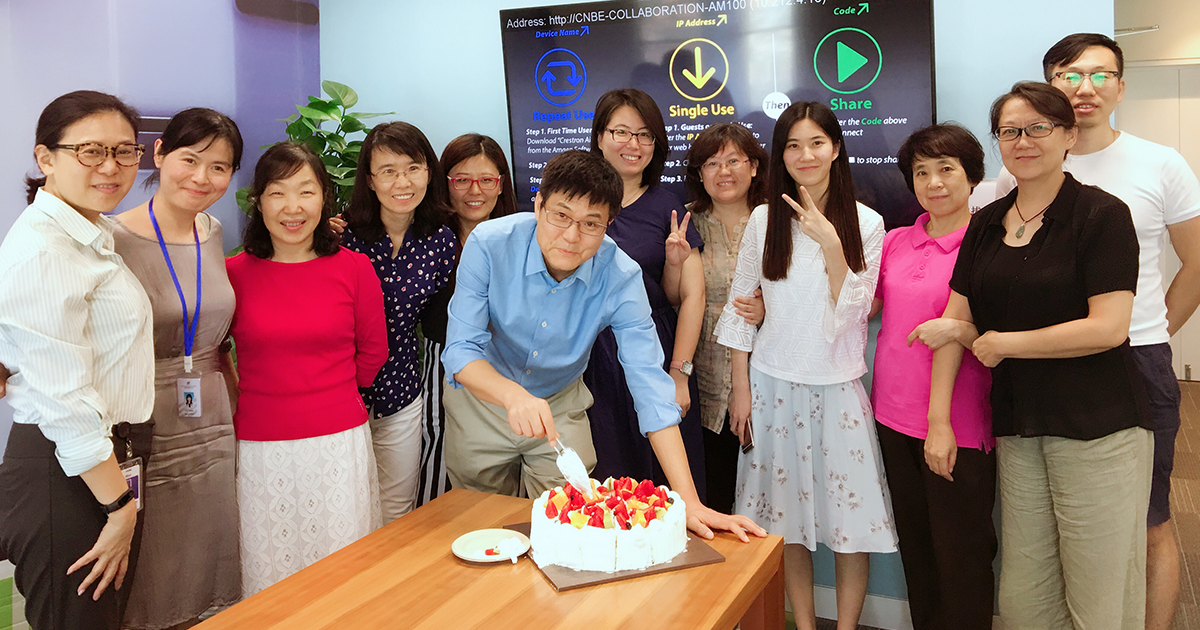 Nanpo Yin is Amgen China's longest-serving employee, having joined the company in 2013 as Supply Chain Director. "I was excited by Amgen's reputation as a biotechnology pioneer and the once-in-a-lifetime opportunity to be part of the team establishing Amgen's presence in China," he said. "It is a great privilege to have been able to participate from nearly the start in our company's efforts to bring our innovative treatments to Chinese patients."
Since its establishment ten years ago, Amgen China has steadily increased the number of innovative medicines it supplies to Chinese patients. The affiliate's first two marketed products — Repatha® and Prolia® — have already served more than 1 million patients across China. Amgen's local team is confident they can expand that number much further, since China has one of the world's most rapidly aging populations – and that translates into growing need for medicines to treat health conditions associated with aging.
Through Amgen China's strategic collaboration in 2019 with BeiGene, more patients in China are gaining access to the company's cancer treatments. China accounts for some one-quarter of newly diagnosed cancer cases and nearly one-third of cancer-related deaths each year globally1, underscoring the urgent need for access to new cancer therapies.
Earlier this summer, Amgen China announced its most recent strategic collaboration – this time with Fosun Pharma for the commercialization across China of Otezla® and Parsabiv®.
Reflecting China's growing reputation for high-tech innovation across a range of industries, Amgen China is helping to advance the next wave of innovative treatments for patients in China and around the world by supporting clinical trials of seven candidate medicines targeting cardiovascular disease, inflammation, and cancer. It is also generating data to support new indications for already-marketed medicines.
Among the many Chinese patients who need new medicines is "Grandma Li." After suffering three years of debilitating back pain, this 60-year-old woman finally consulted her physician. Soon the diagnosis came back: severe osteoporosis. "My doctor told me my bones were as soft as tofu," Grandma Li recalled. Following surgery and a period of post-operative treatment, her bone density increased. "I still want to travel and have fun if I can reinvigorate my bone health!" Grandma Li said.
Bringing innovative medicines to patients is just one way in which the Amgen team is advancing health and well-being in China. Here are a few other examples of how Amgen China is supporting disease awareness, access to medicine, and social development:
To help achieve the government's "Healthy China 2030" vision, Amgen has worked with China's National Health Commission to launch a ground-breaking program on "Building High-Quality and Efficient Health Service System and Empirical Study in the Context of Aging." This three-year program aims to develop a high-quality and efficient service system to help China's population achieve "healthy aging," for instance by quantifying the costs involved in developing a disease management pathway for chronic conditions affecting the elderly. Exemplifying its "predict and prevent" approach to chronic diseases, the program selected the city of Xiamen to pilot a full-cycle management system for high-risk cardiovascular patients.
To improve patients' access to medicine, Amgen has supported the China Charity Foundation in giving certain patients access at no cost to Repatha®
To improve awareness and prevention of circulatory disease, Amgen partnered with the China Cardiovascular Association (CCA) in 2019 to develop a pan-vascular disease prevention and control plan, and inaugurated the Chinese ASCVD Prevention and Control Centre, charged with helping to prevent cardiovascular events in high-risk patients. The program has since been expanded to include follow-up protocols for Acute Coronary Syndromes (ACS), with a focus on strengthening patient compliance following percutaneous coronary intervention. These initiatives seek to provide optimal care in both in-patient and out-patient settings for highest-risk ACS patients in order to reduce their chances of further cardiac events.
To draw attention to women's bone health, Amgen worked with the China Women's Development Foundation in 2020 to launch the "Joyful Bone" awareness and disease education campaign. In fewer than three years, this program has reached more than 1 million Chinese women and their family members. Also in 2020, Amgen China inaugurated "Fight the Fracture," an educational campaign to help fight fragility fractures, as well as the Power Bone Program, an osteoporosis prevention and treatment initiative that has reached some 8,000 patients at 74 medical facilities across China.
To inspire the next generation of scientists, the Amgen Foundation partnered with Tsinghua University in 2019 to establish the Amgen Scholars Program in China, providing an initial 15 undergraduate students with summer research opportunities at leading educational and research institutions. This August, the Amgen Foundation joined again with Tsinghua University to launch the Amgen Biotech Experience, with 47 students and six teachers participating in the "Foundations of Biotech Labs" course.
Amgen China's efforts to build a welcoming environment for staff and support local communities have earned ample recognition for the affiliate including, most recently, certification in 2022 as a Great Place to Work®.
"The need for innovative medicines in China is huge," noted Amgen CEO Bob Bradway. "Our medicines – both on the market and in development – line up very well with the health needs of China's aging population. I congratulate all of my Amgen China colleagues as they seek to make a difference for patients and celebrate the affiliate's tenth anniversary."
"As the world's largest pharmaceutical market, China is key to Amgen's future growth," said Murdo Gordon, the company's Global Commercial head. "As its population continues to age, China will need more medicines to manage chronic conditions associated with aging and with urban lifestyles, including cancer, respiratory and inflammatory disease, osteoporosis, and heart disease." Murdo added that JAPAC is expected to contribute some 15% of Amgen's global revenues by 2030, with China being a key contributor to that growth.
Irene Hsu, Vice President and General Manager of Amgen China, is confident that Amgen's future in China is bright. "Our portfolio of medicines is well-suited to address the huge unmet demand for innovative treatments and quality healthcare services," said Hsu. "I'm proud of how our team is embracing our purpose and partnering with stakeholders in the healthcare ecosystem to serve more patients more quickly."
---
References: