Amgen once again saw a great turnout from staff volunteers during International Coastal Cleanup in September. Nearly 350 Amgen volunteers joined forces globally to help fight against marine debris and litter by cleaning up beaches, parks or rivers in their local communities.
International Coastal Cleanup is one of the world's largest annual collective cleanup efforts, and 2022 marked 17 consecutive years that Amgen has participated. Tanya Nunez, manager, Environmental Health, Safety and Sustainability at Amgen, organized the company's first event at the Thousand Oaks headquarters in 2005, and in that time it has grown to include 13 cleanup locations globally.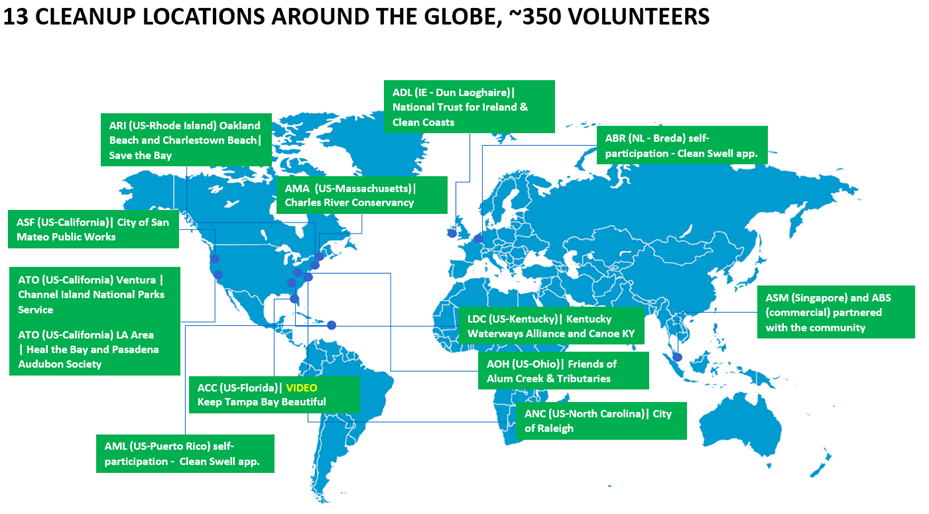 Amgen sites around the world took part in the International Coastal Cleanup event.
This year, staff at the new manufacturing site Amgen North Carolina, which is still under construction, participated by joining an event at Lake Johnson in partnership with the City of Raleigh. "As the leadership team of Amgen's newest facility, we knew it was critical to prioritize this volunteer opportunity for our new group," says Bob Kenyon, vice president of Site Operations at Amgen North Carolina, "because we're building more than a state-of-the-art operations site, we're building a community—a community that's all about caring about our patients, our environmental impact and each other."
At another Amgen manufacturing site on the other side of the world, volunteers from Amgen Singapore came together to help pick up trash from a local waterway, "I'm delighted to see the enthusiastic support represented by our diverse functions—we are all coming together as One Amgen in committing to environmental activism," said Wallace Torres, vice president of Site Operations at Amgen Singapore. "Studies have shown that by 2050, there will be more plastic than fish in the world's ocean. We hope that we can play our part in protecting our planet to create a safer and cleaner environment for all. Together, we can turn the drop into a blue wave of change."
During a Coastal Cleanup in Tampa, Fla., where staff from the Amgen Capability Center showed up to volunteer, local partner Kira Baker from Keep Tampa Beautiful expressed her thanks to the volunteers. "On behalf of the team here at Keep Tampa Bay Beautiful, I would like to extend a huge thanks to Amgen for their support," she said. "It is because of dedicated teams like Amgen that we can host such large scale and impactful events. We appreciate all you've done to be part of the solution and hope to continue cultivating this partnership into the future."
Coming together to drive awareness and inspire change.
This year, the California Coastal Commission acknowledged and awarded Amgen volunteers with an appreciation award in recognition of outstanding public service in protecting and enhancing the beauty and natural resource of the California coast and shoreline for the benefit of present and future generations.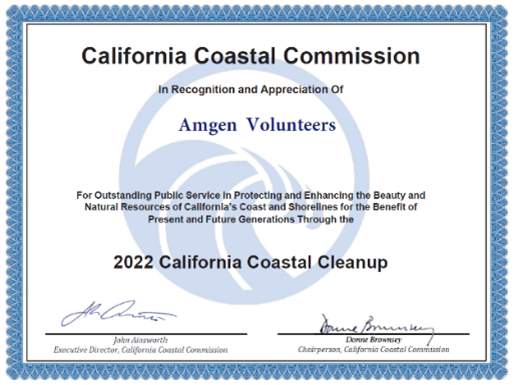 "It is heartwarming to see the impact we can make with the power of volunteerism to support our communities and help our environment while connecting with our friends, colleagues, and family," says Lydia Davila, executive director of Environmental Health, Safety and Sustainability at Amgen. "Through these experiences, we have the opportunity to learn and reflect on how vital it is to continue our efforts to engage for the health of our environment."
Amgen's Coastal Cleanup events also demonstrate the company's commitment to diversity, inclusion and belonging, with local events hosted by a variety of Employee Resource and functional groups, including the Amgen Latin Employee Network (ALEN), Manufacturing Clinical Supply (MCS), Process Development (PD), R&D Diversity, Inclusion, & Belonging (R&D DI&B), Engineering, and in partnership with Wellness at Amgen.
Nunez explains that she is proud to see that the Coastal Cleanup event she started 17 years ago become a team effort for Amgen sites around the globe, which allows organizers to inspire community action in support of a healthy planet and raise awareness around waste reduction, in alignment with Amgen's sustainability goals. "Every day grants a new opportunity to impact our local environment," she says. "It also brings awareness about the importance of clean water, which is also a vital resource in bringing medicines to our patients."