For the second year in a row, Amgen has been named one of the "Best Employers for Women" by Forbes, a leading business publication. This is the fourth Forbes list that Amgen has appeared on this year, having already been named one of "America's Best Large Employers," one of the "Best Employers for Diversity," and one of the "Best Employers for New Grads."
In compiling its latest list, Forbes partnered with the market research firm Statista to survey 50,000 Americans—30,000 women and 20,000 men—working for businesses with at least 1,000 employees. All respondents were asked to rate their organizations on criteria such as working conditions, diversity, and how likely they'd be to recommend their employer to others. Female respondents were also asked to rate their employers on factors such as parental leave, discrimination and pay equity. Representation at the executive and board levels were also factored into the final score.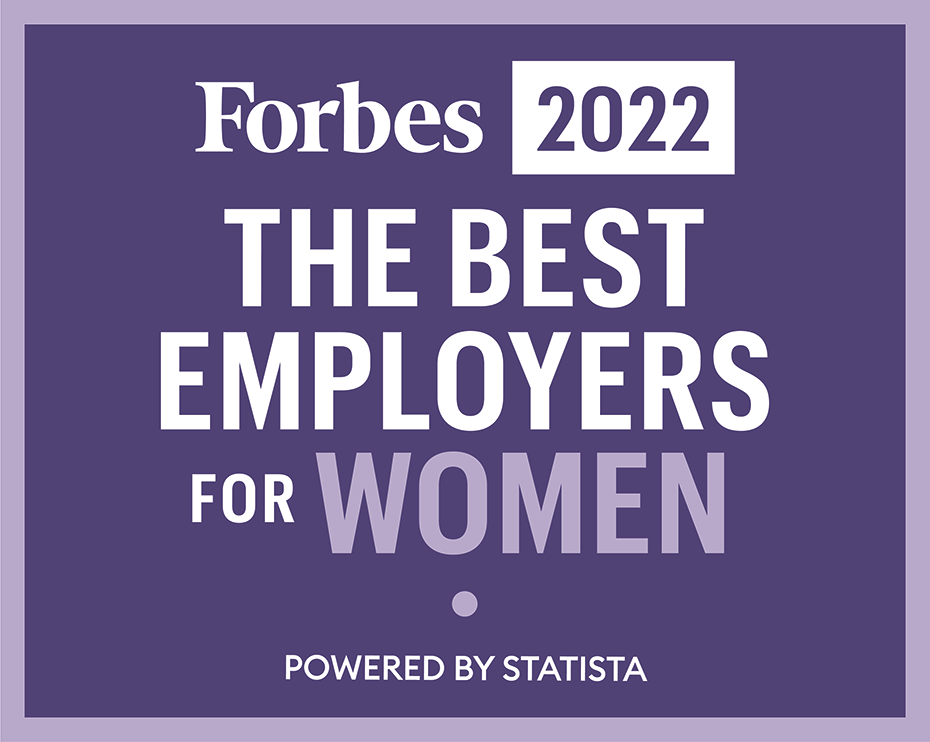 Amgen ranked #144 out of the 500 companies that made the list, up 100 spots from last year.
While the pandemic has led many women to downshift their careers or leave the workforce entirely, the percentage of females in Amgen's global workforce has held steady for the past several years at 52%. Furthermore, the company's efforts to increase the percentage of women in leadership roles is yielding positive results, with an 8% increase in representation at the executive director level and above in the past year and a 4% increase in representation at the senior manager/director levels. Women make up nearly 40% of Amgen's Operating Team, which is comprised of the company's senior-most leaders.
"We're delighted to be ranked as one of the best employers for women," says Tamika Jean-Baptiste, Amgen's Chief Diversity Officer. "We continue to look for new ways to support our female staff, both professionally and in their personal lives."
One tremendous source of ongoing support is Amgen's "Women Empowered to Be Exceptional" employee resource group, better known as WE2, which now has 25 chapters in 20 countries and more than 4,300 members, up over 10% from last year as more staff join from outside the U.S.
"As a working mother myself, I'm not surprised to see Amgen make this list," says Nada Obeid, an executive director on the company's U.S. Value and Access team and the Global Chair of WE2. "The past few years haven't been easy and the company has made a concerted effort to do whatever it can to support staff so they maximize their impact at work. It's much appreciated."
Click here for a full list of the many awards and accolades that Amgen has earned this year.