The newly redesigned Amgen exhibit on biotechnology recently opened to the public at the Deutsches Museum (German Museum) in Munich, Germany. The Deutsches Museum is one of the world's largest museums of science and technology, and Amgen has had a long-standing relationship with the museum, with the Amgen permanent exhibit first going on display in 2009. Following recent reconstruction of the museum, the Amgen exhibit is now located at the main entrance – so all visitors, 1 million annually, are welcomed by Amgen's modules.
Nearly 30 Amgen employees from Amgen's two sites in Germany (both recently featured in the Places of Amgen series on Instagram) assisted in designing the new exhibition materials, which include interactive videos, animations, models and graphics that illustrate how biotechnological medicines are created and how they can fight serious diseases.
The first stop in the exhibit explains the difference between chemically synthesized drugs and biopharmaceuticals. The complex manufacturing processes of biopharmaceuticals, a key distinguishing feature, are also presented in a way that is easy to understand.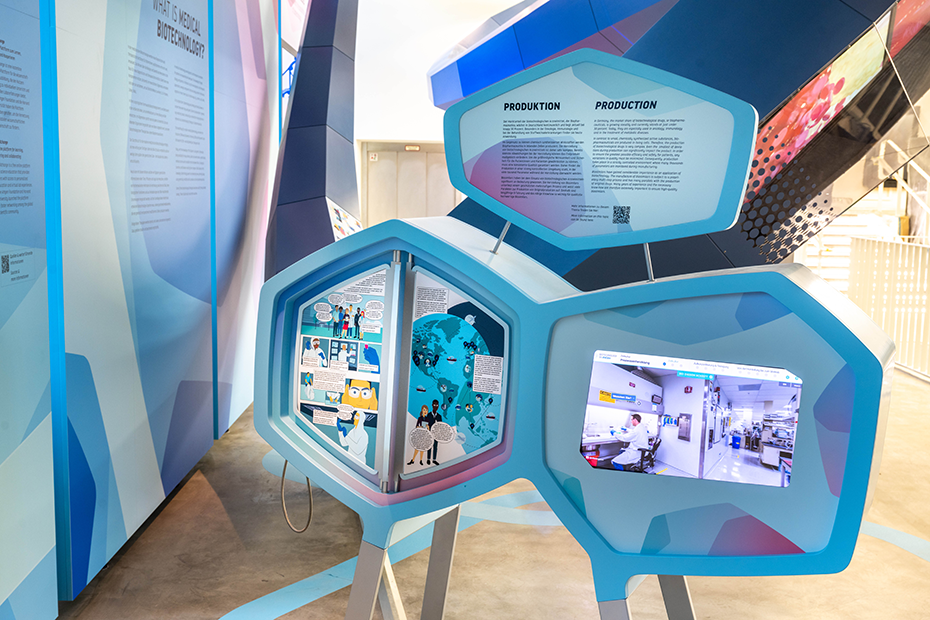 Amgen's innovative BiTE® (bispecific T‑cell engager) technology is front and center, illustrated using models, a graphic novel and other animations. These anti-cancer immunotherapies have been developed by the team at Amgen Research (Munich) GmbH, and the exhibit shows how BiTE® molecules activate the body's own T cells in the fight against cancer.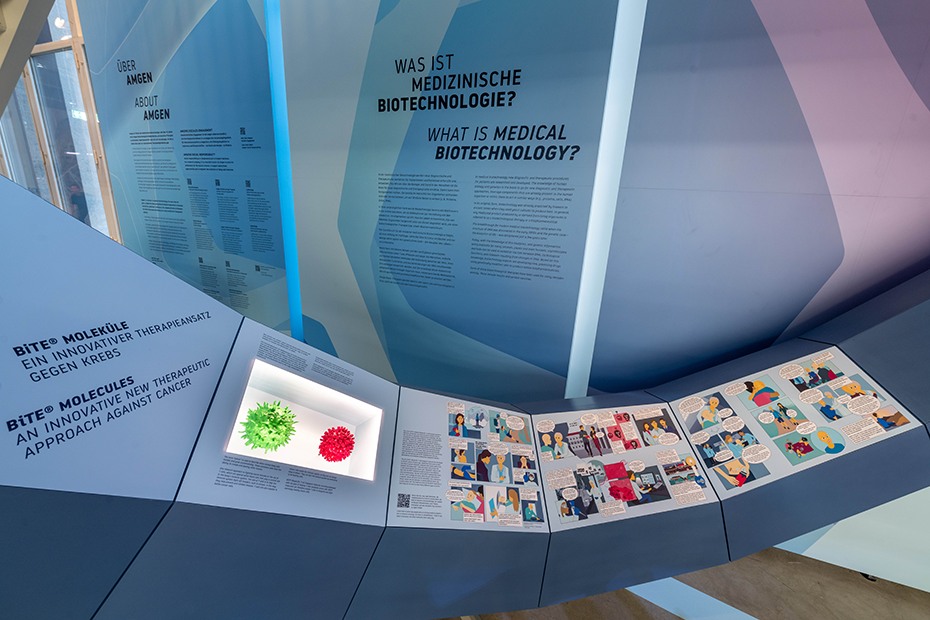 "We are very pleased to make the possibilities of medical biotechnology tangible with our immuno-oncological approach," explains Peter Kufer, managing director of Amgen Research Munich GmbH and developer of the BiTE® technology. "The BiTE® technology is also a great example of innovation 'Made in Germany'."
In addition, one video installation models a three-dimensional cross-section of an artery, showing how cholesterol impacts the body, while another interactive component is called "Insight Bone" because it shows the viewer's movements mirrored by a skeleton to highlight the effect that osteoporosis may have on a patient's life.
"As a pioneer in biotechnology, it is important to us to inform the general public about our innovative technology and its potential in medicine," says Manfred Heinzer, managing director of Amgen GmbH. "A survey that we carried out last year indicates a major gap in knowledge among the population: 97% of those surveyed have no idea what the term 'biopharmaceuticals' means. The Deutsches Museum exhibition is a great chance to show how biopharmaceuticals work and benefit people, and to share the wonder of biotechnology."