Eunice Ngata carefully held the pipettor filled with enzymes to spike them into a small vial of antibodies. She relaxed, squeezed out the precise amount and then looked at her notebook filled with complex equations written in pencil.
Then she took the pipettor and repeated the process.
Not a tremble or shake. Another exact measurement.
"There is an art to pipetting and, I will say, when I first got here, I wasn't the best pipettor," she said with a laugh. "But I've gotten really good at it now. There's definitely a technique to it."
Ngata joined Pilar O'Neal at Amgen in July to be among the first cohort of students to participate in the Amgen Educational Fellowship at Howard University – a program aimed at showcasing for students what a professional career looks like in biotech while also creating a pipeline to increase diversity among the ranks of researchers within the company.
The six-month program allowed students from Howard to do experiments on state-of-the-art equipment and to be mentored by professionals with years of experience in the world of biotech. Establishing the connection with Historically Black Colleges and Universities is something Amgen is set on strengthening through the fellowship program, which will receive its new batch of students this year.
O'Neal has had a love of science from an early age and said she was encouraged by her mother – who held a math degree – by enrolling her in summer camps that focused on science. O'Neal never slowed down and is now in the midst of getting her master's degree at Howard University.
But being in the fellowship program has her pushing for higher goals now.
Growing Diversity
In the fields of science, technology, engineering and math, Blacks remain underrepresented in both obtaining STEM degrees and gaining employment in STEM jobs – including the field of biotech.
According to a June 2022 report by the Biotechnology Innovation Organization, Blacks make up just 6% of the biotech workforce nationally compared to Whites making up 56% of the overall workforce. The numbers are even smaller at the executive levels, where Blacks make up 3% of those jobs compared to 72% of whites.
Amgen has taken an active role in trying to increase those numbers in a variety of ways, including the fellowship program with Howard University and by joining the One Ten coalition. That coalition, formed in 2020, consists of 35 large companies that aim to hire 1 million Black Americans with good-paying jobs over the course of the decade.
Alan Russell, vice president of research at Amgen, said a diverse workforce is an important priority for the company.
"We are pleased with the progress of the fellows program and the collaboration with Howard University," Russell said. "The program continues to feed the pipeline and fuels our commitment to strengthen diversity in the area of biotech."
Patrick Ymele-Leki, interim chair of the department of chemical engineering at Howard University, said he had been meeting with the newest cohort of fellows in January and said he was optimistic about the strengthening foundation of the program while also learning from the experiences of O'Neal and Ngata.
"As with any new thriving program there were some managerial and implementation hurdles to overcome in the first year, but it is inspiring to have them reflect so positively on the program and promote it to their peers," Ymele-Leki said. "We look forward to continuing to work with our Amgen colleagues and partners to expand the collaboration between our institutions and extend our reach to serve and support Black and African American graduate students in STEM."
The Long View
The problem of a lack of diversity in STEM-related careers and, specifically in biotech, goes back decades and hasn't been meaningfully addressed until recently, said Alvin Tillery, director of the center for the study of diversity and democracy at Northwestern University.
Tillery said for Black Americans, the barriers have been systemic, including an oppressive racial caste system that remained in place until the 20th century when segregation and formal Jim Crow laws were struck down by the courts.
But even with those laws being overturned by the U.S. Supreme Court, he said, there remained lingering long-term effects that kept the early pipeline of students who might have pursued a career in STEM mostly empty. Black students, he said, were stymied through underfunded schools in primarily Black communities that were often in poorer areas that couldn't generate the property tax revenues that fed school district budgets.
He said the need for a diverse workforce in the fields of STEM is key for both the benefits of society overall and for the United States to remain competitive with other countries – including China – that are pushing STEM advancements.
"I think folks at companies like Amgen are trying to do the right thing and the universities are trying hard because there is a real necessity to do this as the population continues to diversity," he said. "But it's also going to take decades because you can't really fix 400 years of government and structural inequality in a short time span."
In the Lab
Bram Estes, a senior scientist at Amgen, was O'Neal's mentor during her time at the company and he said she showed "a level of organization and independent thinking that was outstanding" as she shepherded her experiments and project over the course of six months.
He also said he noticed a shift in O'Neal's path as she got deeper into her fellowship.
"During her time here, her perspective seemed to change from being iffy about continuing her education to having full conviction," he said. "She wasn't just here doing the science and experiments. She was also getting a clear picture of the world ahead of her and the paths open to her. It made me consider that part of the success of the fellowship program could be inspiring people to go higher and advance to levels they may never have envisioned before."
O'Neal said she arrived at Amgen and had no idea how big and how advanced a lot of the equipment she would be working on a daily basis with actually was. "Eye-opening," she said with a laugh.
But as she got to the end of her fellowship in December, she was moving around confidently around the lab, tracking experiments aimed at getting proteins and DNA delivered in cells using nanoshells she created in the lab. She said she appreciated getting the taste of professional feedback from her work.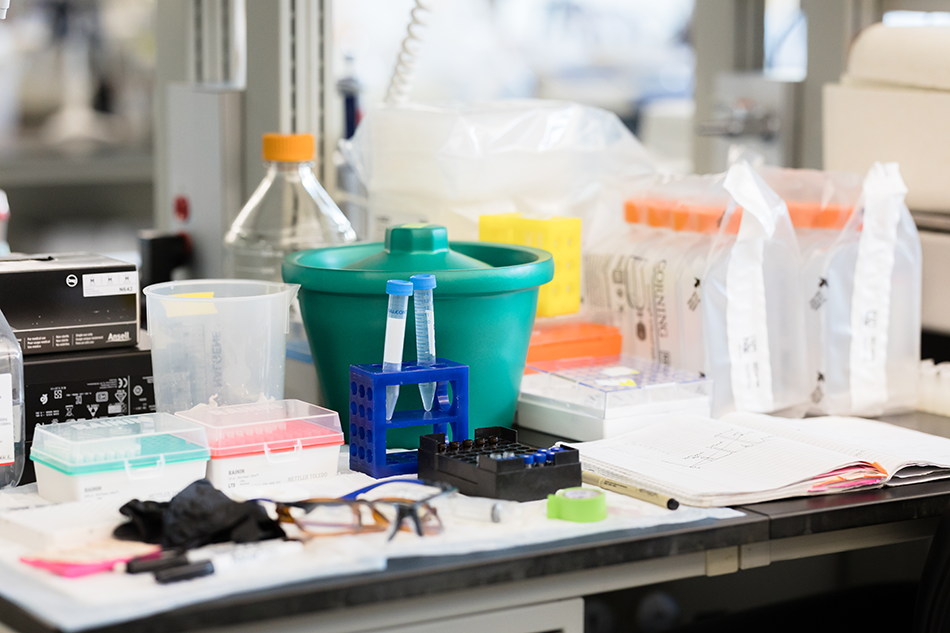 The fellowship program also helped her see with great clarity what a career in biotech might look like for her.
"I think it's allowed me to figure out more what I want to do with my future," she said. "When I was at Howard, I wanted to get into this work. But now I want to get my doctorate and do something involved with the development of therapeutics and developing drug delivery systems that will help people in the future."
And so, both will continue on – one pipettor, one experiment and one dream at a time.