Letter From Bob Bradway
In the four decades since Amgen's founding, we have worked hard to contribute to society—first by bringing innovative medicines to patients suffering from serious diseases, but also by taking care of our employees and their families, being a good neighbor in our local communities and operating our business in an ethical, environmentally responsible manner.
Although this report focuses primarily on Amgen's activities during 2019, I also want to address the global COVID-19 pandemic and social justice in America, two pressing topics in 2020.
With the pandemic in full force, our first priority has been to ensure the well-being of our employees around the world, whether they are working at an Amgen site or from home. However long the pandemic lasts, we will remain vigilant on behalf of our employees globally.
COVID-19 is attracting an unprecedented research effort. As a world-leading biotechnology company, Amgen is in the battle working to develop effective therapies to combat the pandemic. We are also committed to those patients who benefit from our existing medicines. Despite massive disruption in supply chains globally, we have maintained a steady supply of our medicines, making them available for "every patient, every time." Finally, Amgen and the Amgen Foundation have contributed $12.5 million to support COVID-19 relief efforts, both in the U.S. and around the world. You can learn more about our response to the COVID-19 pandemic here.
We know that COVID-19 has disproportionately affected the Black community in America–one more reminder that social justice and equal opportunity are not yet our reality. In May, the death of George Floyd while in police custody galvanized millions around the world to demand an end to systemic racism. At Amgen, we are committed to doing our part to advance the causes of social justice and equal opportunity.
We are taking numerous steps within our company–such as instituting unconscious bias training for all employees and insisting on diverse slates for all open jobs–to ensure that Amgen is a place where everyone feels like they belong and can achieve their full potential.
We also are engaged in conversations with business leaders, community activists, elected officials and other stakeholders to identify ways to build a more just and equitable society outside of Amgen. As a first step, the Amgen Foundation will distribute $7.5 million over three years to organizations in the U.S. that have strong track records in fighting systemic racism, to local communities in the U.S. where Amgen has a significant presence and to programs that are bringing free, world-class science education to students of color around the world.
This Report illustrates the breadth and depth of Amgen's activities that contribute to society, and we hope you find it informative. We are proud of our long track record of good corporate citizenship and we are committed to making continued progress.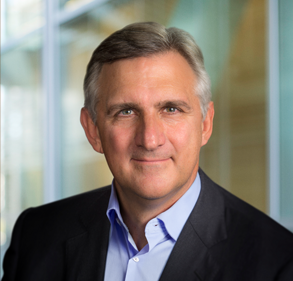 Bob Bradway,
Amgen's Chief Executive Officer
This report is organized under nine subject headings or "tiles," which include introductory text and links to details of our activities and approach to corporate responsibility.
In addition, we have a separate "Communication on Progress" addressing our company's commitments to the United Nations Global Compact. We invite you to read our Communication on Progress, which is accessible here .